LA hit-and-run crimes on track for record high
New initiatives fail to halt rise
On November 7, a 37-year-old man was hit in Encino by a moving vehicle at 9 a.m. The driver, in a fit of road rage, fled the scene immediately. Three days before that, a 49-year-old woman in Van Nuys was hit in a parking lot, just outside of a local collision center. And two days before that, on November 2, a 22 year-old man in Baldwin Hills was hit while walking in a residential neighborhood.
For each of these hit-and-run crimes, no arrest was made because the drivers left before they could be apprehended.
In Los Angeles, this isn't anything new.
Despite a dip in reports from 2017, L.A. is on pace to keep its title as the "capital of hit and runs." A hit-and-run in California is when a vehicle runs into either a person or property and flees, or attempts to flee, the scene.
This year, between January and October, 2018 had the highest total of hit-and-run reports compared to the same period over the past eight years, according to the Los Angeles Police Department data (LAPD).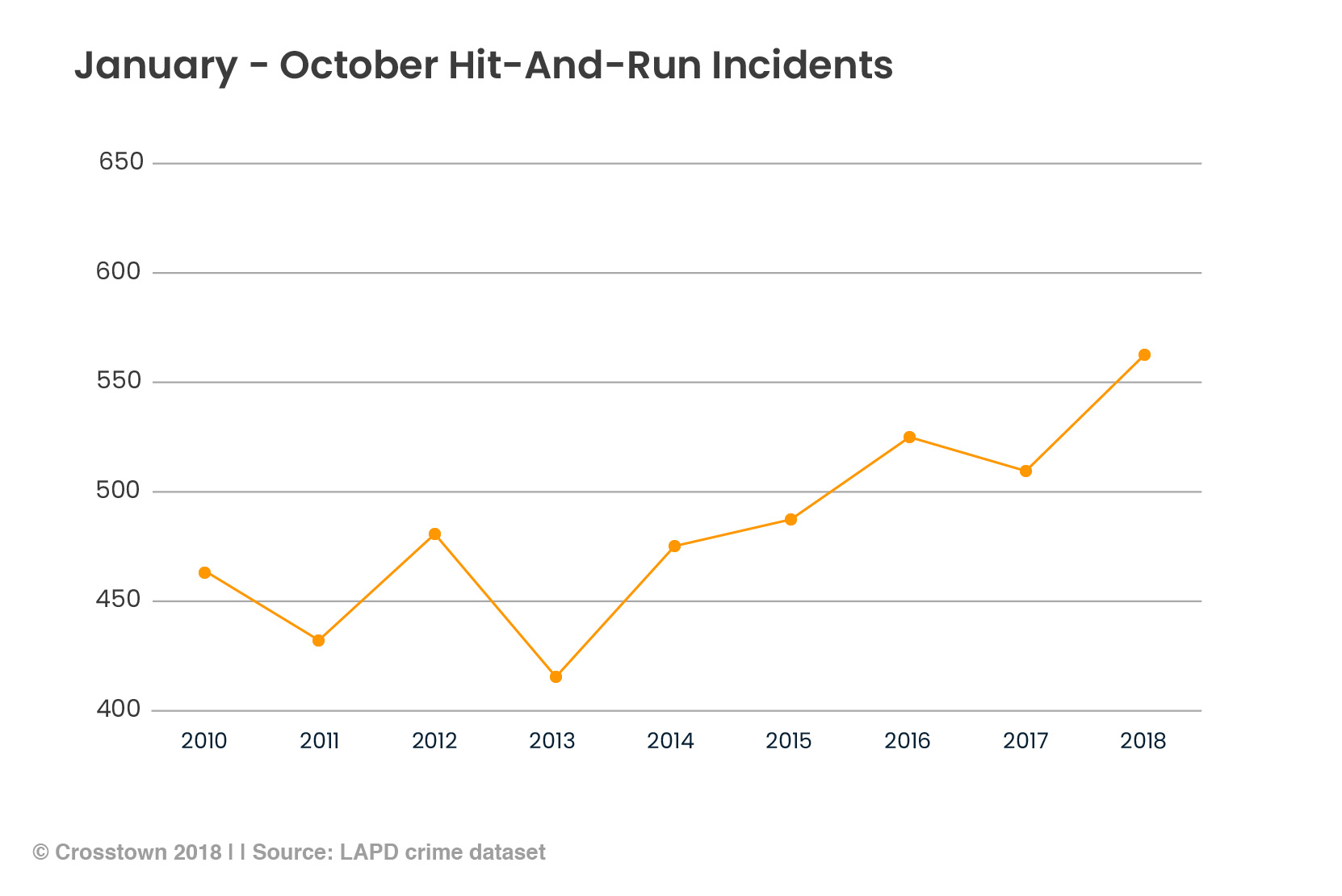 In 2015, the city launched a series of initiatives to incentivize people to report hit-and-run suspects – even offering rewards of up to $50,000.
The same year, California Governor Jerry Brown signed into law an alert system that would disseminate details on freeway message boards about a suspect's car involved in a hit-and-run where a person had been killed or seriously injured. That law is set to expire at the end of this year.
The steady rise of cases (16% in the past four years) seems to show that hit-and-runs continue to grow.
Back in April, a pedestrian was struck by a vehicle in the middle of a crosswalk during a vigil for a bicyclist who had died just a day earlier from a hit-and-run in the same location in South L.A., near Gramercy Park. This was just one of the 65 hit-and-run reports that came out April, which had the second-highest monthly tally this year:
The charges for hit-and-run crimes vary. When the collision causes property damage, it is considered a misdemeanor. Someone could end up with six months in jail, a fine of no more than $1,000, or both.
If a hit-and-run collision ends in the injury or death of a person, it is considered a felony, which is where things can get a little more confusing.
Hit-and-run felonies are considered "wobblers," meaning that a prosecutor can choose whether to charge the crime as a felony or a misdemeanor.
For an injury-related hit-and-run handled as a misdemeanor, a driver could receive fines up to $10,000, or a maximum of one year in prison. If, however, this case is prosecuted as a felony, then the jail time increases to up to four years, depending on the extent of injury.
A recent study by the AAA Foundation for Traffic and Safety reports that hit-and-run crimes are rising nationally, particularly in situations in which the victim was seriously injured or killed. The report says that hit-and-run crimes rose by 20% from 2011 to 2015, and have recently reached an all-time high.