Record-breaking hate crimes projected for Los Angeles in 2018
Reported hate crimes are on target to surpass last year's count.
As of December 1, 277 hate crimes had been recorded in 2018 by the Los Angeles Police Department (LAPD).
Last year's total was 280.
According to its website, the LAPD defines a hate crime as "any criminal act or attempted criminal act directed against a person or persons based on the victim's actual or perceived race, nationality, religion, sexual orientation, disability or gender."
This year's projected record bears similarities to last year's (which was also a record high): A large proportion of violent crimes.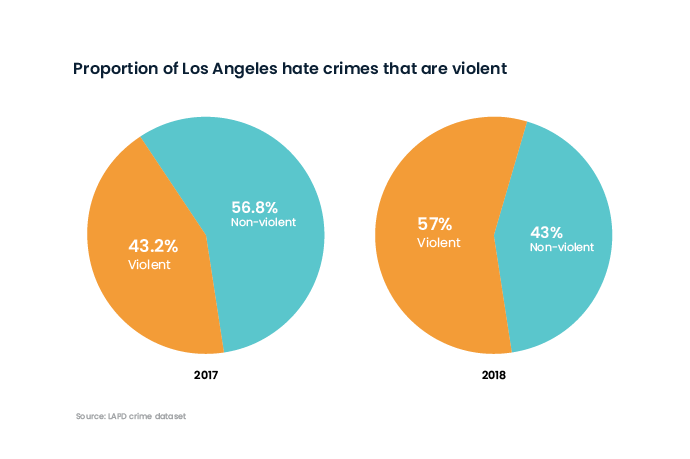 For both years, assaults take up nearly half of all cases: 101 last year and 107 this year so far. Assaults are defined as the "unlawful attempt to violently injure another person."
With the separately recorded cases of "assaults related to intimate partners" that are also hate crimes, this year's count goes up to 133, which is the highest number of hate-related assault cases in recent years.
Another common hate crime this year and last is vandalism. Last year, there were 84 cases. So far this year, there have been 56. While this is a significant decrease from last year, there are two points to consider. First, this year is not over yet. Second, this year saw 32 cases of felony vandalism incidents (in which damage exceeds $400), compared with last year's 32.
There are other types of hate crimes as well. For example, there was a robbery in Downtown Los Angeles that was designated a hate crime. It involved multiple suspects intimidating a victim by swinging their fists and shouting profanities, all the while under the influence of alcohol. While the LAPD data don't specify, ordinary crimes can become hate crimes if perpetrators engaging in other hateful acts, such as shouting a racial slur.
Other violent crime counts follow suit, like five cases of robberies in 2017 and four this year. The number of weapon brandishing went up: 14 this year compared to last year's 10. In sex-related crimes, there are two counts of rape and one battery with sexual contact, not including the separate crimes related to "intimate partners."
This year is set to put a new cap on the broader trend of escalating hate crimes that began in 2014. Downtown still has the highest number of cases (25 this year, 30 in 2017.) Some dangerous crimes, such as bomb scares and arson, which were reported in the past two years, have not shown up this year yet.
We'll report back in mid-January with the final hate crime counts for 2018.