Downtown LA had the most number of crimes in 2018
Overall crime is down, but not for some neighborhoods
Violent offenses dipped last year across the city and Los Angeles by many measures is safer than it has been in the last 50 years. But some neighborhoods are still experiencing a surge in crime.
In Downtown, for example, crime reports jumped by 10.4 percent from a year earlier. According to data from the Los Angeles Police Department, 14,219 crimes were reported in Downtown last year, the highest in the city and roughly double what was reported in Hollywood and Van Nuys — neighborhoods with the second- and third-highest number of reported crimes, respectively.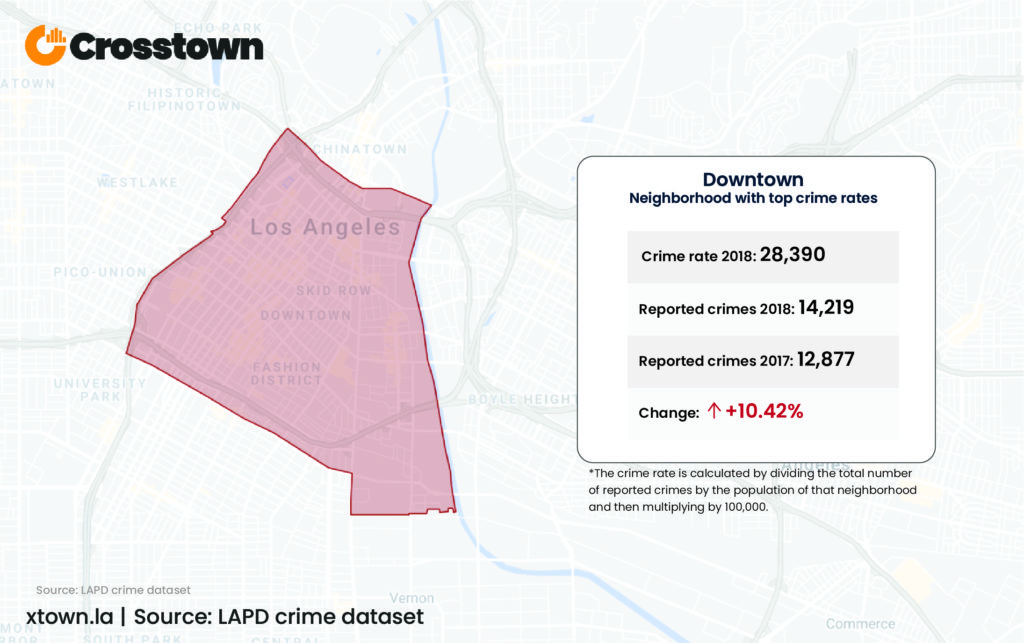 **
Downtown has a population of around 50,000. But because it is a hub of commercial and cultural activity thousands more stream into the neighborhood each day. This contributes to Downtown's sky-high crime rate — equivalent to a little more than one crime for every four residents.
The crime rate is calculated by dividing the total number of reported crimes by the population of that neighborhood and then multiplying by 100,000. We sorted all the LAPD crime reports for 2018 by neighborhood. Then we ranked ranked the neighborhoods with the highest and lowest crime rates.
"The hornet's nest has been kicked," said Downtown resident Anthony Bejarano, who is co-founder of DTLA Strong, a group that advocates for more neighborhood foot patrols. "There are just a lot more people who come down here now. The streets are thick with people. With that increase in people there's going to be an increase in crime."
Los Angeles Chief of Police Michel Moore said at a Jan. 15 Police Commission meeting, "We ended 2018 with an overall reduction in property and violent crime."
But that progress isn't being felt by residents in neighborhoods like Downtown.
"You have people who are dealing with addiction, who are very desperate," said Bejarano. "If there is an opportunity for them to commit a crime to feed a habit or seize an opportunity, they're going to do it."
Downtown was also the scene of 13 homicides last year, including that of 58-year-old Latino homeless man Fernando David Perez, who was stabbed multiple times with an ice-pick or screwdriver.
We used LAPD data to tally up all the crime reports in Los Angeles neighborhoods so we could rank them by crime rate. After, Downtown, Fairfax and Hollywood – neighborhoods that draw lots of tourists – came in at the second and third spots, respectively. Both neighborhoods saw an uptick in crime reports.
In Marina del Rey, however, the streets appear to be getting safer. The neighborhood, located a mile and a half north of LAX with a population of around 12,500, had the lowest crime rate in the entire city, with the equivalent of 561 reported crimes per 100,000 residents. Ladera Heights and Westmont come in second and third in the rankings for neighborhoods with the lowest crime rates.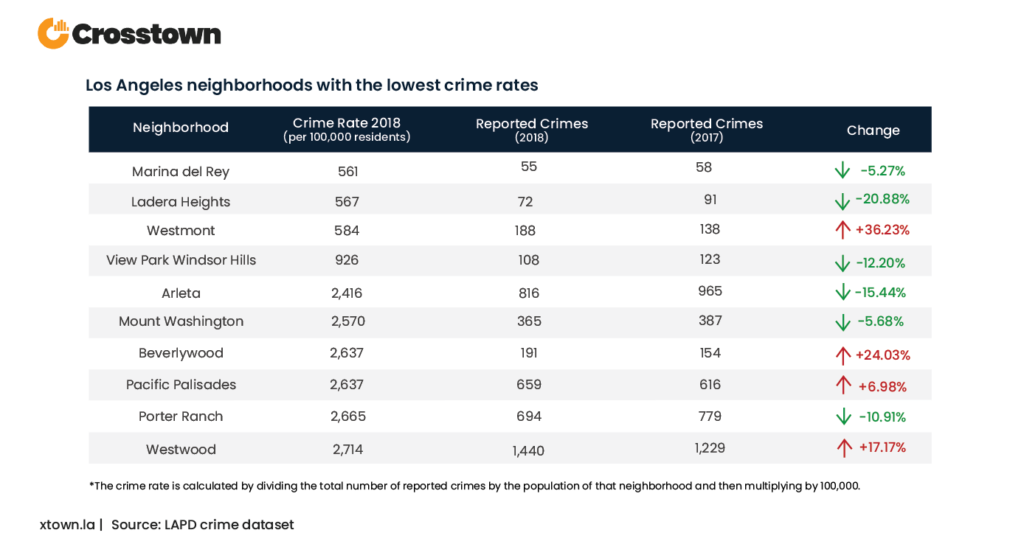 LAPD data only reflects crimes that are reported to the department, not how many crimes actually occurred. In making our calculations, we relied on the data that the LAPD makes publicly available. On occasion, LAPD may update past crime reports with new information, or recategorize past reports. Those revised reports do not always automatically become part of the public database. Hence, the LAPD may report data that diverges from the numbers we have compiled.
How we did it: We collect publicly available reported crime data from the LAPD and sort them by neighborhood. For neighborhood boundaries, we rely on the borders defined by the Los Angeles Times. You can read more about our data and how we use it here and here.
Want to know how your neighborhood fares? Or simply just interested in our data? Email us at askus@xtown.la
**An earlier version of this story showed a map of Downtown with different boundaries. This map has been updated to reflect the proper neighborhood area.