Murders in LA are all about guns
A breakdown of weapons used in 259 killings
Most of the 259 people killed in criminal homicides last year in Los Angeles were killed by guns.
Guns made up 72% of the weapons used in criminal homicides in 2018 in the city.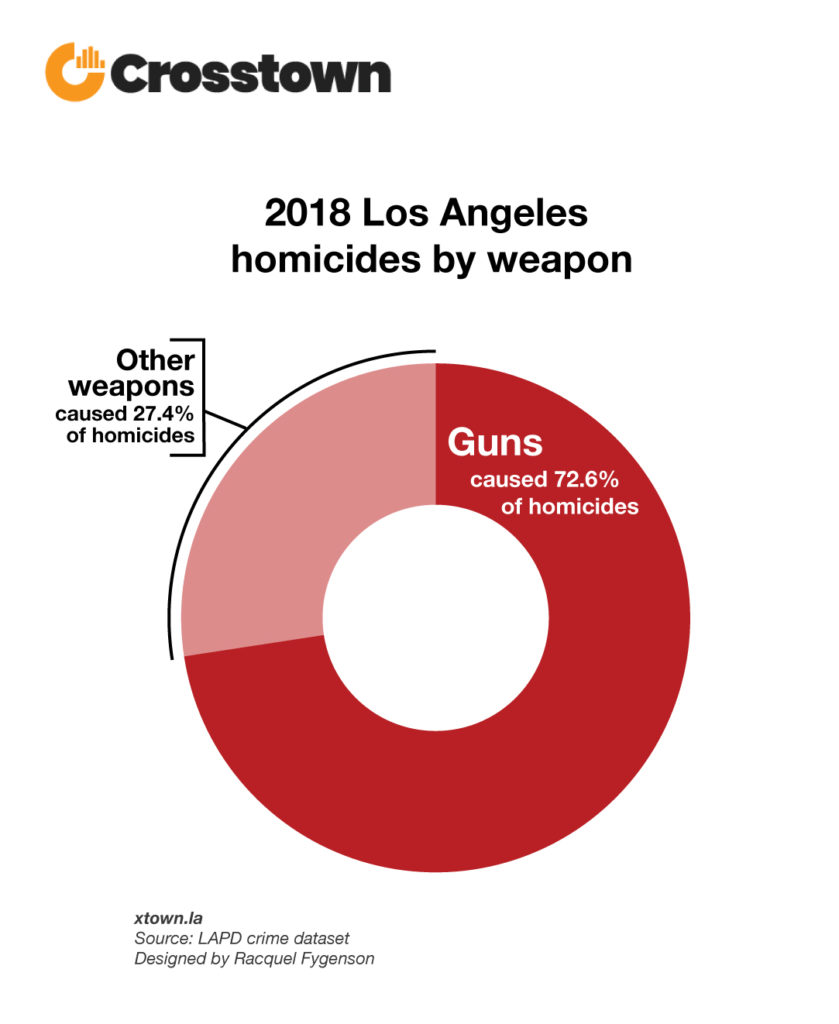 One of the youngest victims was a 13-year-old boy who was shot and killed alongside his mother in an apartment at 4 a.m. the day after Christmas on Oxnard Street in Valley Glen. Later reports revealed that the boy's father, a civilian employee of the Los Angeles Police Department, was arrested and subsequently charged with "capital murder" for their deaths, presumably because there were multiple victims. He could face the possible maximum sentence of life in prison without parole or the death penalty, which still exists in California. Both victims were white.
In another case, a 59-year-old female of unknown race was murdered with an assault weapon, according to the LAPD. Authorities later deemed the incident a murder-suicide, identifying the suspect as the woman's husband who shot himself after shooting his wife around 6:15 p.m. on July 9 in a Lake Balboa home. She died at the scene, while her husband died later at the hospital.
After firearms, the most common weapon for criminal homicides in Los Angeles last year was "strong arm" (hands, fist, feet or bodily force), used in 17 cases. The third most common weapon were knives with a blade of 6 inches or less, used in 11 criminal homicides last year.
How we did it: *We examined publicly available  LAPD data on reports of criminal homicides for the past nine years. For 2018, we also included one case of negligent manslaughter in the neighborhood of Florence, as the LAPD included this incident in their year-end report. For neighborhood boundaries, we rely on the borders defined by the Los Angeles Times. Learn more about our data here.
LAPD data only reflects crimes that are reported to the department, not how many crimes actually occurred. In making our calculations, we rely on the data the LAPD makes publicly available. LAPD may update past crime reports with new information, or recategorize past reports. Those revised reports do not always automatically become part of the public database.
Want to know how your neighborhood fares? Or simply just interested in our data? Email us at askus@xtown.la.