The rising crime in University Park
More thefts, more robberies in the USC neighborhood
Last year was the worst year for crime in University Park since at least 2010, according to available data from the Los Angeles Police Department.
University Park is home to the University of Southern California. We have been reporting on crime and incidents in this neighborhood each week through our Crosstown crime blotter. Now, we're examining crime patterns in the area over a longer period. In 2018, reported crimes reached an all-time high: 1,830, up 7.5% from the previous year.
Crimes have been rising steadily since 2010, with dips in 2014 and 2017.
Overall crime in the City of Los Angeles dropped slightly last year, falling by a little more than 1% from 2017. For violent crimes, including rape and assault, the dip has been even steeper, falling by 4.5% from 2017 to 2018. Homicides in the city were down by more than 8% in 2018 from 2017.
However, the City of Los Angeles has four million inhabitants spread out over nearly 500 square miles and people's experiences with public safety can vary dramatically depending where they live.
Crime in the neighborhoods surrounding University Park has also fallen slightly from 2017 to 2018. Leimert Park saw 1.6% fewer crime reports, Adams Normandie fell by 1.39%.  Exposition Park was essentially flat.
For University Park itself, the most commonly reported crimes were stolen bikes and small-time property crimes.
Our roundup focuses on crimes that were reported, and not necessarily crimes that occurred in this neighborhood within this time period. The discrepancy between reported crimes and actual crimes can occur for a variety of reasons, including time delays in updating reports.
University Park is unique in that there are two law enforcement agencies patrolling the area: the Los Angeles Police Department (LAPD) and USC's Department of Public Safety (DPS).
According to David Carlisle, DPS spokesperson and assistant chief, the biggest problem that campus security has been facing in recent years is the growing theft of portable electronics like cellphones and laptops.
"Would you stand around on a street corner waving $1,000 in cash?" he said. "Because that's essentially what you're doing when you have your cell phone out."
Reports of thefts (not including bike thefts) in University Park went from 276 in 2010 to 442 reports last year. Theft numbers reached an all-time high in 2015, with 565 reports.
Carlisle said the key to reducing these numbers lies in student awareness and vigilance.
DPS is currently working on ways to remind students to stay aware of their surroundings, but realizes their efforts might not be targeting the right people.
"We've got 100,000 students signed up for TrojansAlert, but not all of them still live on campus or want those alerts, so we weigh the value of that," he said. "What's an effective way to reach students? Is it through the Daily Trojan or Annenberg Media? What's an effective campaign?"
While phone and laptop thefts are on the rise, another major crime plaguing the student population, bike thefts, is going down.
There were 376 bike thefts in 2017, and 297 in 2018.
Carlisle credits DPS' efforts for the decrease. According to Carlisle, DPS has been making an effort to target bike thefts by making sure there are more officers visible on and around campus to serve as a deterrent to potential thieves.
"There's been more of a focus on bikes in the last year," he said.
Here are some of the other changes in reported crimes in University Park between 2017 and 2018.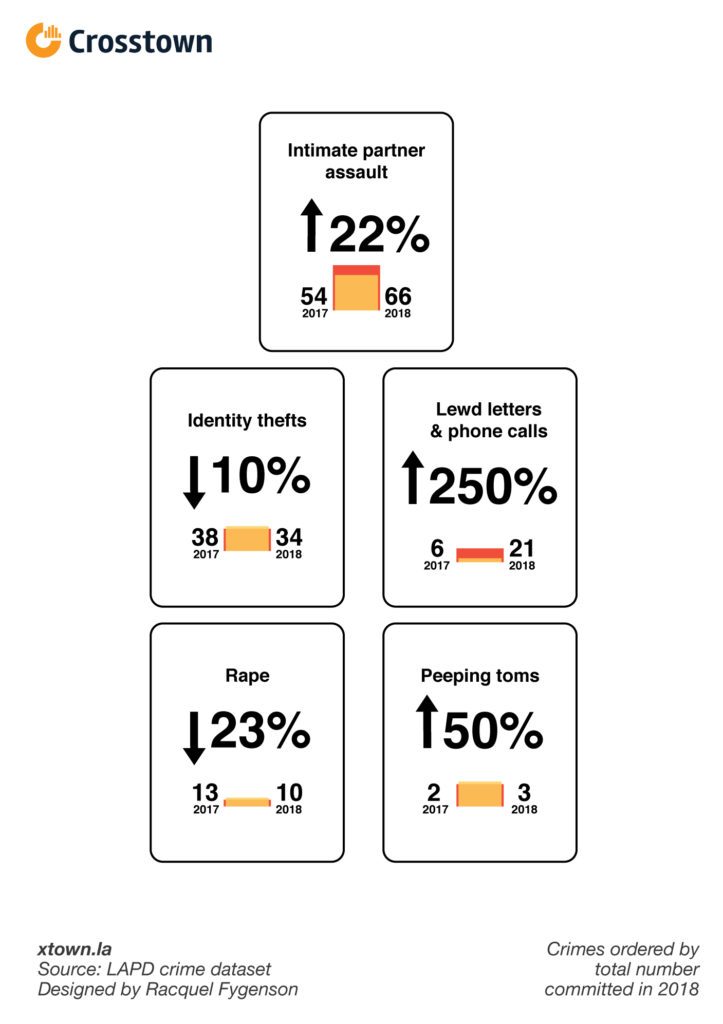 How we did it: We looked at publicly available LAPD and DPS data of reports of crimes in the University Park neighborhood of Los Angeles. For neighborhood boundaries, we rely on the borders defined by the Los Angeles Times. Learn more about our data here.
LAPD data and DPS logs only reflect incidents that are reported to the department, not how many crimes actually occurred. In making our calculations, we rely on the data that the LAPD makes publicly available through the Open Data Portal and the logs DPS makes publicly available on its website. On occasion, LAPD or DPS may update past crime reports with new information, or recategorize past reports. Those revised reports do not always automatically become part of the public database.
Want to know how your neighborhood fares? Or simply just interested in our data? Email us at askus@xtown.la.