Reporting on hate: Incidents in LA
LA had 12 incidents from January through March
At 7 p.m. on Feb. 9, a suspect used hate-related language and racial slurs against a 27-year-old black female victim while the two were on at bus at the intersection of W. 6th St. And Union Ave. in Westlake.
On May 22, at 6 p.m., a suspect sprayed graffiti on the wall of Whitney Young High School in Hyde Park while using hate-related language and racial slurs.
These two events were classified by the LAPD as "hate incidents," two of 12 reported to the LAPD from Jan. 1, 2019 – March 31, 2019. Hate incidents aren't, by themselves, punishable by law. Instead, they indicate actions that target certain groups that are motivated by hostility or prejudice, but stop short of breaking the law.
According to publicly available LAPD data, 11 of the 12 incidents during the first quarter are still under investigation. And one of them resulted in the arrest of a homeless suspect who, at 2 a.m. on March 14, vandalized the sidewalk at the intersection of Spring St. and 5th Street in Downtown Los Angeles. The data did not reveal why officers classified this event as a hate incident.
We're looking at hate incidents as part of our weekly tracking of hate crimes in the City of Los Angeles. With hate crimes on the rise in Los Angeles and in the country, we are learning to read hate reports with a critical eye.
For hate incidents, the numbers have not changed from last year, with 12 of them reported in the first quarter last year and the first quarter this year.
The final count last year was 72.
Here are the numbers of reported hate incidents in the City of Los Angeles from Jan. 1 – March 31 of each year for the past 10: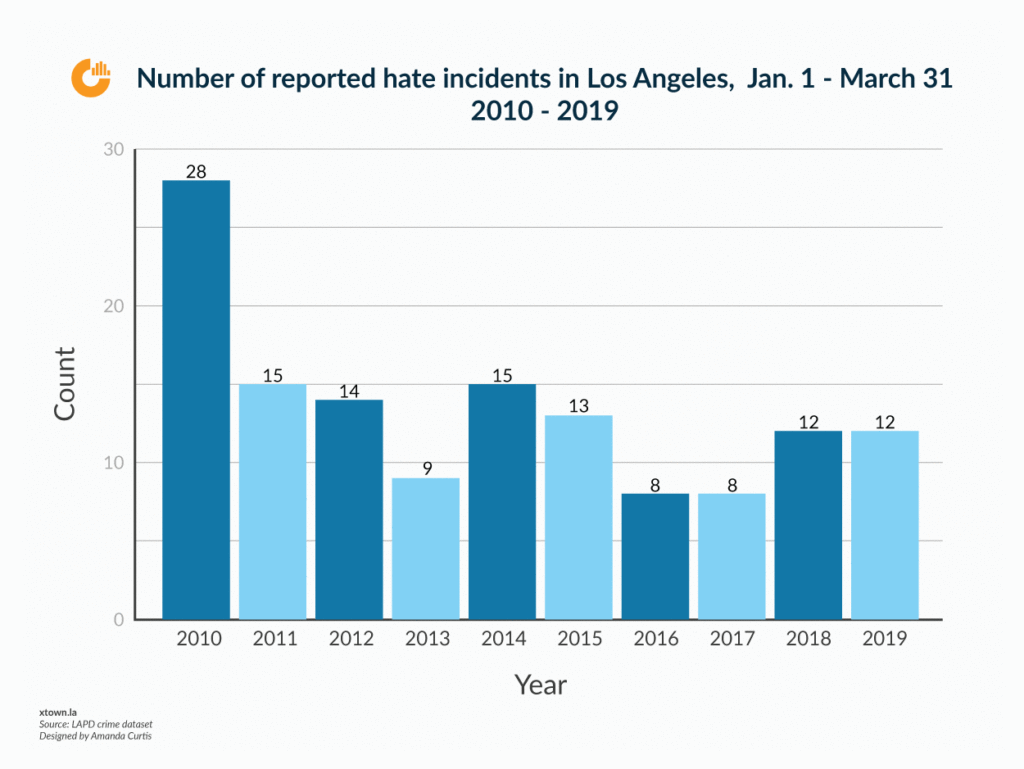 We will continue tracking hate incidents and hate crimes in the city of Los Angeles, alerting our readers to trends and spikes. For example, we recently reported that March 31 had the highest single daily report of hate crimes reported to the LAPD in recent history.
How we did it: We examined publicly available LAPD data on reports crimes labeled with the code for "hate incident." For neighborhood boundaries, we rely on the borders defined by the Los Angeles Times. Learn more about our data here.
LAPD data only reflects crimes that are reported to the department, not how many crimes actually occurred. In making our calculations, we rely on the data the LAPD makes publicly available. The LAPD does periodically update past crime reports with new information, which sometimes leads them to recategorize past reports. Those revised reports do not always automatically become part of the public database. We try to update our reporting when new data become available.
Want to know how your neighborhood fares? Or simply just interested in our data? Email us at askus@xtown.la.