Some early signs of an ebb in violent crime
First quarter of 2019 shows a drop in most violent crime categories
Violent crime was down 5% in Los Angeles from January through March of 2019 compared with the same period last year.
But, not all violent crimes were down.
Overall, seven of the top 10 violent crime categories showed a decrease from the first quarter of last year to the first quarter of this year. But reports of assault with a deadly weapon, shots fired and assault on a police officer or firefighter actually increased.
Crosstown defines "violent crime" as a crime that is either violent or causes the fear of violence.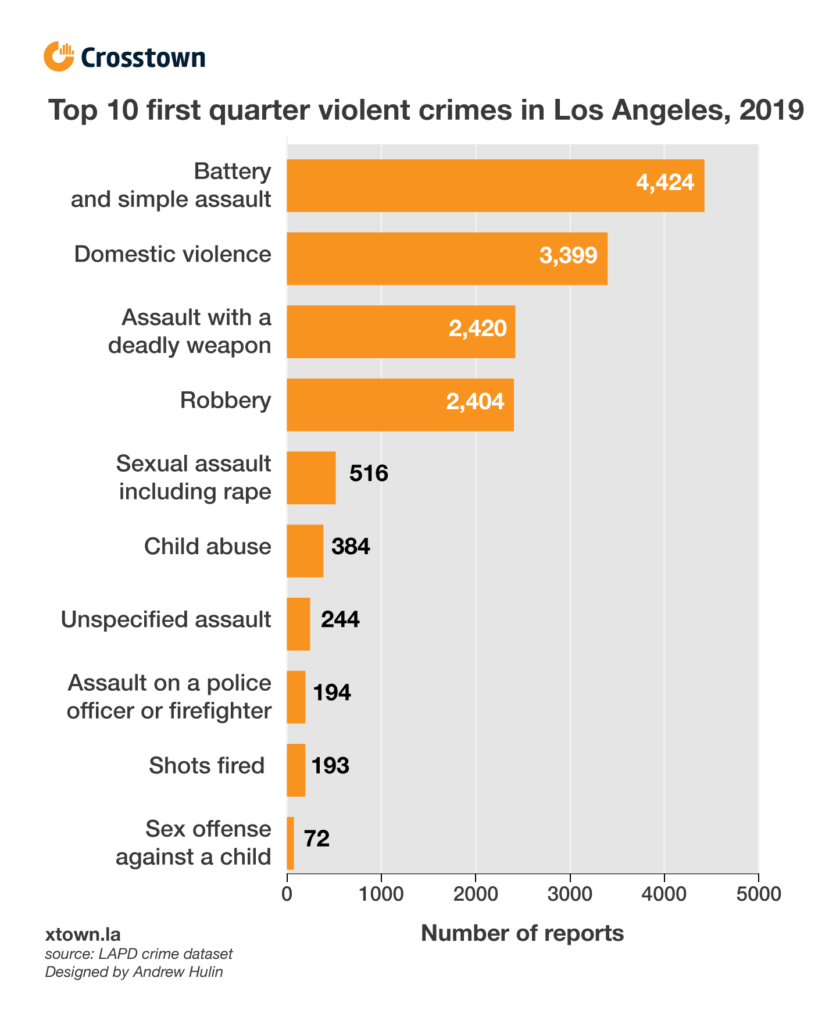 Reported assaults with a deadly weapon is now one of the top three violent crimes as a result of a 40 incident increase from last year.
In one case, a suspect hit his sister from behind with a club or a bat at 3 p.m. on March 23 in a house in Panorama City.
The neighborhoods with the highest total number of violent crimes for the first quarter of this year were the same as the first quarter last year: Downtown, Westlake and Hollywood. These LA neighborhoods generally have the highest overall crime counts.
Downtown also saw the highest rate of crimes per 100,000 people. However, Harvard Park and Vermont Knolls took the second and third place positions in the ranking based on violent crime rate.
Despite remaining on the top three list, Hollywood saw about a 17.5% decrease in total violent crimes. Six out of the top 10 neighborhoods saw decreases from the first quarter of last year.
We will keep tracking violent crimes as the year goes on. 
Want to know how your neighborhood fares? Or simply just interested in our data? Email us at askus@xtown.la.
How we did it: We examined LAPD publicly available data on reports of violent crime for the periods of Jan. 1 – March 31, 2019 and Jan. 1 – March 2018. For neighborhood boundaries, we rely on the borders defined by the Los Angeles Times. Learn more about our data here.
LAPD data only reflect crimes that are reported to the department, not how many crimes actually occurred. In making our calculations, we rely on the data the LAPD makes publicly available. On occasion, LAPD may update past crime reports with new information, or recategorize past reports. Those revised reports do not always automatically become part of the public database.