The year homeless-related crime surged in Los Angeles
2015 was a turning point; did cleaner streets have something to do with it?
As the number of people experiencing homelessness in the City of Los Angeles has swelled in the past decade, they have also increasingly wound up in the crime data. 
But in 2015 something unusual happened: The number of people experiencing homelessness grew by 12% from the year before, but crimes where homeless people were involved — as victim, suspect or both — grew by nearly 120%, according to the LAPD database. 
By comparison, this past year, the population of people experiencing homeless in the city grew by 16%, while crimes involving homeless people grew by 57%. 
We previously reported a rise in crimes involving homeless people (including homeless kids) which dovetailed with recent reports of increasing numbers of homeless people living in the City of Los Angeles.  
For those studying homelessness in the City of Los Angeles, this raises the question, what happened in 2015 to account for the sudden surge?
From 2014 to 2015: 
Crimes where the victim was homeless rose by more than 105%.

Crimes where the suspect was homeless increased by nearly 124%.

Crimes where both the victim and the suspect were experiencing homelessness rose by 202%.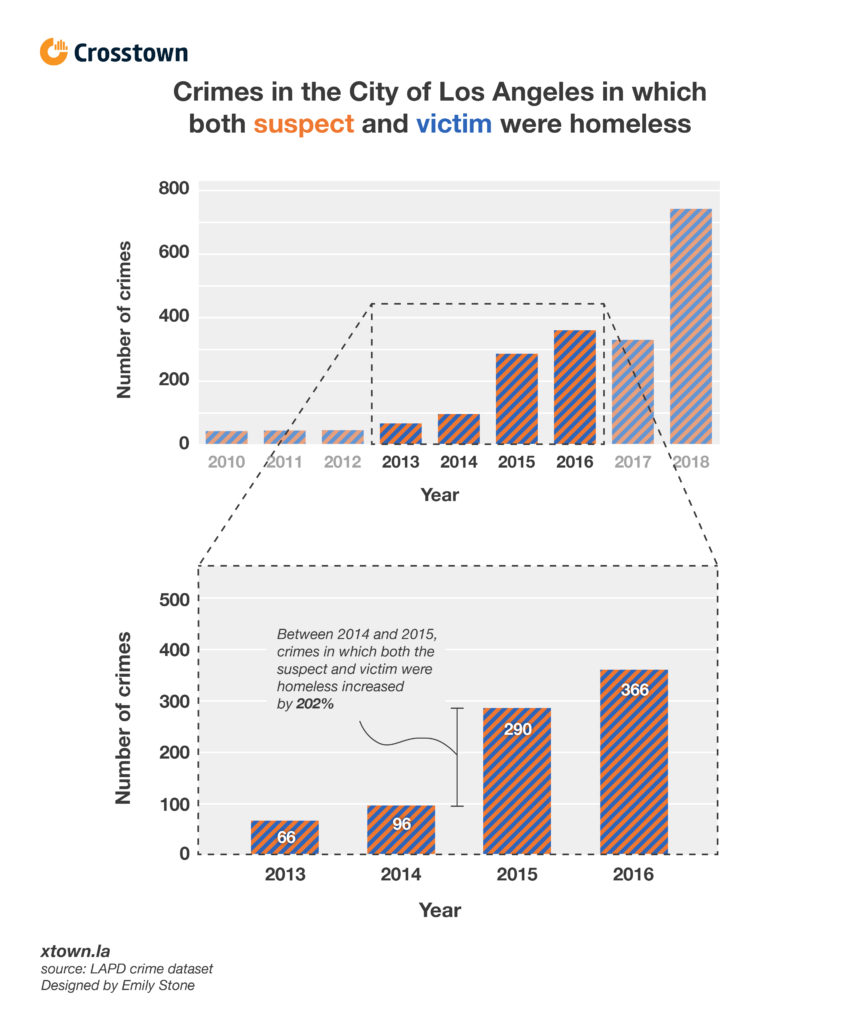 Homeless advocates say it is no coincidence that the 2015 spike in homeless-related crime coincided with the launch of Mayor Eric Garcetti's Clean Streets Initiative, a campaign to document and remove trash from the streets of Los Angeles. That involved sending police and sanitation workers to homeless encampments to clean them up or move them out, a combination that resulted in numerous arrests. 
That initiative is "a project by the city to criminalize homeless people," said Jonny Coleman, a member of the activist group NOlympics LA. The group protests against Los Angeles hosting the 2028 Olympics citing concerns of displacing residents and increasing militarization of the LAPD. 
The LAPD said it does not know the cause of the 2015 spike in crime against and by people experiencing homelessness. 
Commander Dominic Choi, the homeless coordinator for the LAPD, said the spike could be attributed to many factors: 
"One is that the LAPD has improved the way we are tracking homeless-related crimes through better coding," he said. "Secondly, I believe there is an actual increase in homeless-related crime." 
According to a 2018 report looking at homelessness in Los Angeles by the Economic Roundtable, an LA-based nonprofit research organization, "As homelessness grew … the primary governmental tool was police action to both contain homelessness and prevent permanent anchors in specific locations."
Earlier this week, Mayor Garcetti, under intense criticism from local activists, announced a new $6 million plan to provide sanitation services directly to homeless encampments. And the California legislature will soon vote on a deal that could give Los Angeles and other large California cities $275 million in state grants to deal with homelessness. 
After the 2015 surge in crimes involving homeless people, the numbers have remained high, with last year having the highest number of crimes involving homeless people ever (with 15,131 reported crimes) since the LAPD data became publicly available in 2010. 
The yearly percentage increase, however, has been more incremental, with an average annual percentage increase of about 45% each year from 2015 to 2018. 
How we did it: We examined publicly available LAPD data on reported crimes involving people experiencing homelessness. For neighborhood boundaries, we rely on the borders defined by the Los Angeles Times. Learn more about our data here.
LAPD data only reflects crimes that are reported to the department, not how many crimes actually occurred. In making our calculations, we rely on the data the LAPD makes publicly available. The LAPD does periodically update past crime reports with new information, which sometimes leads them to recategorize past reports. Those revised reports do not always automatically become part of the public database. We try to update our reporting when new data become available.
Want to know how your neighborhood fares? Or simply just interested in our data? Email us at askus@xtown.la.