Bank robberies slowing in the City of Angels
LA in jeopardy of losing its infamous "Bank Robbery Capital of the World" title
In 1963, the Los Angeles Times dubbed Southern California the "bank robbery capital of the world." The nickname stuck, and for good reason: In the 1980s in Los Angeles, a bank was robbed every hour of the day.
Nearly 40 years later, times have changed. If you're considering becoming a bank teller, there may be no safer time than now. Since 2010, the year that the LAPD first made its crime data public, reports of bank robberies have plummeted.
So far in 2019, the month of June has had one of the highest number of bank robberies, but that was just three reports. January 2019 also had three reported bank robberies. Today's low numbers are a far cry from the days of the Yankee Bandit, who committed an impressive six heists in just one day in 1983.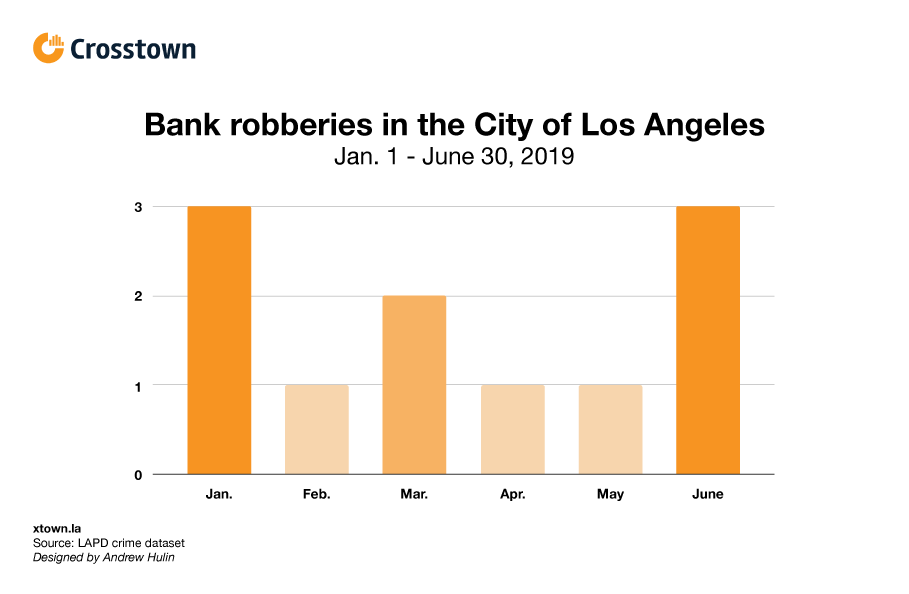 Of June's three robberies, two involved "using a demand note," according to publicly available data. 
One robbery occurred on June 20 on the 2500 block of Colorado Blvd. in Eagle Rock; the other on June 28 on the 600 block of S. Western Ave. in Koreatown. 
The data doesn't reveal what the suspect or suspects wrote on their notes. 
"Bank robberies have actually been going down steadily since the 1990s," said Det. Daniel Jaramillo, a Robbery Special Detective at the LAPD's Robbery and Homicide Division. 
Jaramillo attributes the drop to improvements in surveillance technology in recent decades. 
"We used to have to figure out who the culprit was with this grainy, 35 mm snapshot," he said. "Now most banks have 24/7 video from the front and back and it's like, 'How can you deny that's you?'"
Changes in both banking habits (with the rise of online banking) and bank policies also seem to have deterred bank robbers over time.
"Most banks also keep less cash on hand these days to prevent heists, so thieves have changed their focus to online embezzlement and fraud, especially with how much online banking people do these days," said Beth Mills, a spokesperson for the California Bankers Association.
How we did it: We examined publicly available LAPD data on reports of robberies at banks in the City of Los Angeles. For neighborhood boundaries, we rely on the borders defined by the Los Angeles Times. Learn more about our data here.
LAPD data only reflects crimes that are reported to the department, not how many crimes actually occurred. In making our calculations, we rely on the data the LAPD makes publicly available.
The LAPD periodically updates past crime reports with new information, leading the department to recategorize past reports. We have been tracking hate crimes since Jan. 1, 2019, numbering them as the reported crime data is made public. Beginning April 1, 2019, we started re-numbering according to the updated numbers from the LAPD. We will look every quarter to see if and how the LAPD has re-categorized past hate crimes.
Additionally, revised reports do not always automatically become part of the public database. But, we will keep monitoring hate crimes in the City of Los Angeles.
Want to know how your neighborhood fares? Or simply just interested in our data? Email us at askus@xtown.la.