Crimes related to meeting online are down in the City of Angels
But still: caveat emptor to all the single folks
If you've downloaded a dating app looking for a summer fling, you may be relieved to know that incidents of people falling victim to someone they met online is down in the first half of the year. 
From Jan. 1 – June 30, 2019, in the City of Los Angeles, there were 187 reported crimes where the suspect met the victim online, an 11.3% decrease from the same time period last year, which had 211 reports.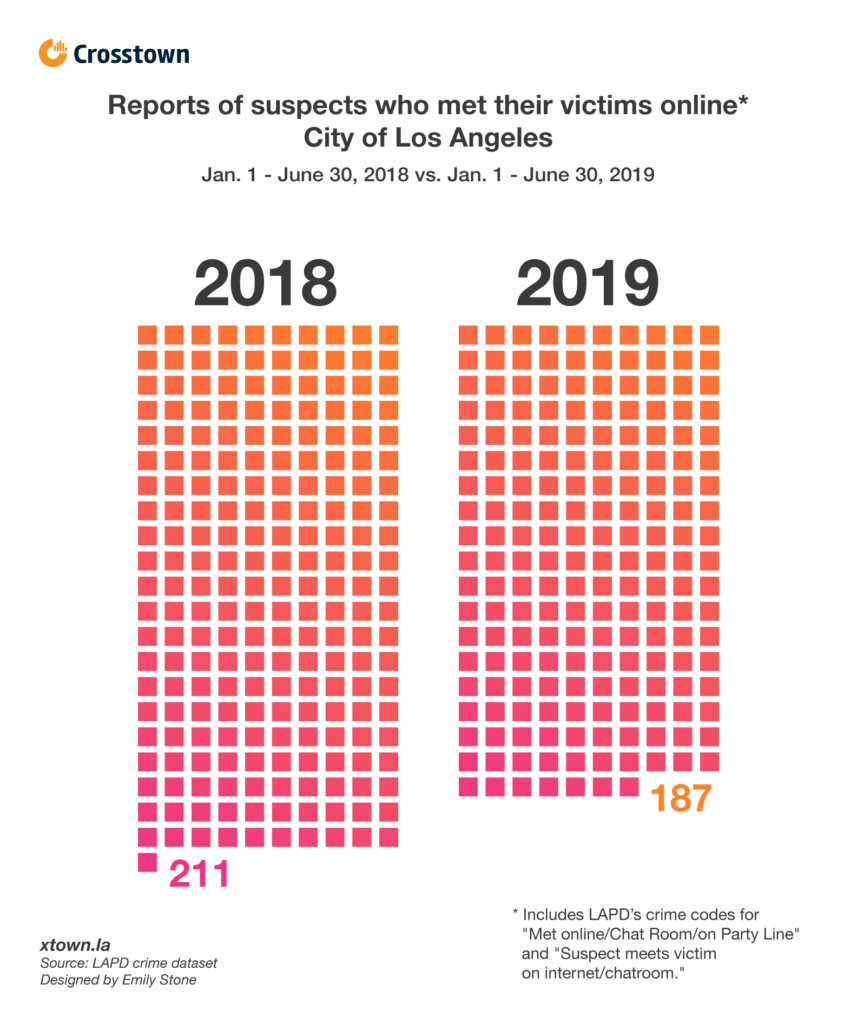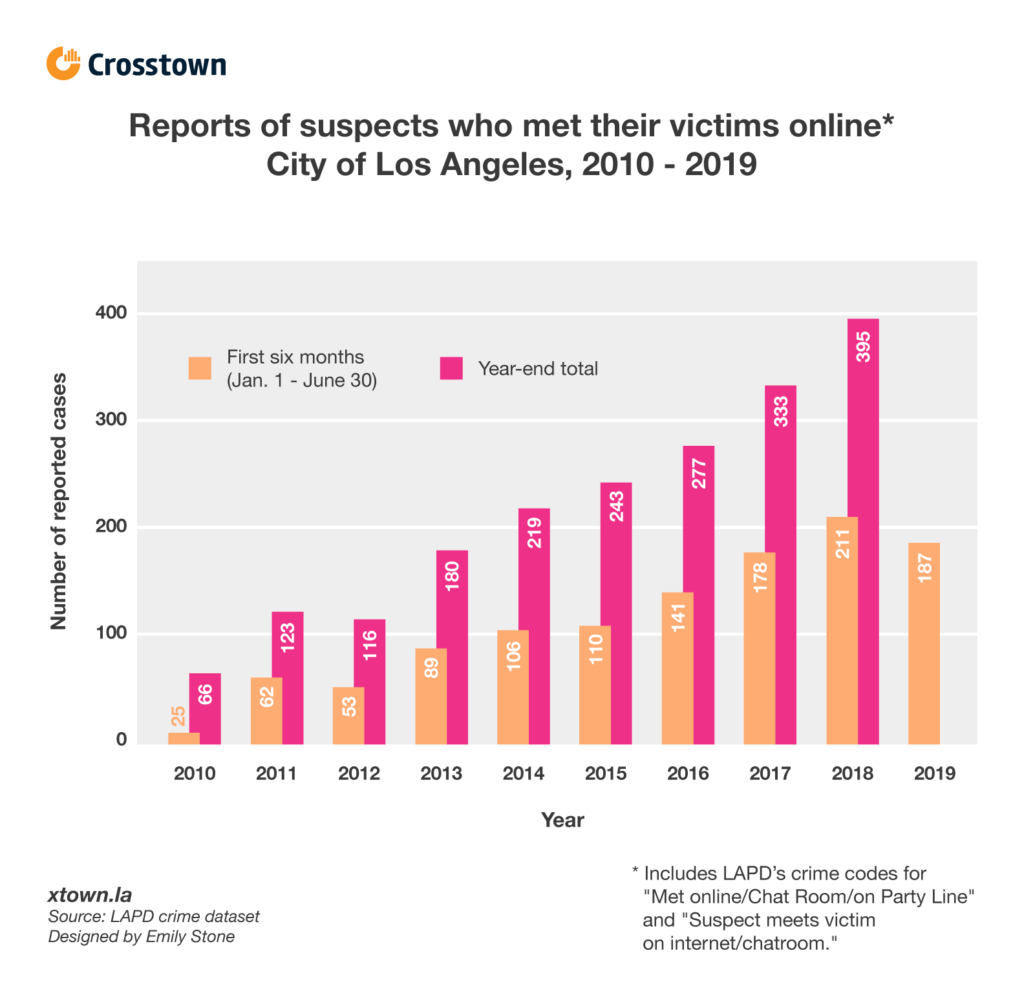 But, you should still be careful. Although reports of crime stemming from an online meeting are down the first half of this year, the overall trend in the city shows an increase since the LAPD began making its crime data publicly available in 2010.
There is no denying more people are meeting online, which may account for the increase in reported crimes. With more users come more predators hoping to take advantage of people's trust. 
Back in May, the LAPD arrested a man who charmed dozens of women online and then stole their money. In another instance, a convicted sex offender used dating apps to lure victims to his home where he would rape them.
Kids are not immune. Publicly available LAPD data show a 12-year-old Hispanic girl was raped by someone she met online. The attack happened at 10 p.m. on Feb. 9 on the 8800 block of Tobias Ave. in Panorama City. 
In another example, multiple suspects overwhelmed an 88-year-old white man at 10 a.m. on June 7 on the 2000 block of Midvale Ave. in West Los Angeles. The suspects took his property, valued at less than $400. Apparently, they had first met the victim online.
David Sedghi, a marriage and family therapist and faculty member at Los Angeles City College, said it is common for people to offer up too much personal information when someone gives them attention online. He warns people using online dating apps to be wary of financial exploitation.
"When people show interest in us …it is common for people to become enchanted and lean towards emotional thinking and not rational thinking," Sedghi said. "Small requests can escalate quickly into larger requests that we fail to apply reason to." 
The LAPD also offers advice for online daters. 
"The LAPD would caution anyone using digital means to communicate with individuals before putting yourself in a vulnerable situation," said Josh Rubenstein, the public information director for the LAPD. "Arrange a meeting in a public place and let friends or loved ones know about the time and place of meetings that have been arranged." 
How we did it: We examined LAPD publicly available data on reports containing "Met online/Chat Room/ on Party Line" and "Suspect meets victim on internet/chatroom" for the first half of 2019, which revealed a decrease in incidents from the same time period last year. For neighborhood boundaries, we rely on the borders defined by the Los Angeles Times. Learn more about our data here.
LAPD data only reflect crimes that are reported to the department, not how many crimes actually occurred. In making our calculations, we rely on the data the LAPD makes publicly available. On occasion, LAPD may update past crime reports with new information, or recategorize past reports. Those revised reports do not always automatically become part of the public database.
Want to know how your neighborhood fares? Or simply just interested in our data? Email us at askus@xtown.la.