Vandals slow their pace 
Property damage shows a slight dip in the first half of the year 
People are defacing, damaging and destroying less stuff so far this year. Or at least, there have been fewer reports of such damage.
There were 10,143 reported cases of vandalism in the first half of 2019, compared with 10,582 cases in the first half of 2018, a decrease of 4.1%, according to publicly available LAPD data. 
Vandalism is when someone damages another person's property on purpose, without the consent of the owner.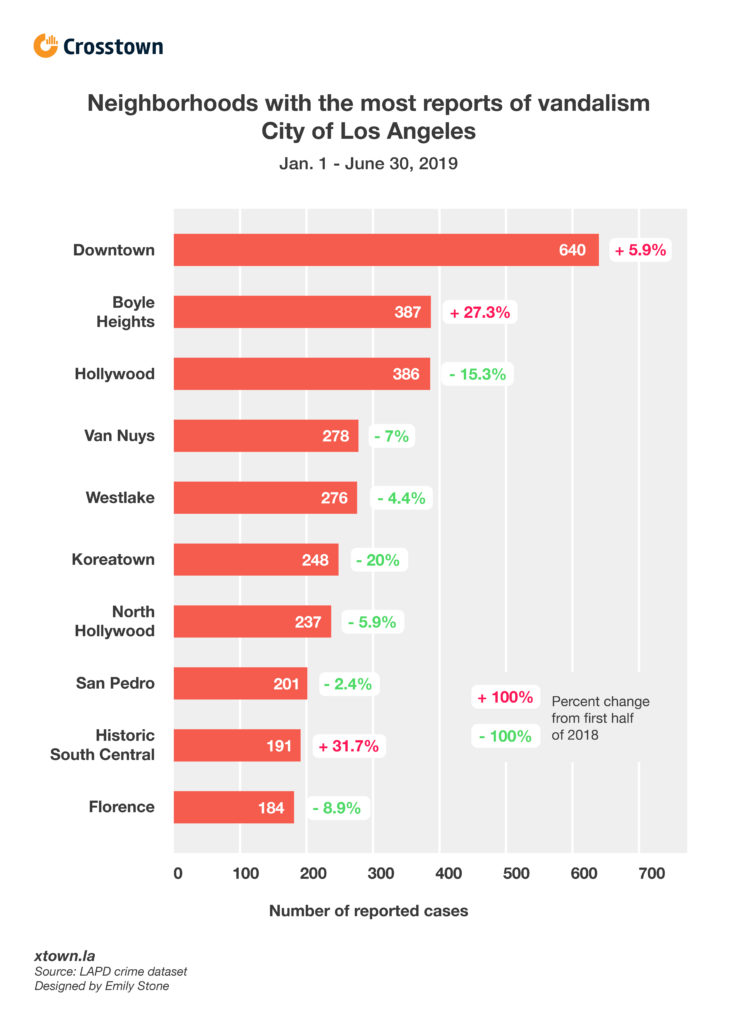 Capt. Paul Vernon, who is in charge of the LAPD's Compstat Division, said that addressing vandalism can be tricky because it is a crime often reported after the actual incident occurs. Sometimes it can be hard to determine if the damaged property was actually a result of vandalism or if came from an accident or even just wear and tear. 
That said, the police do pay attention to the location of the crime; that can be key in determining motive, Vernon said.
"We look at the number of vandalisms of places of worship, government buildings and other places that carry meaning," he said. "We also code crimes for motivation based on 'gang' or 'hate,' both issues that can carry a societal concern." 
Indeed, in our reporting, we found that vandalism was the most common hate crime in the first six months of 2019. 
Across the City of Los Angeles, the neighborhoods of Downtown, Boyle Heights and Hollywood had the most reported cases of vandalism in the first half of 2019. While Downtown and Boyle Heights had increases of about 6% and 27% respectively, vandalism in Hollywood was down by about 15%.
Historic South Central had the biggest spike in reports of vandalism in the first six months of this year, with 191 incidents, compared to 145 during the same period last year, an increase of 31.7%.
In one example at 2 p.m. on May 15 a suspect or suspects ransacked a yard on the 400 block of E. Vernon Ave. Police data show that the victim was a 74-year-old Hispanic male. In another example, a restraining order filed by a 51-year-old Black mother against her own son did not stop him from vandalizing a home at 7:50 a.m. on May 29, on the 2600 block of Stanford Ave. 
According to the LAPD, while vehicle vandalism was down the first half of the year, the biggest rise in vandalism occurred at elementary, junior high and high schools. In fact, we found 96 reports of vandalism at schools during the first six months of 2018. That number rose to 136 during the first six months of 2019, an increase of 38.7%.
"For the most part, the drop in vandalism represents people of Los Angeles respecting others' property better, which is a good thing," said the LAPD's Vernon.
How we did it: We examined LAPD publicly available data on reports of misdemeanor and felony vandalism for the first half of 2019.  For neighborhood boundaries, we rely on the borders defined by the Los Angeles Times. Learn more about our data here.
LAPD data only reflect crimes that are reported to the department, not how many crimes actually occurred. In making our calculations, we rely on the data the LAPD makes publicly available. On occasion, LAPD may update past crime reports with new information, or recategorize past reports. Those revised reports do not always automatically become part of the public database.
Want to know how your neighborhood fares? Or simply just interested in our data? Email us at askus@xtown.la.