Recent quakes trigger alarm for retrofitting
Over 80% of city's most vulnerable buildings yet to be reinforced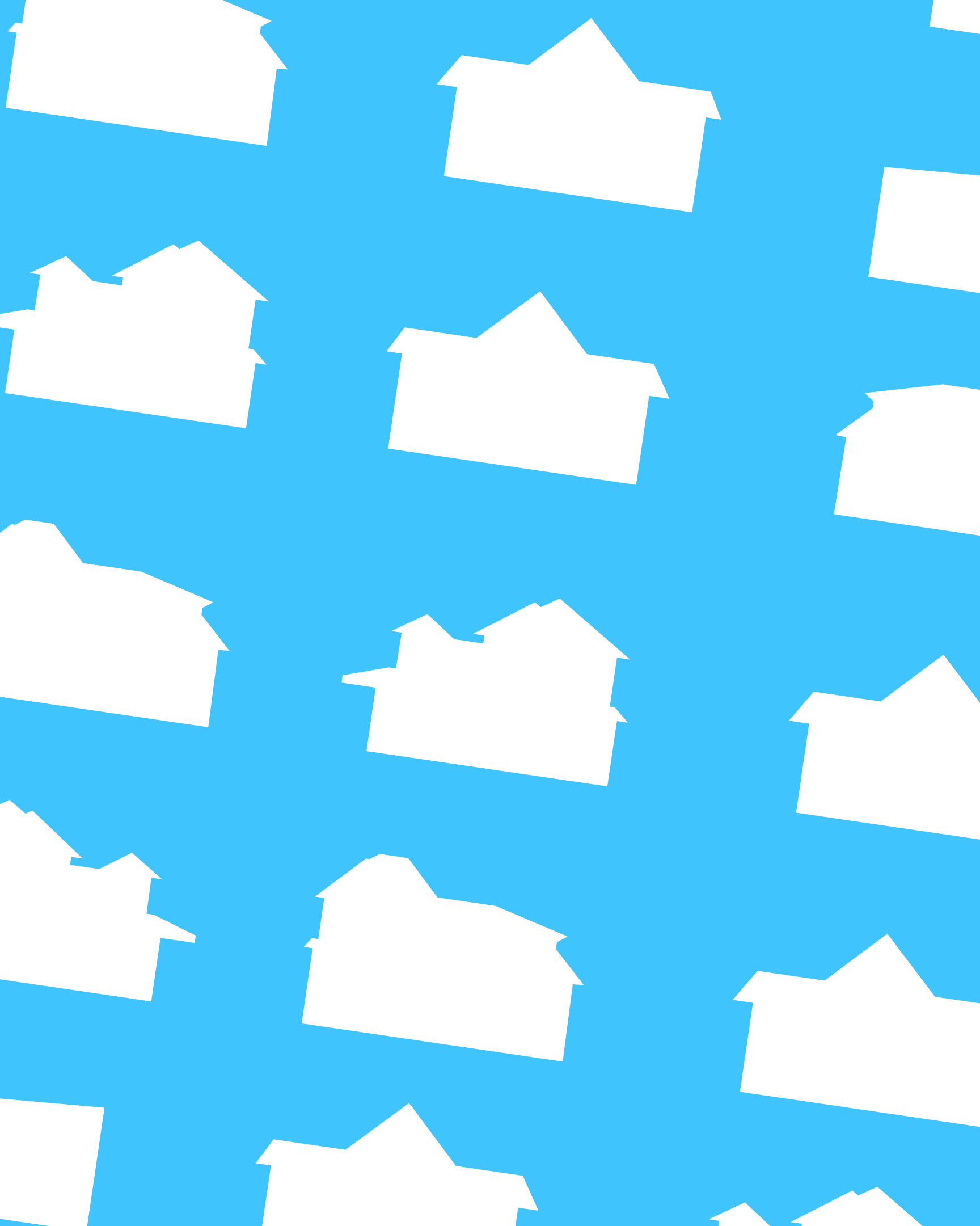 As soon as the ground stopped shaking from the July 5 earthquake in Ridgecrest, Calif., the phones at Arm Builders Inc. started ringing.
The company is one of many in Los Angeles that retrofits and strengthens buildings most at risk to seismic activity. Before both the 7.1 quake on July 5 and the 6.4 magnitude earthquake in the area the day before, the company was receiving about five inquiries a day about retrofits, said founder Aaron Weiss. Now, it's about 20.
"The demand has quadrupled," he said.
Just how prepared are the city's most vulnerable buildings for The Big One? According to the latest data from the Los Angeles Department of Building and Safety, not so much.
In October 2015, the Los Angeles City Council approved an ordinance that required certain older, wood-frame buildings deemed to be most at risk in an earthquake to undergo retrofits to make them more resilient.
The most vulnerable wooden structures are called "soft story" buildings. These are the ones seen in neighborhoods around Los Angeles where the apartments are on the second floor above covered parking. When the ground shakes, the flimsy supports can buckle and cause the whole building to collapse.
There were 12,836 structures identified in 2015 that required retrofitting. Owners have until 2023 to complete the upgrades, according to Building and Safety.
Almost four years after the ordinance passed, however, only 18% of the buildings are earthquake ready.
Nearly 9,700 building owners have filed at least the initial permits to begin work. About 2,200 have hired contractors and have projects underway. And 269 owners, according to Building and Safety, haven't done anything at all.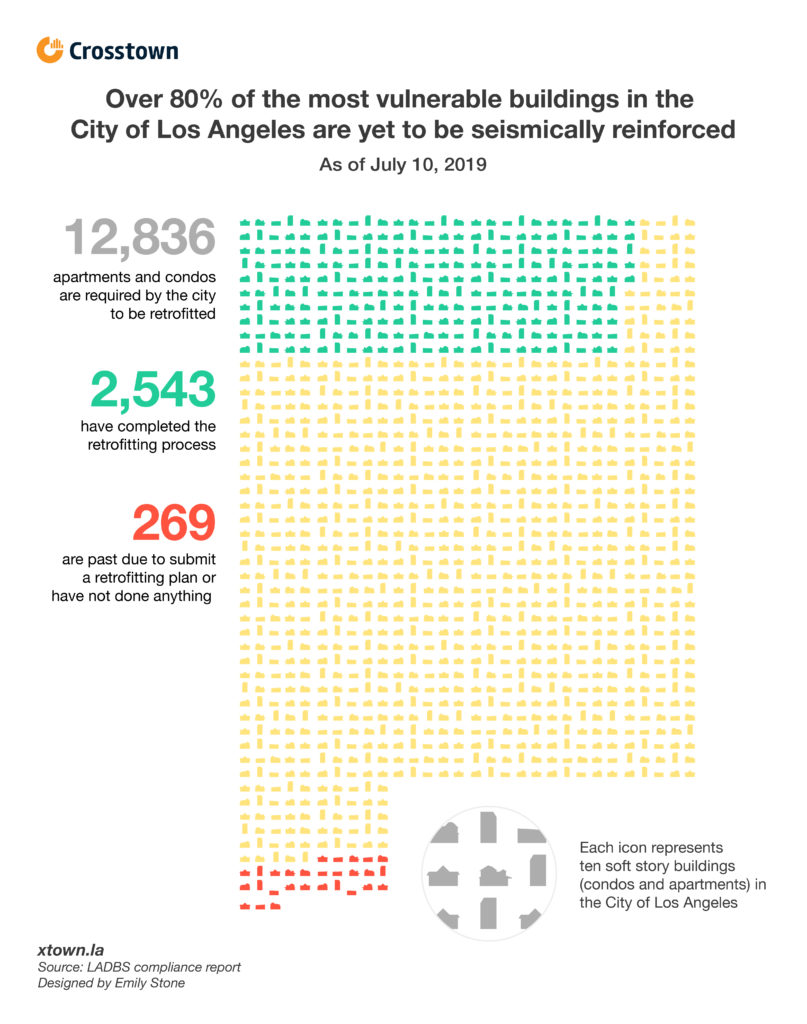 Retrofit requirements
An average apartment retrofit program costs about $65,000, according to Moe Neger, operation director at Arm Builders Inc.
"The price can go a lot higher and a lot lower depending on the size of the building," he said.
It usually takes two to three months to retrofit a soft-story building.
"We will map out the building, draw the architecture plan, find out which areas are bearing the load of the building, and we come up with a solution," Neger said. "We essentially dig a new foundation and add rebar to form a new foundation."
The city's mandatory retrofit ordinance gave building owners two years to submit a retrofitting plan and another 18 months to find a contractor and start reinforcing the building.
With the ground trembling and the 2023 deadline on the horizon, building owners are starting to move.
"Back in 2015 building owners just received the orders to retrofit, so they knew they had to do it," said Aaron Bilgrad, the head of business development of Quake Strong, a foundation retrofitting company based in the Mid-City neighborhood. "After the earthquake, they would think 'we'd better do it quick.'"
Retrofitting impacts renters
But the rush to retrofit exacerbates another issue in Los Angeles: rising rents. Landlords are allowed to raise the rent to recover costs for seismic retrofit even if the building is under rent control, according to the city's Rent Stabilization Ordinance.
Edna Monroy is the director of outreach and education of Strategic Actions for a Just Economy, a nonprofit organization that provides legal consulting to mostly low-income tenants.
"We've got quite a few seismic retrofit cases through our weekly tenant action clinic," she said.
However, the July 4 and 5 earthquakes and their recent aftershocks did not sound the alarm for everyone. Andrew Frank is the senior property manager of First Choice Housing, which manages student apartments in the University Park neighborhood around the University of Southern California.
"Frankly, we didn't do anything after the earthquake," he said. "This month is our busiest season, because new students are moving in."
The company retrofitted its apartment on Ellendale Place last year.
"That was because we were required to by the city department, not because of the earthquakes," Frank said.
Yet another First Choice Housing property on Portland Street failed to submit a retrofitting plan to meet the deadline as required by the city, according to the Building and Safety compliance report.
"Building owners that are past due are supposed to face financial penalties and receive a non-compliance letter from the department," said Kim Arther, public information officer of Building and Safety.
Concrete isn't great either
Many low-rise concrete buildings built before 1976 also lack earthquake safety designs. Building and Safety has also identified 1,249 concrete buildings that must meet retrofitting requirements by 2040. None of them has been fixed yet, according to the department.
Renovations are much harder and more expensive for concrete buildings and require the buildings to be vacant, according to Heather Rosenberg, an architect and director of Building Resilience LA, a program that provides assistance for local communities to bolster their preparedness for an earthquake.
Single-family homes aren't immune
Other than buildings on the city's black-list, some single-family homes can be vulnerable in earthquakes and need retrofitting too.
"With the recent earthquakes in Ridgecrest, earthquakes are on people's minds again, which is good," said Rosenberg. "But the limited damage of those quakes might have given people a false sense of security, because a similar quake in LA would have much bigger consequences."
Click here to see LADBS' spreadsheet of 276 buildings that failed to submit a retrofitting plan in time as of July 10, 2019.
How we did it: We analyzed the Los Angeles City Department of Building and Safety's compliance report on soft story and non-ductile concrete retrofit program status as of July 10, 2019. Through a California Public Records Act request to LADBS Custodian of Records , we obtained the spreadsheet of apartment buildings whose owners are past due to submit a retrofitting plan as of July 10, 2019, detailed to the address of each building.
Want to know how your neighborhood fares? Or simply just interested in our data? Email us at askus@xtown.la.