Want to avoid crime on Metro? Stay off the Red Line 
A look at reported crime on Metro lines in the City of Los Angeles
Hey, Angelenos: Wondering which Metro line to take Downtown? There might be a few to avoid.
Of the eight metro lines serving the City of Los Angeles, the Red Line, which runs through Downtown and North Hollywood, had the most crime reports from Jan. 1, 2017 to Aug. 31, 2019, according to publicly available LAPD data.
(Note: Metro data prior to 2017 is limited, as the LAPD only started working with Metro security in 2017. Stations outside the City of Los Angeles are also patrolled by other agencies, such as the Long Beach Police Department.).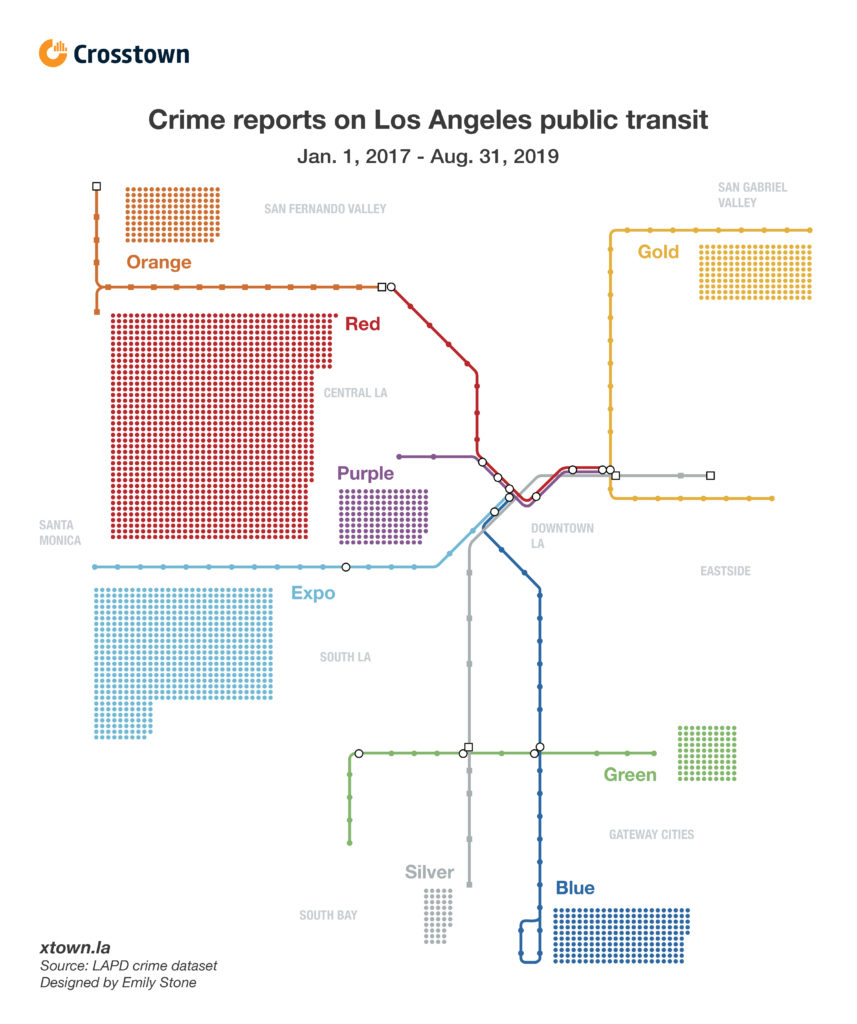 At 1,381 reports, the Red Line had more than twice the amount of its runner-up, the Expo Line, which runs along Exposition Boulevard from Downtown LA to Santa Monica. It recorded 669 crime reports.
The Blue Line, which took third place, with 225 reported crimes, runs between Downtown and Long Beach, passing through much of Historic South Central and Compton.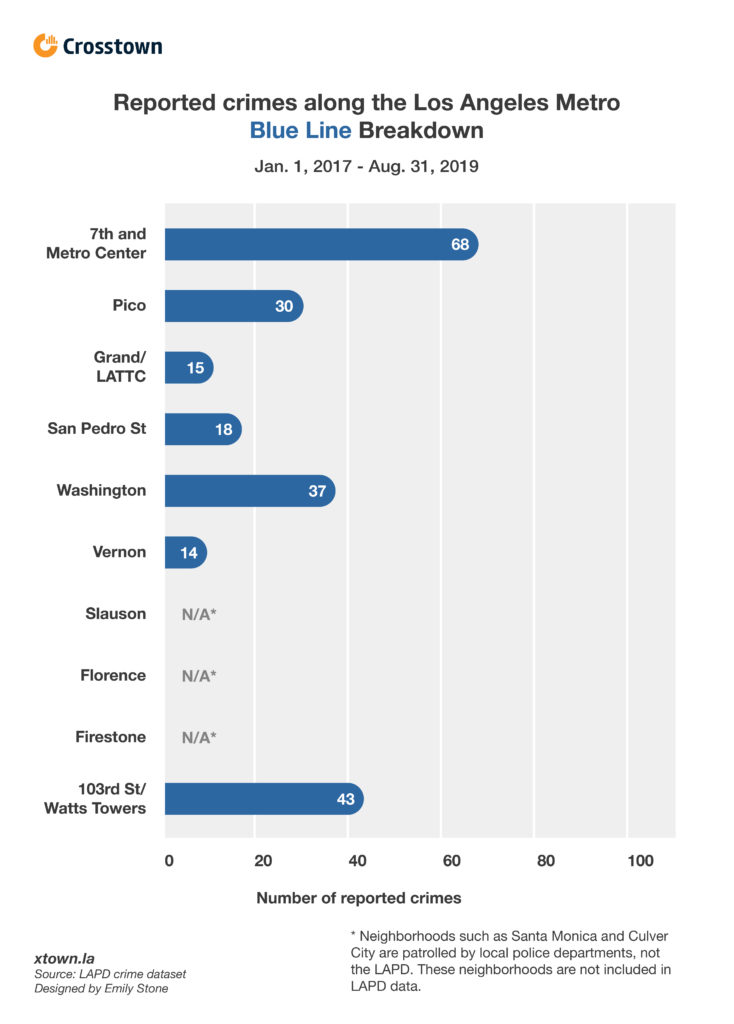 So far this year, overall crime across all the Metro lines in the City of Los Angeles dipped slightly: There were 898 crime reports recorded between Jan. 1 – Aug. 31, 2019, a 1.64% drop from the same period last year. 
But according to data from LA Metro, overall ridership on Metro lines has also been decreasing, going from 33,410,400 riders in August 2018 to 31,929,651 in August 2019, a 4% drop. A number of Blue and Expo Line stations have also been closed this year, contributing to reduced  ridership and crime reports.
The Red Line, however, seems to be bucking this trend, with a 14% increase in crime between the first eight months of 2018 and 2019. It is also the line with the most passengers overall, according to data from LA Metro.
"The Red Line is probably the most frequently travelled among all the MTA Lines. It also has the highest reports of homeless passengers," said Sgt. Randy Rangel of the LAPD's Transit Services Division. "There are also lots of tourists heading to Hollywood who are very susceptible to theft."
Indeed, the Red Line does have far and away the most passengers. Metro combines Red Line and Purple Line  ridership together (the Purple Line Route runs along) side the Red Line for all but two stations). The estimated monthly ridership for August was 3.4 million. The next highest was the Expo Line, with 1.5 million in August. The Blue Line, with a much lower average monthly ridership of 343,000, actually has more crimes per passenger than either the Red or Expo line.
The Red Line also goes through all three Metro stops with the most crime reports overall.
Metro stops with the most crime reports since 2017:
7th St/Metro Center: 267 (Red Line, Expo Line, Blue Line, Purple Line)

Union Station: 251 (Red Line, Purple Line, Silver Line, Gold Line)

North Hollywood: 197 (Red Line, Orange Line)
The Red Line, Expo Line, and Blue Line all go through the 7th St/Metro Center stop in Downtown, which had the most crime reports out of any Metro stop.
Since 2017, there have been 267 crimes reported at 7th St/Metro Center. Of the 267 reports, 105 of them were incidents of simple or aggravated assault, and 81 were incidents of theft or robbery.
For six of the seven lines, battery – simple assault is the most commonly reported crime. It's also the most frequently reported crime across the City of Los Angeles for the same time period. For four of the seven lines, theft of $950 in value or less was the second most common.
Top crimes for metro lines since 2017:
Battery without causing severe injury:

674

Theft of $950 and under: 434

Theft from a person's body without force: 332

Robbery (theft with force) from a person's body: 264

Assault with a deadly weapon: 196
The Red Line had 347 reports of battery simple assault, making up almost half of simple cases on Metro lines alone. 
In one case – at midnight on Valentine's Day – a 27-year-old black female was assaulted with a folding knife by a homeless suspect on the Red Line at 7th St/Metro Center. Three days later at 4:45 a.m. on Feb. 17, a 41-year-old black male was attacked with mace on the Red Line at Hollywood/Vine.
The Red Line's reputation for high crime is echoed by its average of 3.5 stars on Yelp, with a plethora of scathing one-star reviews. Most of these reviews complain about the amount of homeless people riding the trains.
Tim N. from Burbank wrote in his one-star review, "I observed a homeless individual physically attack another rider. Uniformed security arrived quickly, however all they did was talk into their radios, they did not attempt to find or detain the attacker… Sadly I can no longer use the Red Line, since my wife feels unsafe riding it."
Homeless suspects, however, are implicated in only about 13% of crimes committed on Metro lines in Los Angeles. And about 6% of all crime victims on the Metro were experiencing homelessness. 
On the other end, another Tim – Tim R. from North Hollywood – wrote in his four-star review, "I love the LA Metro Red Line. I live in North Hollywood and work in Downtown LA and this is the best commute option by far… The only drawback is that it's not super clean and you do have some crazy people and bums on there at times, but that's how most public transportation works."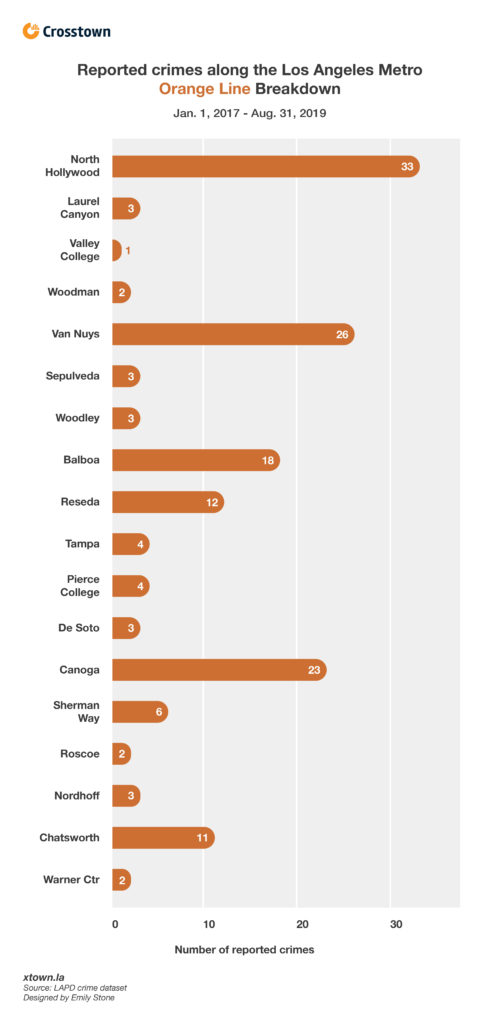 How we did it: We examined LAPD publicly available data on crimes reported in the City of Los Angeles on Metro lines from Jan. 1, 2017 – Aug. 31, 2019. Learn more about our data here. 
LAPD data only reflect crimes that are reported to the department, not how many crimes actually occurred. In making our calculations, we rely on the data the LAPD makes publicly available. On occasion, LAPD may update past crime reports with new information, or recategorize past reports. Those revised reports do not always automatically become part of the public database.
Want to know how your neighborhood fares? Or simply just interested in our data? Email us at askus@xtown.la.