LA's murder rate is creeping back up
So far, 2019 shows slight increase from last year
There were 203 murders from Jan. 1 – Sept. 30, 2019 in the City of Los Angeles, 9% more than during the first nine months of last year.
These numbers from the first nine months give an early indication that criminal homicides in the City of Los Angeles could be on track to surpass last year's total of 258, which was an 8% drop from 2017.
For the people killed by criminal homicide in the first nine months of this year, 25 were female and 178 were male, according to LAPD publicly available data.
Among the victims, 92 were of Hispanic descent, 85 of the victims were black, 19 were white, four were listed as "Other," two were listed as Asian and one as "Unknown." 
Black people were murdered at a disproportionately high rate, accounting for 41.8% of the victims, but only 9% of the population in the city. White people comprised only 9% of murder victims, but make up 28.4% of the population.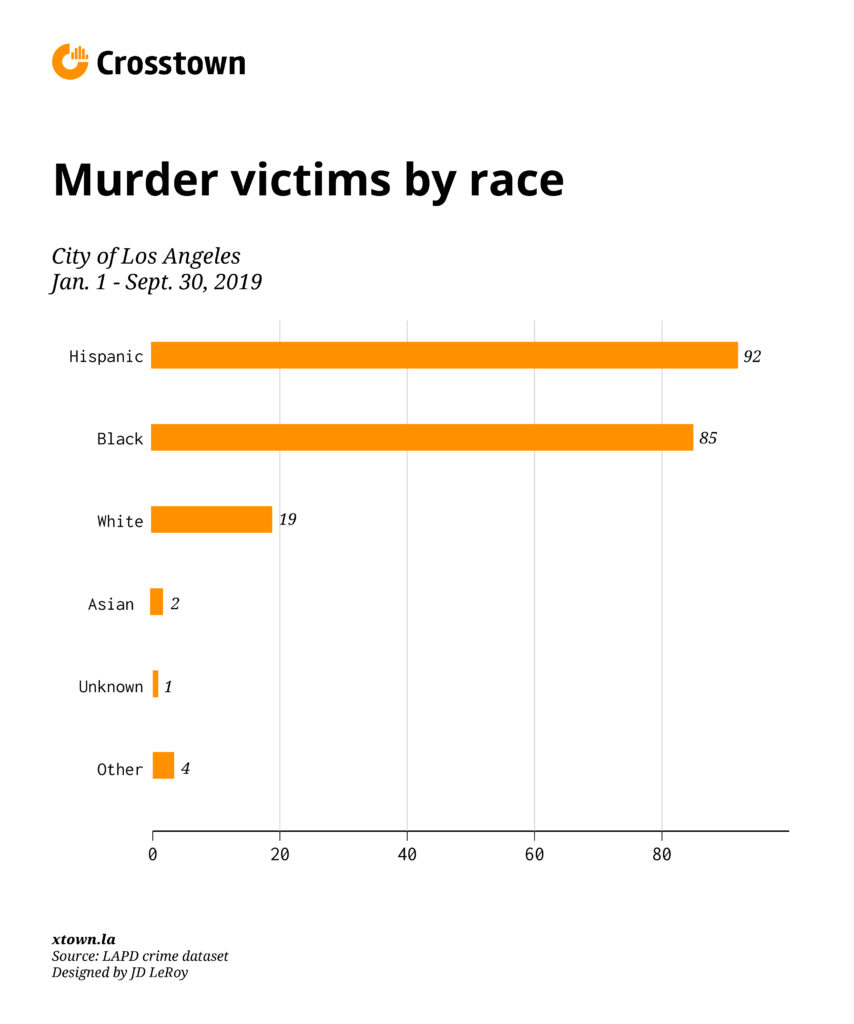 Guns were by far the most common weapon used in homicides. Handguns were used in 79 murders, and semi-automatic pistols were used in 22 murders. Unknown firearms were reported in 20 cases.
Other weapons, according to LAPD data, also included one murder each with a pair of scissors, scalding liquid and a machete:
A suspect killed their roommate, a 25-year-old Hispanic male, by cutting or stabbing him with scissors at 4:01 a.m. on April 22 in a house on the 6500 block of Mammoth Ave. in

Valley Glen

.  
A suspect killed a Hispanic male victim of unknown age with scalding liquid at 2 p.m. on June 16 in an apartment or condo's common laundry room on the 13600 block of Simshaw Ave. in

Sylmar.

 
A suspect killed a 32-year-old Hispanic female with a machete at 1:26 a.m. on June 22 in an apartment building on the 14800 block of Roscoe Blvd. in Panorama City. Local news reported that the suspect was the victim's husband, who first killed his wife, then broke into a neighbor's house where he wounded three people. In addition to murder charges, news reports stated that the suspect also faced one charge each of the following: premeditated attempted murder, first-degree burglary, person present, two felony counts of assault with a deadly weapon and two felony counts of mayhem.
Though this year's numbers appear to be increasing, they are low compared to the 1990s, when a record number of people were murdered in the city.
How we did it: We examined publicly available LAPD data on reports of criminal homicides from Jan. 1 – Sept. 30, 2019. For neighborhood boundaries, we rely on the borders defined by the Los Angeles Times. Learn more about our data here.
LAPD data only reflects crimes that are reported to the department, not how many crimes actually occurred. In making our calculations, we rely on the data the LAPD makes publicly available. LAPD may update past crime reports with new information, or recategorize past reports. Those revised reports do not always automatically become part of the public database.
Want to know how your neighborhood fares? Or simply just interested in our data? Email us at askus@xtown.la.