Vandals slow their roll
Slight decrease in reports of vandalism in the City of Los Angeles
Reports of vandalism in the City of Los Angeles decreased nearly 3% from Jan. 1 – Sept. 30, 2019 compared with the same time last year. But superstar Mariah Carey's star on the Walk of Fame in Hollywood wasn't spared. 
Vandalism is when someone damages another person's property on purpose without the consent of the owner. Nearly 10% of all crimes so far in the first nine months of this year have been vandalism, according to publicly available LAPD data.
One of the casualties: Carey's star on Hollywood Blvd. Sa'Quan Carr, a student at the American Musical and Dramatic Academy in Los Angeles, was on Twitter around 6 p.m. on Oct. 13 at his dorm in Hollywood when he saw a tweet claiming Carey's star had been vandalized. 
Armed with a bottle of La's Totally Awesome multi-purpose cleaner and a yellow sponge, Carr made the short walk over to the star, got on his hands and knees, and began to scrub.
Carr said he was eight years old when he first saw Mariah's video for "We Belong Together" on BET's flagship popular music TV show, "106 & Park." He said he has been  impressed with all the personal and professional obstacles Mariah has overcome in life, since her debut in 1990. 
"Mariah Carey's music helped me through a dark time in my life," said Carr. "I love her. She's my spirit animal."
Downtown, Hollywood and Boyle Heights had the highest number of reports of vandalism during the first nine months of this year. Downtown and Boyle Heights increased nearly 5% and 14% respectively, from the same time last year. Historic South Central had the highest increase from this time last year, spiking nearly 33%.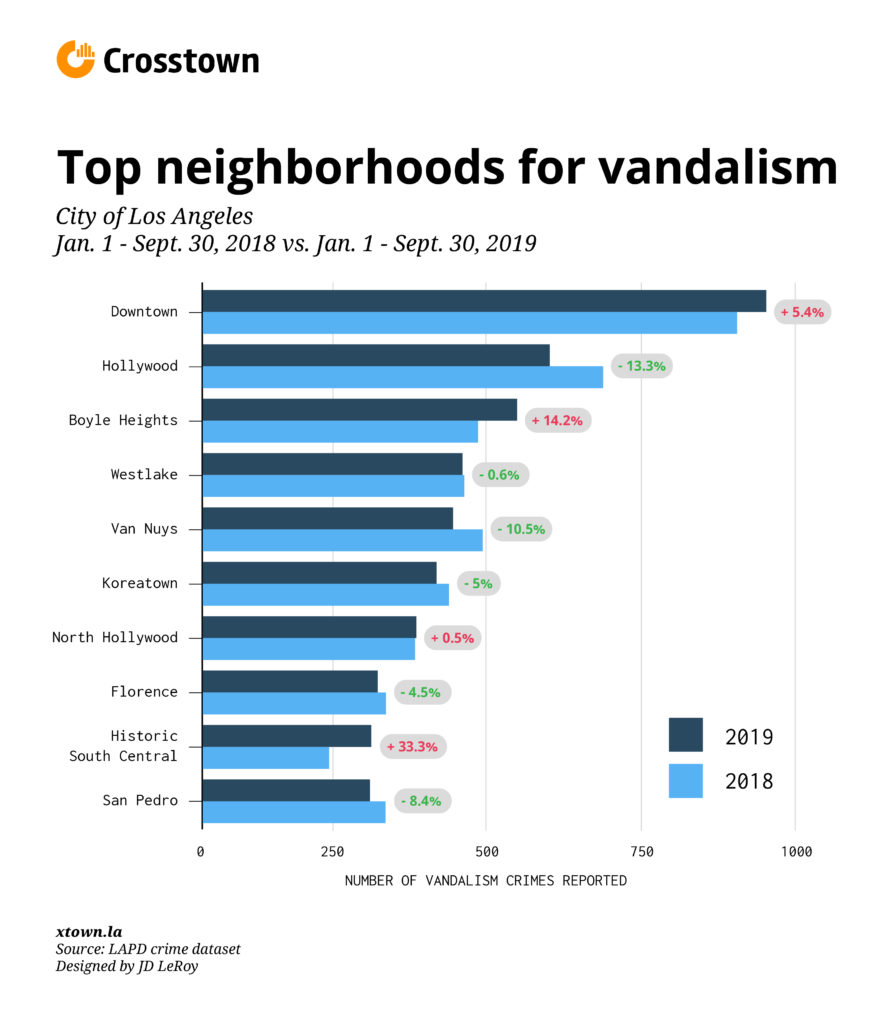 Vandalism also showed up in hate crimes in the city. Of the 252 hate crimes in the first nine months of this year, 65 were also acts of vandalism. In one of those incidents, a church was vandalized and a gay male was targeted based on his sexual orientation at 7 p.m. on Feb. 18 on the 7300 block of W. Sunset Blvd. in Hollywood, according to publicly available LAPD data. 
How we did it: We examined LAPD publicly available data on reports of vandalism during the first half of 2019 compared to the same time period last year. We included both misdemeanor and felony vandalisms. For neighborhood boundaries, we rely on the borders defined by the Los Angeles Times. Learn more about our data here. 
LAPD data only reflect crimes that are reported to the department, not how many crimes actually occurred. In making our calculations, we rely on the data the LAPD makes publicly available. On occasion, LAPD may update past crime reports with new information, or recategorize past reports. Those revised reports do not always automatically become part of the public database.
Want to know how your neighborhood fares? Or simply just interested in our data? Email us at askus@xtown.la.