What's the most dangerous day to drive in LA?
Friday takes the top spot
If you drive in the City of Los Angeles, be extra careful on Friday. 
For the first nine months of this year, Friday had the most car accidents reported to the LAPD, with 6,739 collisions occurring on that day, followed by Thursday and Wednesday, with 6,297 and 6,124 accidents, respectively.
Sundays, when traffic is generally the lightest, had the fewest car accidents reported, at 5,265, according to the LAPD.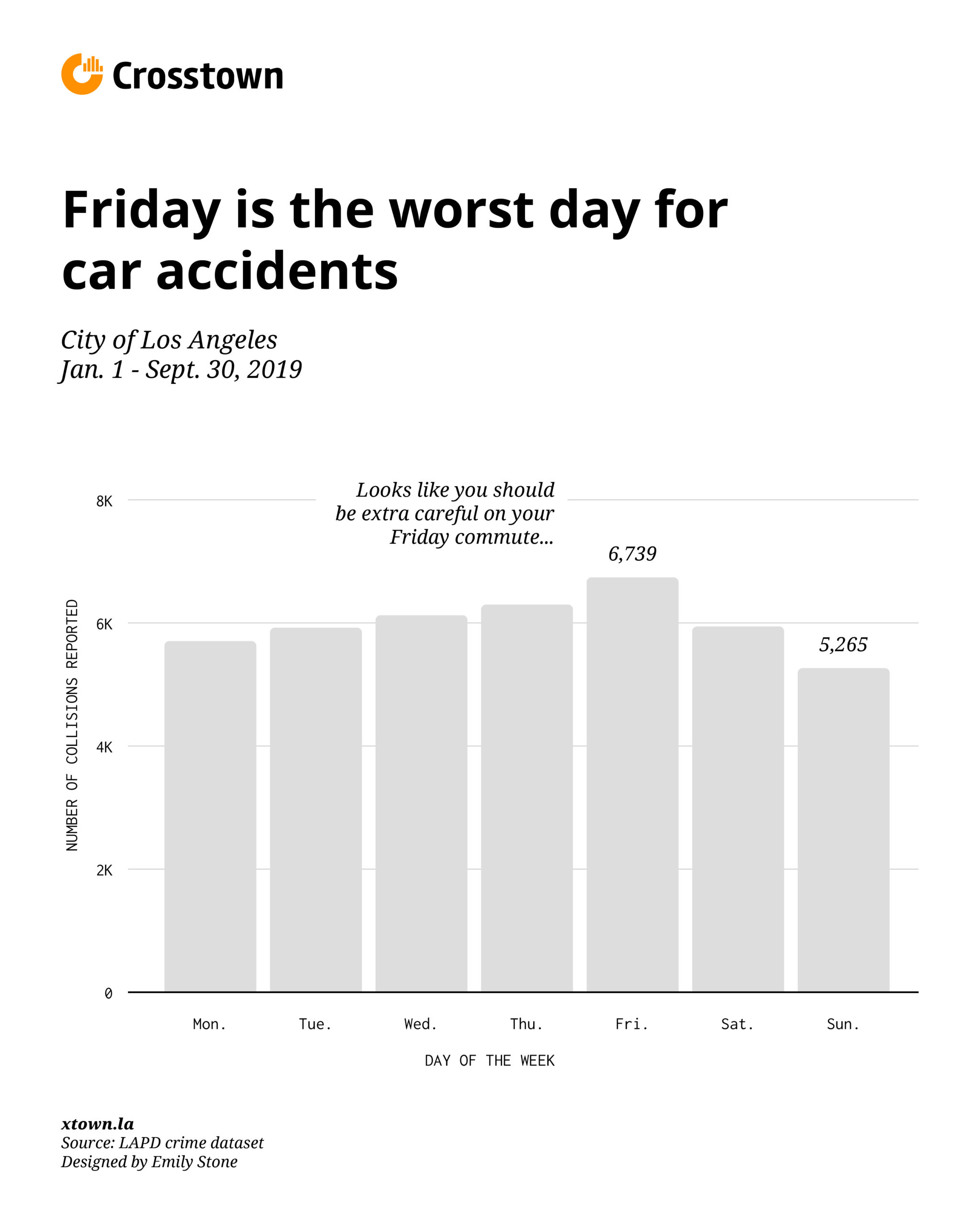 The LAPD refers to these accidents as "collisions," and they can involve vehicles, pedestrians, cyclists or property.
One Friday collision happened at 6:45 p.m. on Nov. 1. Anthony Marez was sitting in bumper-to-bumper traffic on the I-710 South headed to the City of South Gate to visit family. 
Marez said he was at a complete stop in his black 2006 Kia Spectra when the car behind him rear-ended his vehicle, pushing his car into the vehicle in front of him. 
"As I looked in the rearview mirror, I could see the guy behind me wasn't slowing down at all," Marez said. "He ended up hitting me at almost full speed. … My car took the most damage."
Adding insult to injury, Marez said he had just finished paying for repairs from another accident he was involved in over the summer. 
Fridays were also the worst day for traffic collisions over the past nine years, according to LAPD data, followed by Saturday and Thursday. 
Traffic collisions, especially those involving pedestrians, are a big problem in LA, according to Mayor Eric Garcetti. The frequency of these collisions was why in 2015 Garcetti issued an executive directive establishing Vision Zero, an initiative taken on by Los Angeles and other cities around the world to reduce traffic fatalities to zero by 2025.
"We deploy our resources based on the data where collisions are happening and when they are happening and focus on motorist behavior as well as greatest risk locations," said Lt. David Ferry with the Traffic Enforcement Section of the LAPD.
How we did it: We examined LAPD publicly available data on reports of traffic collisions for the first nine months of 2019 compared to the same time period last year. Learn more about our data here. 
LAPD data only reflect collisions that are reported to the department, not how many collisions actually occurred. In making our calculations, we rely on the data the LAPD makes publicly available. On occasion, LAPD may update past reports with new information, or recategorize past reports. Those revised reports do not always automatically become part of the public database.
Want to know how your neighborhood fares? Or simply just interested in our data? Email us at askus@xtown.la.