Pot may be legal, but crime at dispensaries is rising
LA's many unlicensed dispensaries make tracking robberies difficult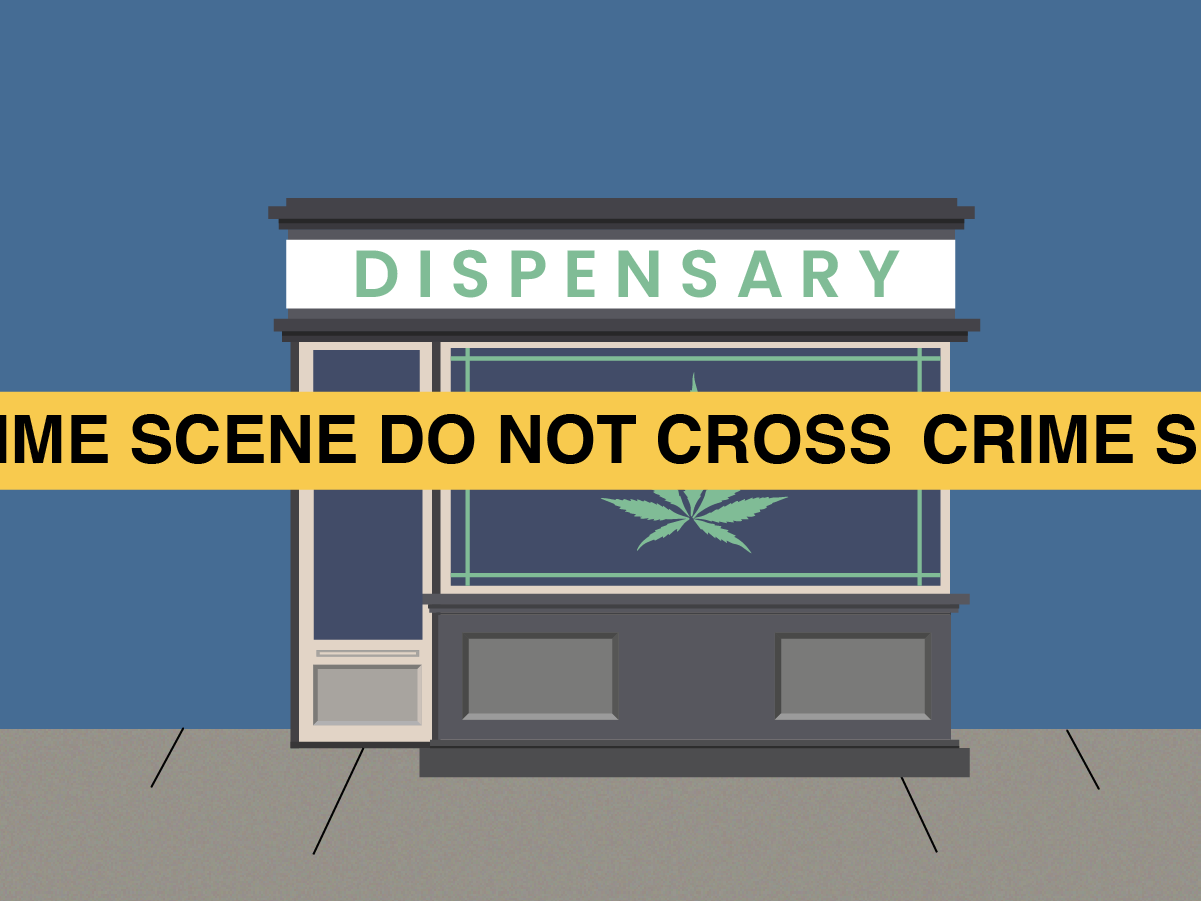 In the two years since California legalized recreational marijuana, the City of LA hired a pot czar, opened 189 recreational shops and made $471 million in sales.
But even though weed has been decriminalized, dispensaries are not crime-free.
We looked into crimes reported at marijuana dispensaries in the City of Los Angeles, and, not surprisingly, with the increase in brick-and-mortar stores, crimes at said stores have gone up.
There were 115 reported crimes at dispensaries in the first nine months of 2019, according to LAPD data. This is an increase of more than 10% from the first nine months of 2018, which had only 103 reported crimes.
Before marijuana's legalization in 2018, dispensaries sold marijuana strictly for medical use, though many existed in a legal gray zone because the City of Los Angeles was never able to create a streamlined permitting process. Consequently, Los Angeles could never accurately count how many of these dispensaries were operating legally.
Since then, the problem of unregulated dispensaries has not improved much. Illegal, unlicensed facilities are booming in Los Angeles, the LA Times reported, as getting a license can be a long and grueling process. Though these dispensaries do not have a state-endorsed license, their lower prices make them a popular option for recreational consumers, as they do not have to follow California's 15% cannabis sales tax. This is why revenue from the first year of legal pot sales fell $160 million short of what was projected.
The past nine years have shown an increase in reported crimes at dispensaries overall. (The LAPD data, however, does not distinguish between licensed and unlicensed dispensaries.). For the first nine months of 2019, there were 115 reported crimes at cannabis dispensaries.
One dispensary burglary took place at 2:10 a.m. on Aug. 12, 2019. A suspect disabled an on-site security camera and stole cannabis from a dispensary on the 10700 block of Riverside Dr. in Toluca Lake, a neighborhood near Universal Citywalk. Again, the data does not reveal if the dispensary was licensed or unlicensed. 
Licensed and unlicensed dispensaries have different security measures, according to the LAPD.
"Prior to Proposition 264, we didn't have adult recreational use, and there was no system in place to regulate medical marijuana dispensaries yet," said Det. Vito Ceccia of the LAPD's cannabis unit. (Yes, LAPD has a cannabis unit.) But now, licensed dispensaries are required to be equipped with on-site security guards and video surveillance cameras. 
Unlicensed dispensaries, however, may have fewer protective measures. There was a homicide in late August that took place at an unlicensed dispensary where Lt. Abe Rangel, head of the LAPD's cannabis unit, said there are no official safety measures.
"Since they are unregulated, we can't be sure of the safety of the patrons or the product," he said.
Workers at unlicensed dispensaries may also be more hesitant to call for help when a crime occurs, according to an analysis in Leafly, a publication that covers the cannabis industry, making them more susceptible to robberies. This is why unlicensed dispensaries are targeted more than licensed ones, Leafly reported, and also why the overall crime count at dispensaries could be higher than the LAPD data shows.
Of LA's 189 licensed cannabis dispensaries, 15 are in Downtown, according to data from the City of Los Angeles. But there are far more dispensaries listed on Weedmaps, a service that allows people to search for dispensaries in their neighborhoods. Weedmaps currently lists 71 operating dispensaries in Downtown Los Angeles alone.
Lt. Rangel says the LAPD is trying to crack down on unlicensed dispensaries, as their lack of regulation also puts employees and consumers at risk. But when an unlicensed dispensary reports a crime, unless the police find a large cannabis grow, the LAPD's protocol for robberies doesn't change.
"If [the dispensaries] are a victim of a crime, whether it's a robbery or an after-hours burglary, the police will still go out there and take the crime report," Ceccia said. "We do care that you're an unlicensed location, but we care more that you're a victim of a crime."
How we did it: We examined LAPD publicly available data on reports of crimes at medical and recreational cannabis locations from Jan. 1, 2010 – Sep. 30, 2019. For neighborhood boundaries, we rely on the borders defined by the Los Angeles Times. Learn more about our data here.
LAPD data only reflect crimes that are reported to the department, not how many crimes actually occurred. In making our calculations, we rely on the data the LAPD makes publicly available. On occasion, LAPD may update past crime reports with new information, or recategorize past reports. Those revised reports do not always automatically become part of the public database.
Want to know how your neighborhood fares? Or simply just interested in our data? Email us at askus@xtown.la.