For porch pirates, Christmas is one big gift
Reports of package theft spike during the holidays
The holiday shopping season is in full swing. So are porch pirates. Reports of stolen packages from doorsteps rose 59% in December in 2018 compared with the average for the rest of the year, according to Los Angeles Police Department data. 
December had 269 reports of stolen packages, compared with 213 for November, the second-highest month, an increase of 26%. The next highest months were September, with 172, October, with 168, and March, with 163. December has been the top month for porch piracy for the past five years.
Throughout all of 2018, the average number of reported package thefts was 5.5. In December, that rose to 8.7 per day.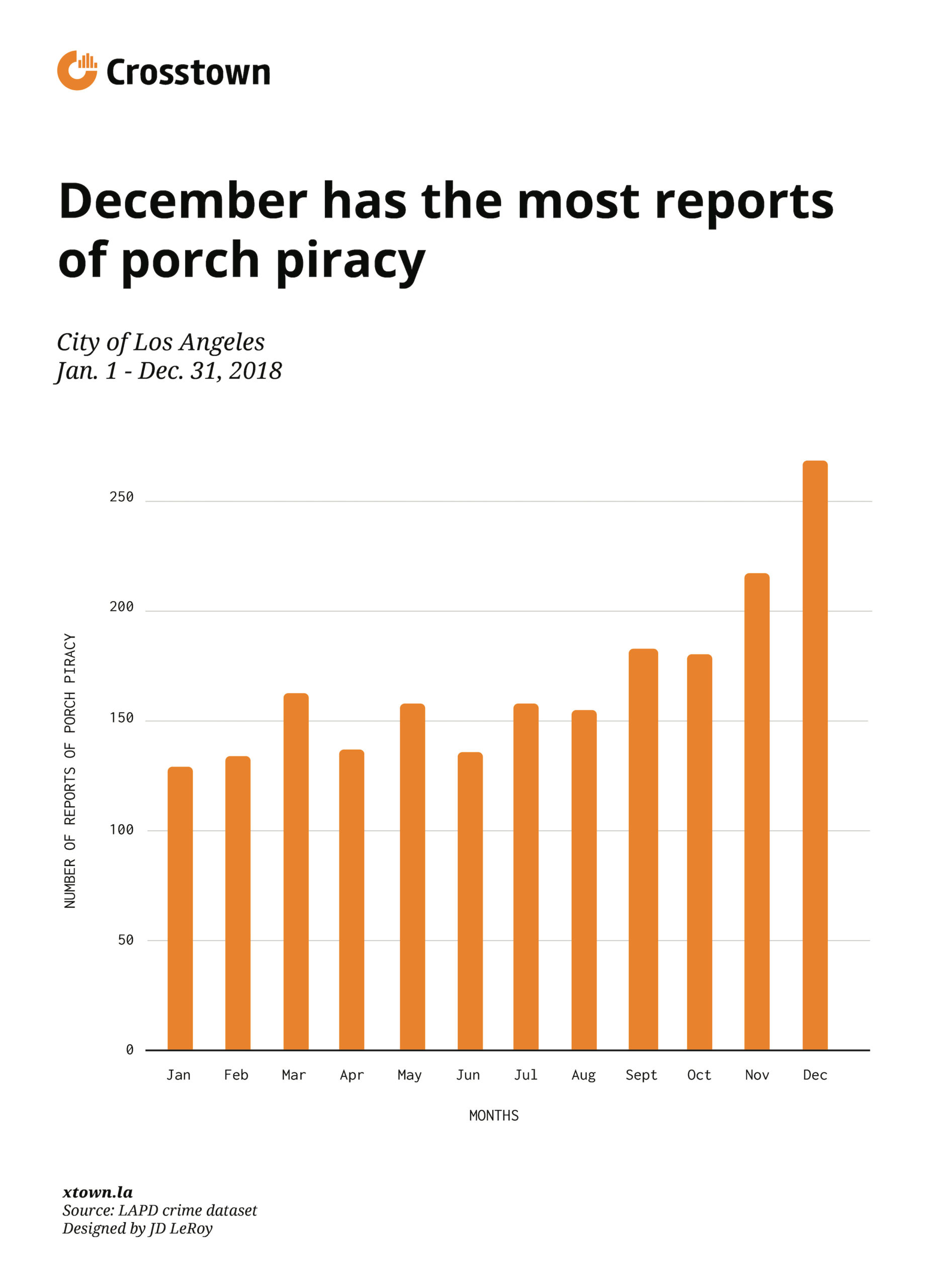 Certain areas of Los Angeles seem to lure more package thieves than others. Sherman Oaks has recorded the most incidents of porch piracy since the LAPD began making its data public in 2010. Van Nuys and Hollywood came in a close second and third.
These numbers represent only the thefts that were reported to the police. The actual number of packages stolen from people's doorsteps is likely far higher. Videos of thieves sneaking off with packages are a mainstay on social media platforms like Next Door and Neighbors.
In the days leading up to Christmas, the number of reported package thefts rises even higher. Last year, the week prior to Dec. 25 had 7.4 reports of stolen packages per day, compared with the 5.5 per day average for the year.
"With the increase in online shopping and the amount of stuff people buy online, and the amount of gifts and properties delivered to their house, we always see an increase in porch piracies around the holiday season," said LAPD Det. Charles Geiger.
Zim Chiang, who lives in Pasadena, had a package stolen on Dec. 1 from his front porch after getting back from a trip to Las Vegas. He recalled seeing a prowler around his home around the same time.
"I noticed something suspicious going on," Chiang said. "[There are] a lot of people going around apartments randomly, mostly for packages."
He estimates the total cost of the missing packages to be $30. But this isn't the first time he's had porch pirates. And his experience isn't unique.
This year, the U.S. Postal Service estimates it will deliver an estimated 13 billion pieces of mail across the nation between Thanksgiving and New Year's Day, with 800 million of those being packages. 
While the postal service averages a delivery of 20.5 million packages per day during the rest of the year, they anticipate more than 28 million per day between Dec 16-21. With more packages, of course, come more opportunities for porch pirates to attack. 
USPS Postal inspector Eric Shen has some tips. He recommends that when ordering packages, people should customize the delivery instructions, or hold the package at a postal office until the customer is able to pick it up, in addition to just making sure the package isn't left unattended.
"When I buy stuff online and it's being shipped to my house, I do everything I can to make sure someone's home. If not, [I] pick it up somewhere," Shen said.
Shen said that if USPS notices a significant increase in reports, USPS and the LAPD will strategize and implement extra patrol from both police officers and postal inspectors, and educate employees on the best way to drop off packages.
But for individuals expecting packages delivered in the upcoming weeks, it might be best to attack the situation from a personal standpoint.
In the first 9 months of 2019, 97% of reported package thefts are still under ongoing investigation, with only 22 cases ending in arrest, according to LAPD data.
"It's sad really, not many [cases end in arrest]," said USPS media relations spokesperson Evelina Ramirez. "There are generally not many witnesses. Many times these suspects will just cruise around in neighborhoods in cars and when they see a likely package, they'll just go up to a porch… and swipe the package," Geiger said.
USPS has a national hotline for stolen packages: 877-876-2455. Other shipping companies implement several different strategies to reduce the risk of porch piracy. FedEx offers Fedex Delivery Manager, where consumers can opt to have packages redirected to a Fedex location, Walgreens, or other places, in addition to a "vacation hold" option.
Shee Eun Park, a student at the University of Southern California, says she tries to use Amazon Locker after confusion with the arrival date of one her packages a few weeks ago. When she checked her tracking number, it was days after the package was supposed to arrive, and it was nowhere to be found.
"I try to check my tracking number more often now," Park said. "And I try to pick up my Amazon packages at the Amazon locker. [It's] convenient because I don't have to worry about my package getting stolen."
If that doesn't work, some retailers offer to replace the stolen items at no extra cost.
How it's reported: We examined publicly available LAPD data on crimes that included "suspect takes UPS, Fedex, USPS Packages" from Jan. 1, 2010 (the earliest available data) to Dec. 5, 2019. For neighborhood boundaries, we rely on the borders defined by the Los Angeles Times. Learn more about our data here.
LAPD data only reflects crimes that are reported to the department, not how many crimes actually occurred. In making our calculations, we rely on the data the LAPD makes publicly available. LAPD may update past crime reports with new information, or recategorize past reports. Those revised reports do not always automatically become part of the public database.
Want to know how your neighborhood fares? Or simply just interested in our data? Email us at askus@xtown.la.