Don't leave your valuables 'home alone' over the holidays
Burglaries spike in December compared to the rest of the year
December is the month with the highest burglary rates compared to the rest of the year. Unfortunately, most people won't have someone to set booby traps and look after their property like Kevin McCallister in "Home Alone."
During December 2018, there was a 10% spike in burglaries in the City of Los Angeles, compared with the first 11 months of the year, according to Los Angeles Police Department data. This mirrors December 2016 and 2017, when there were 6% and 16% increases in burglaries respectively, compared to the first 11 months of each year.
Not only that, but the daily average amount of burglaries was higher around the holidays, when compared to the entire year. In 2018, the daily average amount of burglaries was around 40 burglaries per day. Between Dec. 18 and Dec. 31, 2018 however, it was around 46 burglaries a day, a 15% increase.
"It's a prime time for burglars to break into houses," said LAPD Det. Charles Geiger, explaining that most people tend to do their Christmas shopping around Thanksgiving, and keep those valuable items in their homes.
Certain neighborhoods record a high spike in burglaries in December, with Elysian Valley and Pacific Palisades seeing an increase of over 200%.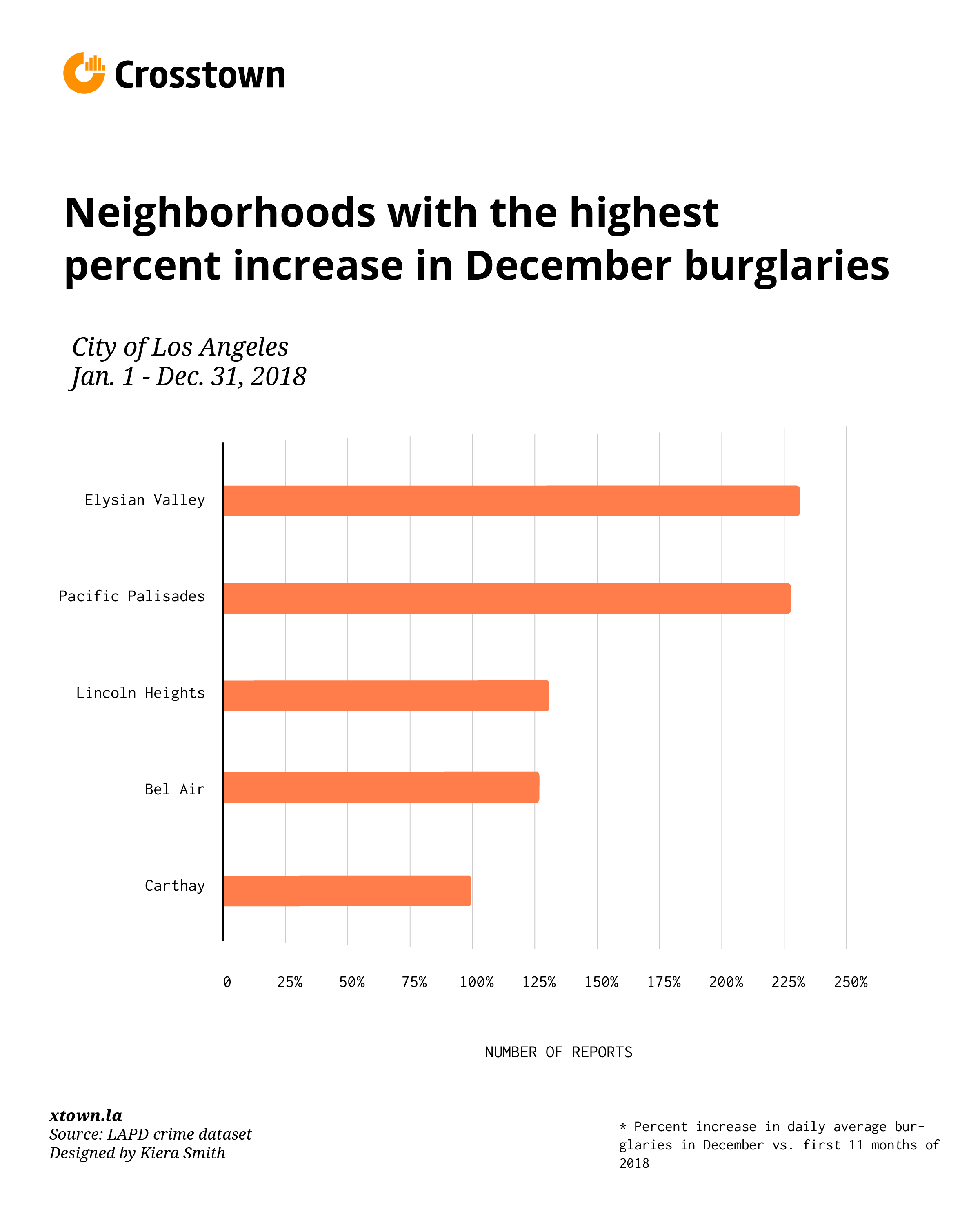 Wealthier neighborhoods tend to have higher burglary rates, in part because crimes from those areas are more likely to be reported to the police, but also because there's more to steal. The top five neighborhoods for increases in December burglaries include a mix of affluent neighborhoods and lower-income ones.
Instead of lining your steps with tar or swinging paint cans from your bannister, the LAPD has a few other recommendations to protect against home burglaries.
The LAPD recommends Angelenos arrange for a friend or neighbor to watch their house and pick up any mail. Other suggestions include putting lights on an automatic timer, and not displaying gifts by a clear window.
"We try to encourage people to get involved in a neighborhood watch," Geiger said. "We make a lot of good arrests because neighbors are involved."
While it's too soon to see if this December will follow the same path, burglaries have been on a downward trend overall this year compared to last year. When compared to the first 11 months of 2018, 2019 had roughly 2,000 fewer reports of burglary in Los Angeles.
How we did it: We looked at the LAPD's publicly available data on burglaries and attempted burglaries from 2010 (when the LAPD first started reporting data) until 2019. For neighborhood boundaries, we rely on the borders defined by the Los Angeles Times. Learn more about our data here.
LAPD data only reflects crimes that are reported to the department, not how many crimes actually occurred. In making our calculations, we rely on the data that the LAPD makes publicly available. On occasion, LAPD may update past crime reports with new information, or recategorize past reports. Those revised reports do not always automatically become part of the public database.
Want to know how your neighborhood fares? Or simply just interested in our data? Email us at askus@xtown.la.