LA homicides decrease for third straight year
2019 marks second-lowest murder count in a decade
There were 253 people murdered in the City of Los Angeles in 2019, a decrease of 2.3% from the previous year, Chief Michel Moore of the Los Angeles Police Department announced Wednesday.
Downtown was the top neighborhood for homicides, with 19, followed by Boyle Heights, with 16. Broadway-Manchester, Florence and Historic South Central all had 10 deaths by homicide.
In 2018, Downtown was also the top neighborhood for homicides, at 13, followed by Westlake and Historic South Central, with 11 and 10 murders, respectively.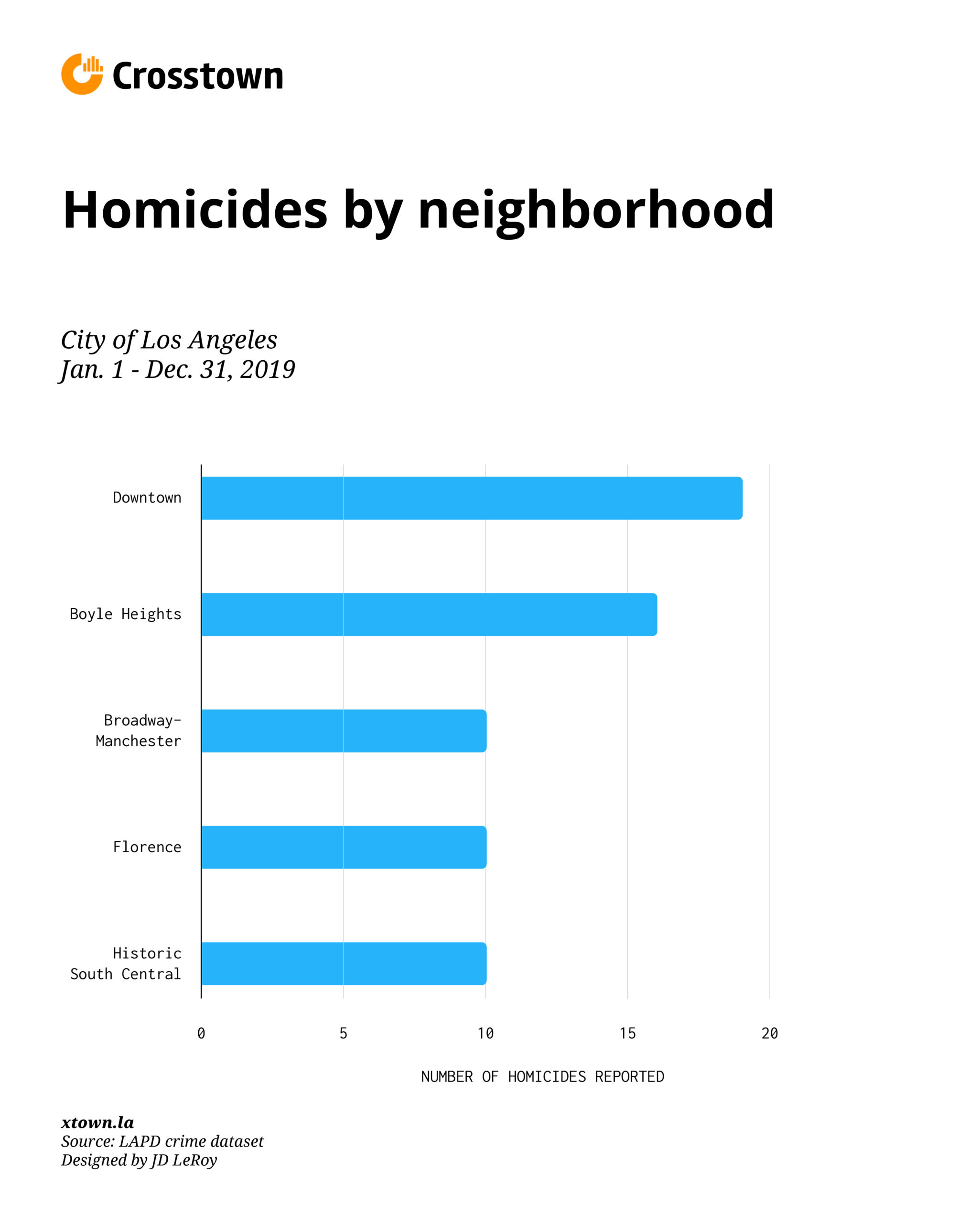 Guns were involved in 173 murders, 68% of all homicides. Cutting instruments were the second-most used weapon, involved 7% of the cases, or 18 deaths. 
Of those who lost their lives this past year, 47% were Hispanic, and 40% were black, with men making up 87% of the victims, according to LAPD data. Forty-two of the victims were people experiencing homelessness, up from 40 in 2018.
Nine percent of those killed were teenagers, and, in two cases, a child under the age of five was killed. Victims who were 60 or older accounted for almost 9% of the people who lost their lives to homicide in 2019.
Profiles and descriptions of each victim can be found on the LA Times Homicide Report.
How we did it: We examined publicly available LAPD data on reports of criminal homicides from Jan. 1 – Sept. 30, 2019. For neighborhood boundaries, we rely on the borders defined by the Los Angeles Times. Learn more about our data here.
LAPD data only reflects crimes that are reported to the department, not how many crimes actually occurred. In making our calculations, we rely on the data the LAPD makes publicly available. LAPD may update past crime reports with new information, or recategorize past reports. Those revised reports do not always automatically become part of the public database.
Want to know how your neighborhood fares? Or simply just interested in our data? Email us at askus@xtown.la.