A lot of robocalls, but fewer reported instances of identity theft
Reports of identity theft in LA have declined steadily since 2015
From the "No Caller ID" notification to automated calls telling you "your social security card has been suspended," you have likely experienced someone trying to rob you of your identity over the phone.
While the amount of robocalls you receive may not reflect this, reports of identity theft have actually decreased by 24% from last year, according to Los Angeles Police Department data. In 2019, there were 7,805 reported identity thefts. In 2018, there were 10,291 reported instances.
After peaking at 14,884 in 2015, reported instances of identity theft have declined steadily.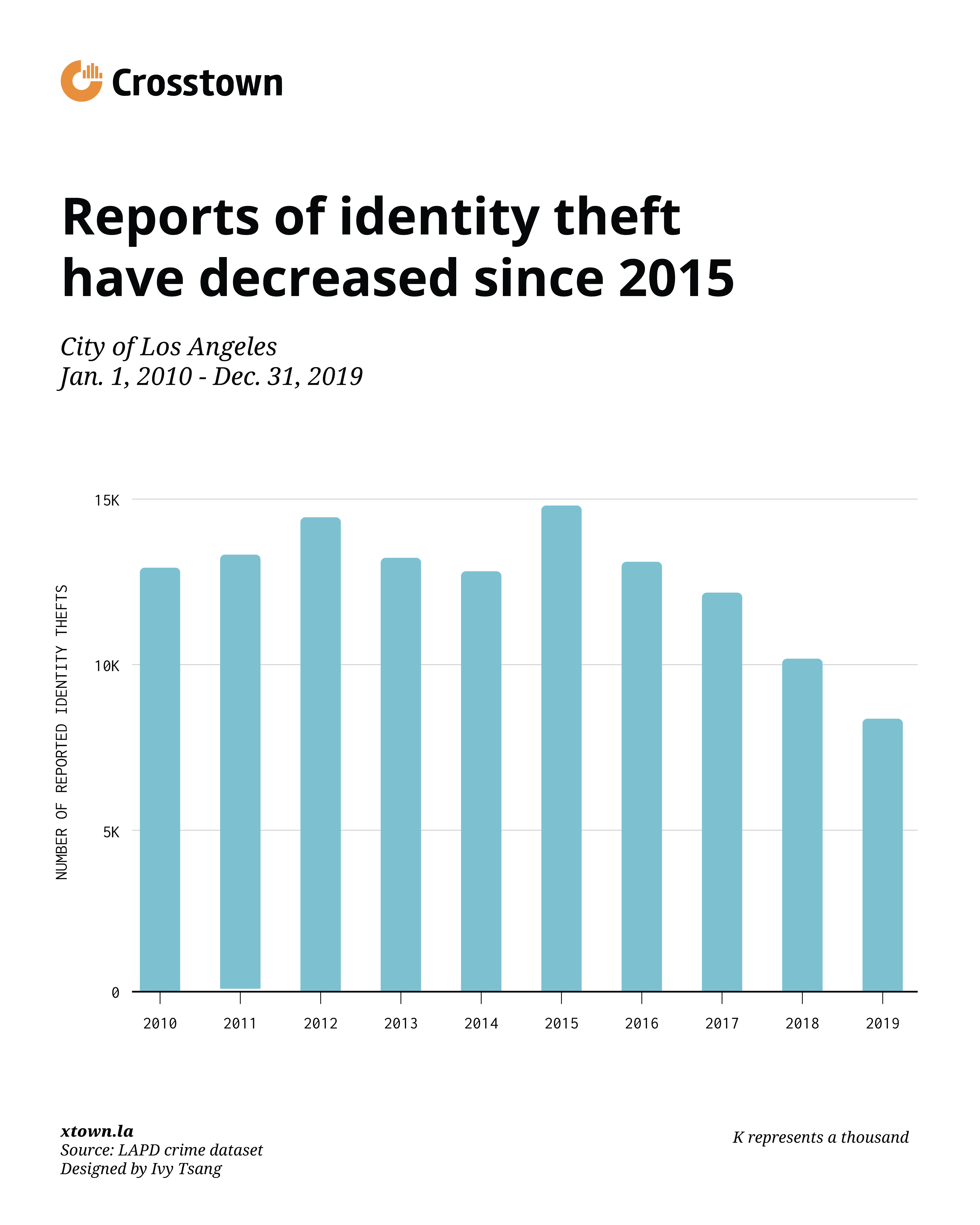 Identity theft is when personal data such as social security numbers or credit card information are stolen to commit financial fraud. Besides robocalls, people can commit identity theft through dumpster-diving, stealing mail and running online scams.
A decrease in reported instances doesn't necessarily mean that identity theft is becoming less frequent in the City of Los Angeles. It is important to note that not all cases of identity theft are reported, and different people report to different agencies.
Many people don't feel the need to report small amounts of identity theft to the police because banks spearhead investigations, said Lt. Jeff Hollis, who works in the LAPD's Commercial Crimes Division.
Only a handful of identity theft cases reported to the LAPD are ever resolved. From 2010 to 2019, only 4,511 cases ended in arrest out of 125,624 reports, or 3.6%.
Nationwide, identity theft topped the list of consumer complaints received last year by the Federal Trade Commission, the United States' consumer protection agency.
Whitney Drake, who has lived in Los Angeles County for the past 12 years, says she receives four to six robocalls asking for her social security number per day. When she has the time, she reports the phone numbers to the FTC, but if she is busy, her go-to is to just keep hitting "ignore."
"I admit, I don't pick up my phone a lot these days because of them," Drake said.
Robocalls can range from the "your social security number is at risk" message to the more alarming "there's a theft on your credit card." In some cases, scammers have gotten more creative. USC student Autria Mashian said she had started receiving cold calls that appeared to be from her own number.
"The only way to stop it would be to block myself," Mashian said.
While annoying, these calls can result in a much more dangerous ending if the caller manages to convince the person to hand over their information.
"Through account takeover, identity thieves can also take over your investment and other financial accounts, the impacts of which could affect your retirement, your mortgage, and your child's education," said Paige Hanson, the chief of identity education at NortonLifelock, a cyber security software company. 
Hanson added that some groups of people are at heightened risk for being victims of identity theft, including people who use social media frequently and older adults. Even children can be targeted for their social security numbers.
In addition to the financial strain, identity theft can also negatively impact other facets of people's lives, leading people to feel unsafe in their own homes.
To protect your identity, Hanson has several recommendations. Besides being wary of unsolicited phone calls, people should cross-shred sensitive paperwork and secure their mailbox with a lock and key. For online information, a password generator app makes passwords harder to guess, and people can change privacy settings to secure personal data.
How we did it: We looked at LAPD publicly available data on identity theft from Jan. 1, 2010 (when the LAPD first started reporting data) to Dec. 31, 2019. For neighborhood boundaries, we rely on the borders defined by the Los Angeles Times. Learn more about our data here.
LAPD data only reflects crimes that are reported to the department, not how many crimes actually occurred. In making our calculations, we rely on the data that the LAPD makes publicly available. On occasion, LAPD may update past crime reports with new information, or recategorize past reports. Those revised reports do not always automatically become part of the public database.
Want to know how your neighborhood fares? Or simply just interested in our data? Email us at askus@xtown.la.