Car break-ins are the crime of the decade in LA
One of every eight crime reports since 2010 is a theft from a vehicle
Theft from a vehicle, when someone breaks into your car and steals your belongings, is the crime of the decade in the City of Los Angeles.
Of the more than 2 million crimes reported to the Los Angeles Police Department since 2010, 13.6% were theft from vehicles, more than any other offense. This crime also held the top spot in each of the past 10 years.
Car break-ins rose by 12% over the past 10 years, even as overall crime in the city is at about the same level it was a decade ago.
The LAPD refers to car break-ins as a "crime of opportunity," when car owners either don't lock their vehicles or leave valuable items in view of prospective thieves. However, the rise in theft from cars has become closely associated with some of the city's other prominent social problems, such as rising homelessness, substance abuse and wealth disparity. 
Car burglaries are increasingly becoming an epidemic in a number of California cities, the Los Angeles Times reported last month. Many Bay Area cities in particular struggle with this. San Francisco car burglaries increased 24% from 2016 to 2017. In San Jose, they increased 20%.
Gang members in Northern California have been driving down to LA in order to target unsuspecting tourists, according to the Times, breaking into their cars. In some cases, thieves make off with tens of thousands of dollars worth of items.
Car break-ins can be devastating. When West Adams resident Monah Xuto had her car broken into in Hawthorne, she was shocked at the sheer amount of stuff the thieves took.
"They stole most of the stuff we put inside my car, even a priceless metal Buddha," Xuto said. "[They also] stole a bike, someone's cash money from a week's paycheck, my Bath and Body Works spray, my phone, my wallet. For a while I was sleeping with a bat next to my bed."
South Pasadena resident Ryan Henry also had his car broken into in Long Beach. The thief broke in through the passenger window and managed to crawl into the trunk, taking two cameras and a laptop.
Henry was able to get the laptop back. "I locked the laptop remotely and sent it a note offering to not press charges, as well as an award," he said. "Two months later, a guy called and said he had been sold a laptop but then saw my note. I had a friend meet him at a coffee shop a few days later with the cash, but I'm pretty sure it was probably just the guy that took it in the first place."
The LAPD recommends that people should follow the "'lock it, hide it, keep it" protocol. Lock your vehicle whenever you are about to leave it unattended, hide valuables in the trunk or out of sight, and exercise personal responsibility for belongings.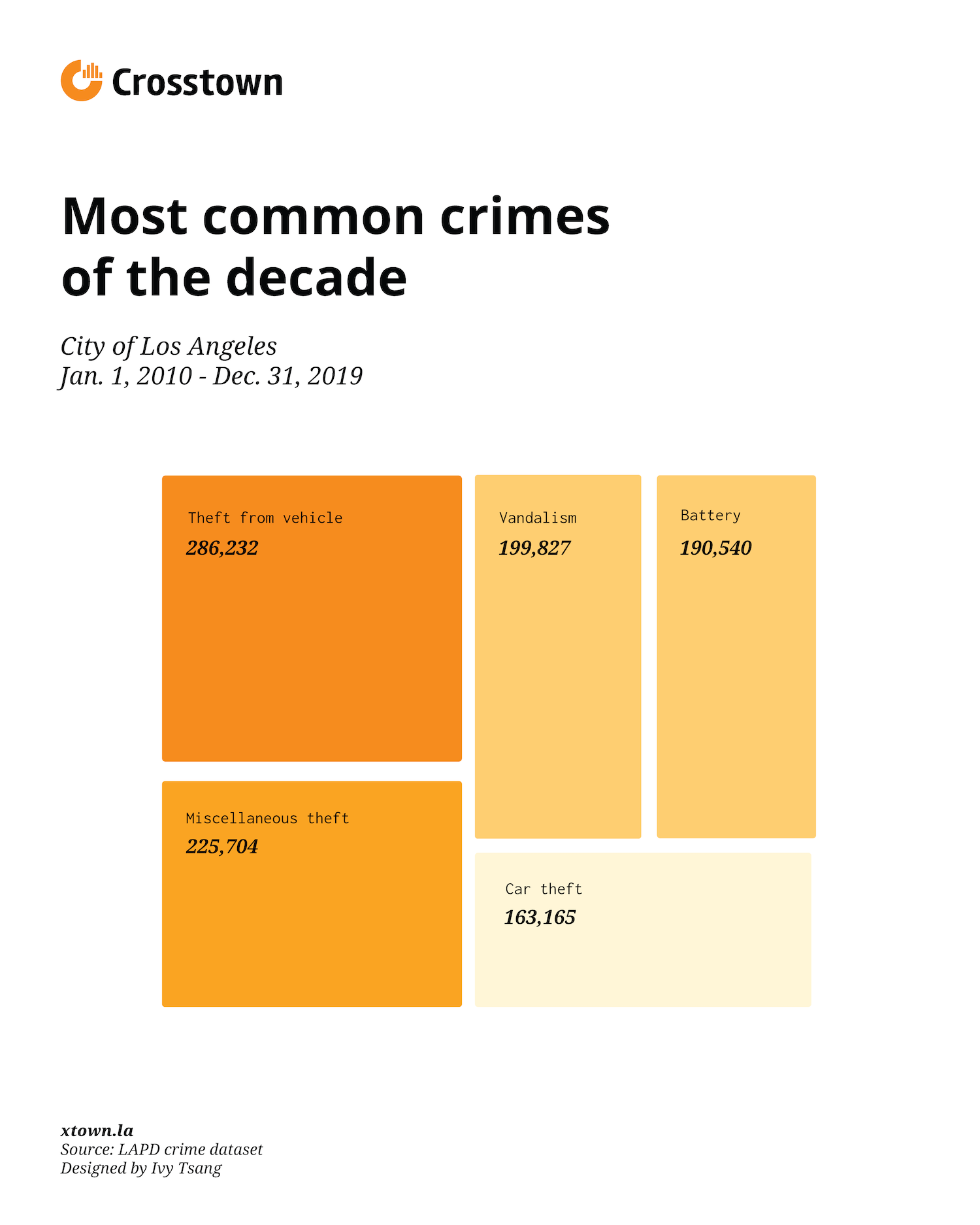 The second-most commonly reported crime over the past decade was miscellaneous theft. This broad category covers a range of thefts, from pickpocketing to stealing money from a vending machine.
Rounding out the top five most-frequent crimes were vandalism, battery and car thefts.
How we did it: We examined LAPD publicly available data on reported thefts from vehicle since Jan. 1, 2010, when the LAPD started making its crime data publicly available. For neighborhood boundaries, we rely on the borders defined by the Los Angeles Times. Learn more about our data here.
LAPD data only reflects crimes that are reported to the department, not how many crimes actually occurred. In making our calculations, we rely on the data the LAPD makes publicly available. On occasion, LAPD may update past crime reports with new information, or recategorize past reports. Those revised reports do not always automatically become part of the public database.
Want to know how your neighborhood fares? Or simply just interested in our data? Email us at askus@xtown.la.