Number of transgender crime victims spikes in LA
'They're being targeted for more vicious stuff'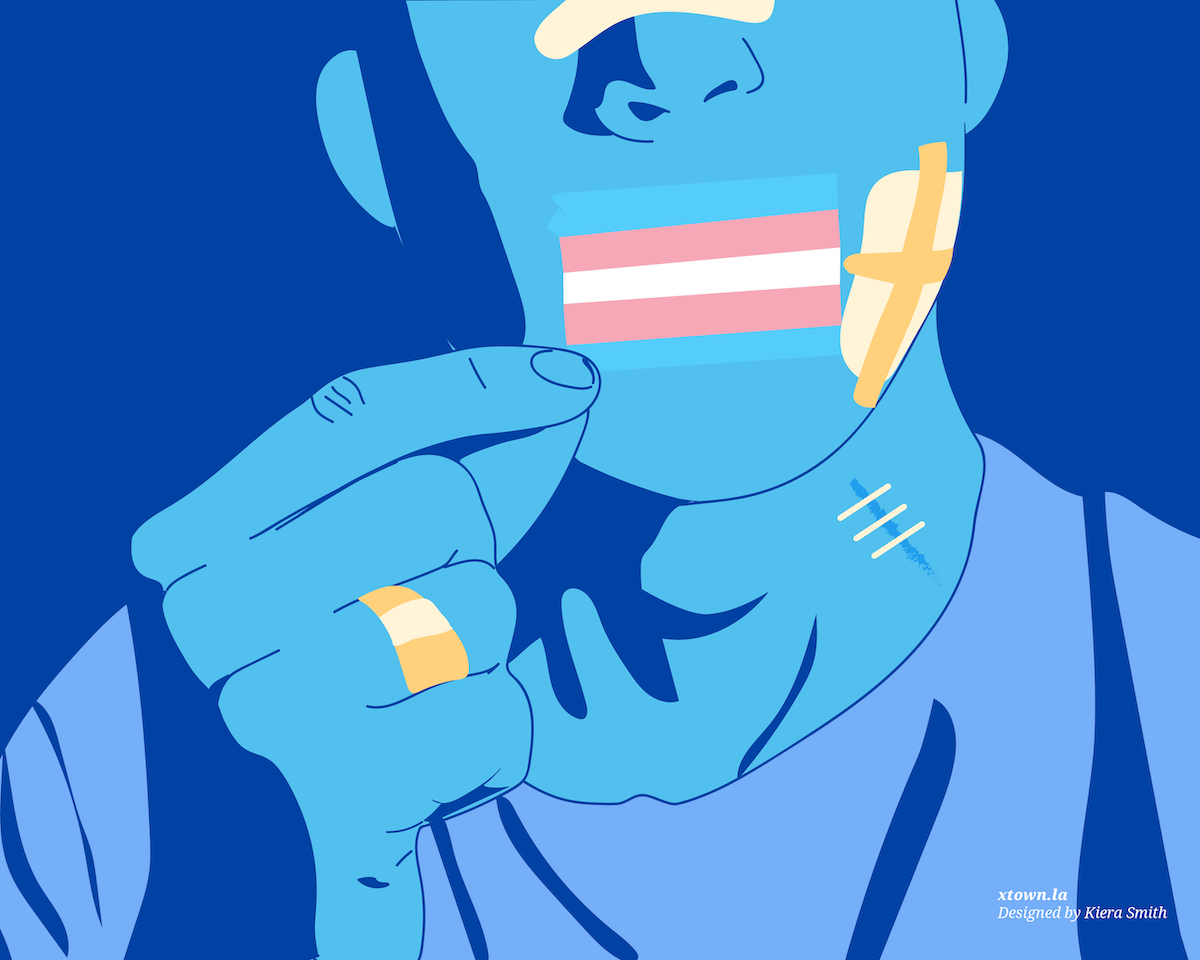 The number of transgender people who were crime victims in Los Angeles jumped 49%, to 67, in 2019, highlighting the vulnerability this marginalized group faces.
These 67 reported crimes represent an increase from 45 in 2018 and an almost three-fold increase from a decade ago, according to Los Angeles Police Department data. In 2019, 58% of these reported crimes were violent, ranging from robbery to assault with a deadly weapon. These numbers only represent the crimes that were reported to police, not all crimes in which transgender people were victims.
While overall numbers remain small, they show how severe the crimes against transgender victims are, said Det. Orlando Martinez, who heads the LAPD's hate crimes unit.
"They're being targeted for more vicious stuff," Martinez said. "They're more likely to be victims of a serious crime." 
One reason behind the sharp rise might be that law enforcement is taking crimes involving transgender victims more seriously and that victims are feeling more empowered to report them.
During the past decade, the top five reported crimes against transgender people were violent ones, with 16% of them reported as assault with a deadly weapon and 12% reported as robbery.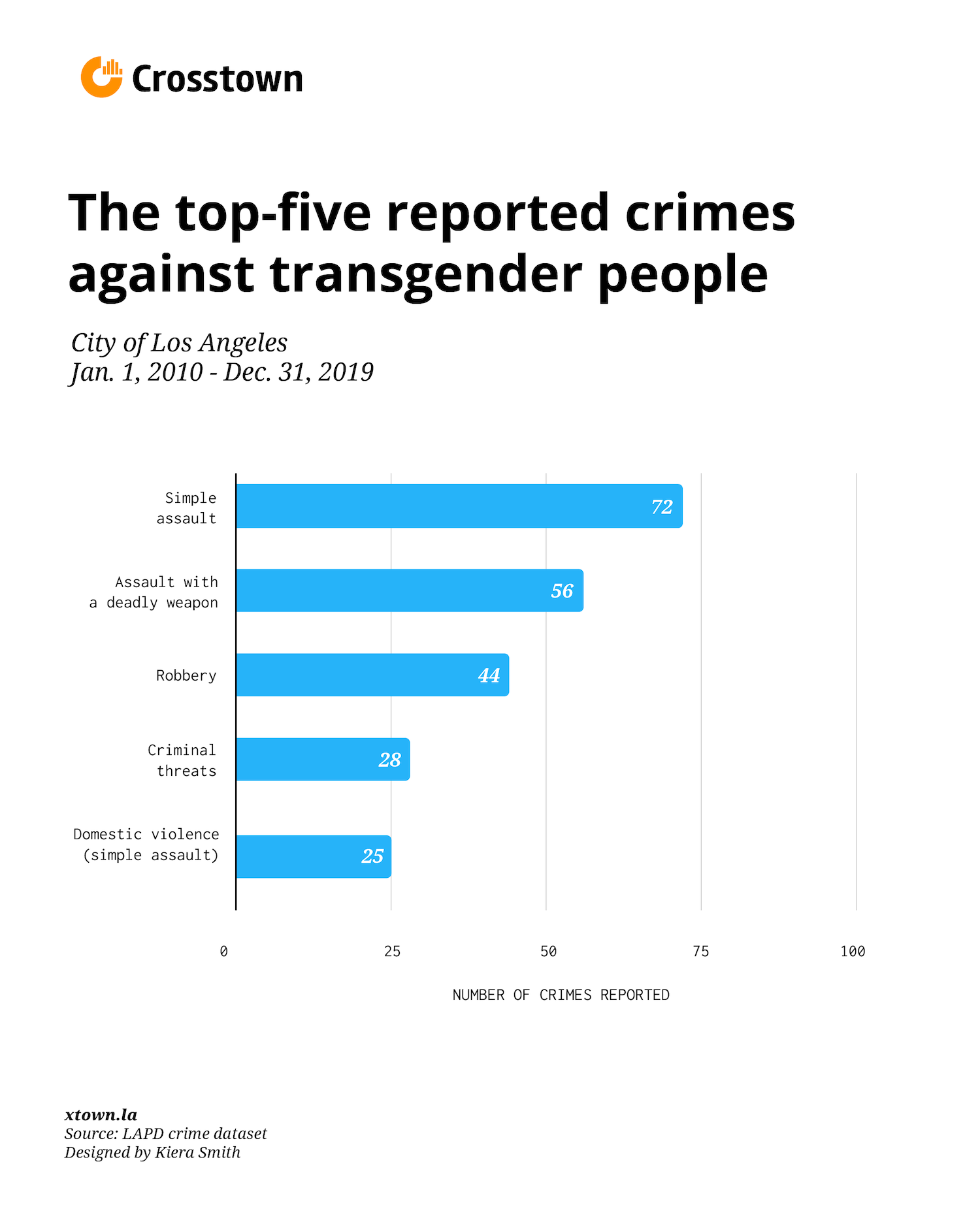 Transgender people of color are particularly vulnerable to violence. More than half of the victims over the past 10 years were of Hispanic descent, and about one quarter were black.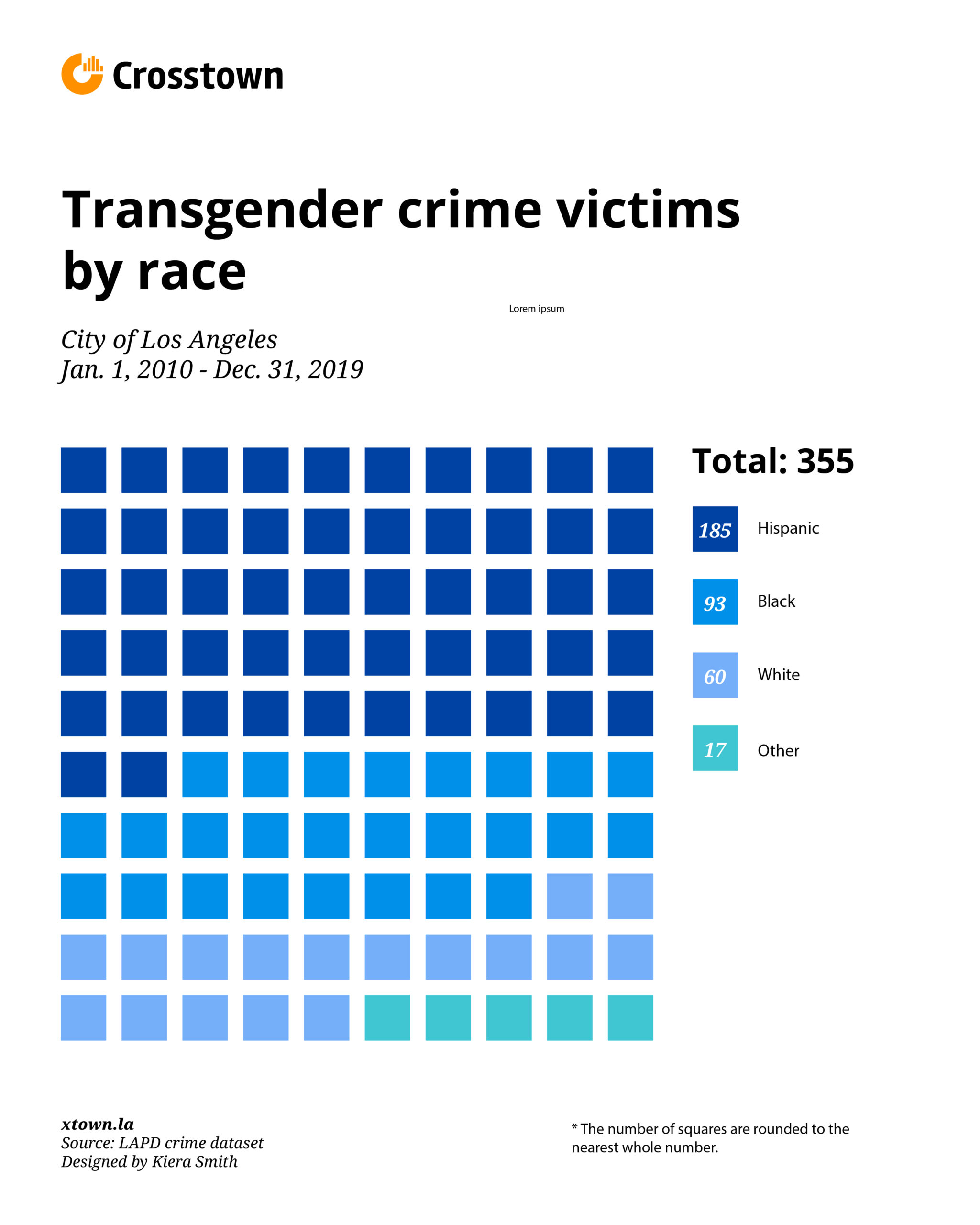 In an incident from last April, a 31-year-old Hispanic transgender woman was attacked while engaging in sex work. The suspect intimidated the victim by aiming a semi-automatic pistol at her, then forced her to disrobe and perform oral sex.
While increased awareness has meant progress, it has also made members of the transgender community more visible to those who want to do them harm, said Gina Bigham, program manager for the Trans* Lounge at the Los Angeles LGBT Center.
Additionally, media coverage of homicides against transgender people — especially black transgender women — have left the community on edge, she said. "Imagine living a life where you are constantly having to be hyper-aware of your surroundings and whom you interact with out of fear that some sort of retaliation will occur for just living our authentic lives."
Bigham added that while the LAPD has made "great strides" in conducting outreach with the transgender community, there's still room for improvement.
Bigham also wants people to reexamine societal prejudices towards transgender people that can contribute to violence against them.
"You probably know a trans person," she said. "Talk to someone. Read something. Learn before you hate."
How we did it: We examined LAPD publicly available data on reports where a transgender person was the victim of a crime in 2019 compared to the same time period last year.  For neighborhood boundaries, we rely on the borders defined by the Los Angeles Times. Learn more about our data here.
LAPD data only reflect crimes that are reported to the department, not how many crimes actually occurred. In making our calculations, we rely on the data the LAPD makes publicly available. On occasion, LAPD may update past crime reports with new information, or recategorize past reports. Those revised reports do not always automatically become part of the public database.
Want to know how your neighborhood fares? Or simply just interested in our data? Email us at askus@xtown.la.