Is the coronavirus curbing crime?
As the pace of life slows across Los Angeles, so does criminal activity
Schools are shuttered, restaurants are reduced to take out and Californians have now been ordered to stay home. As for crime? Early indications show that lawbreaking also seems to be on the wane, as life in Los Angeles retreats in order to slow the spread of COVID-19.
Over the first 15 days of March, crime reports made to the Los Angeles Police Department saw a steady decline, as social distancing and restrictions put in place by authorities ramped up.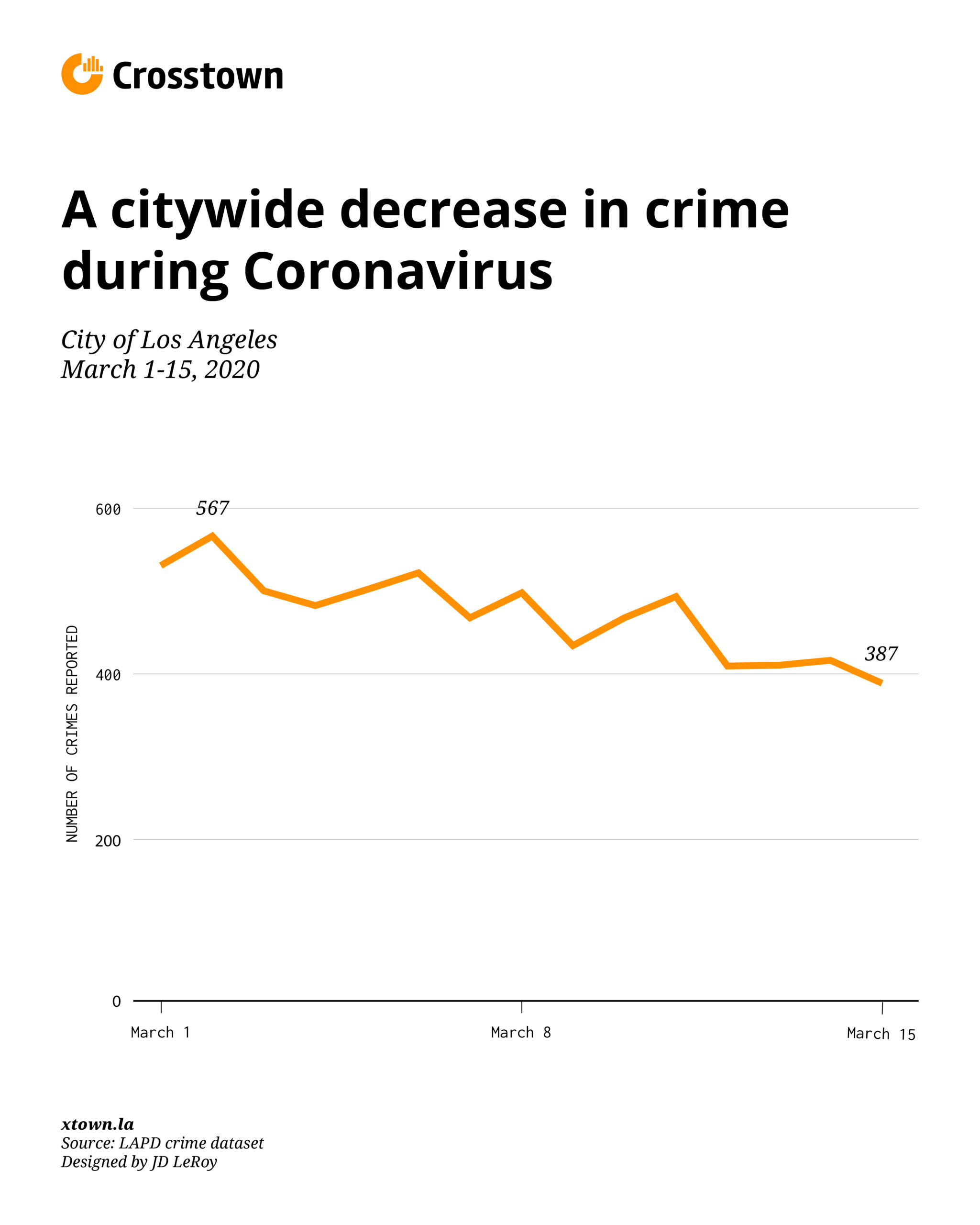 Of course, with fewer businesses operating, and more people staying indoors, opportunities for crime diminish as well. It is still early days, however, to be able to make a clear connection between the virus and crime reduction in Los Angeles. "There are too many variables at this point, including the rainy weather, to determine distinct correlations," LAPD spokesperson Joshua Rubenstein said.
Data from the Los Angeles County Sheriff's Department, which patrols a patchwork of areas across the county, showed a similar decline in reported crime.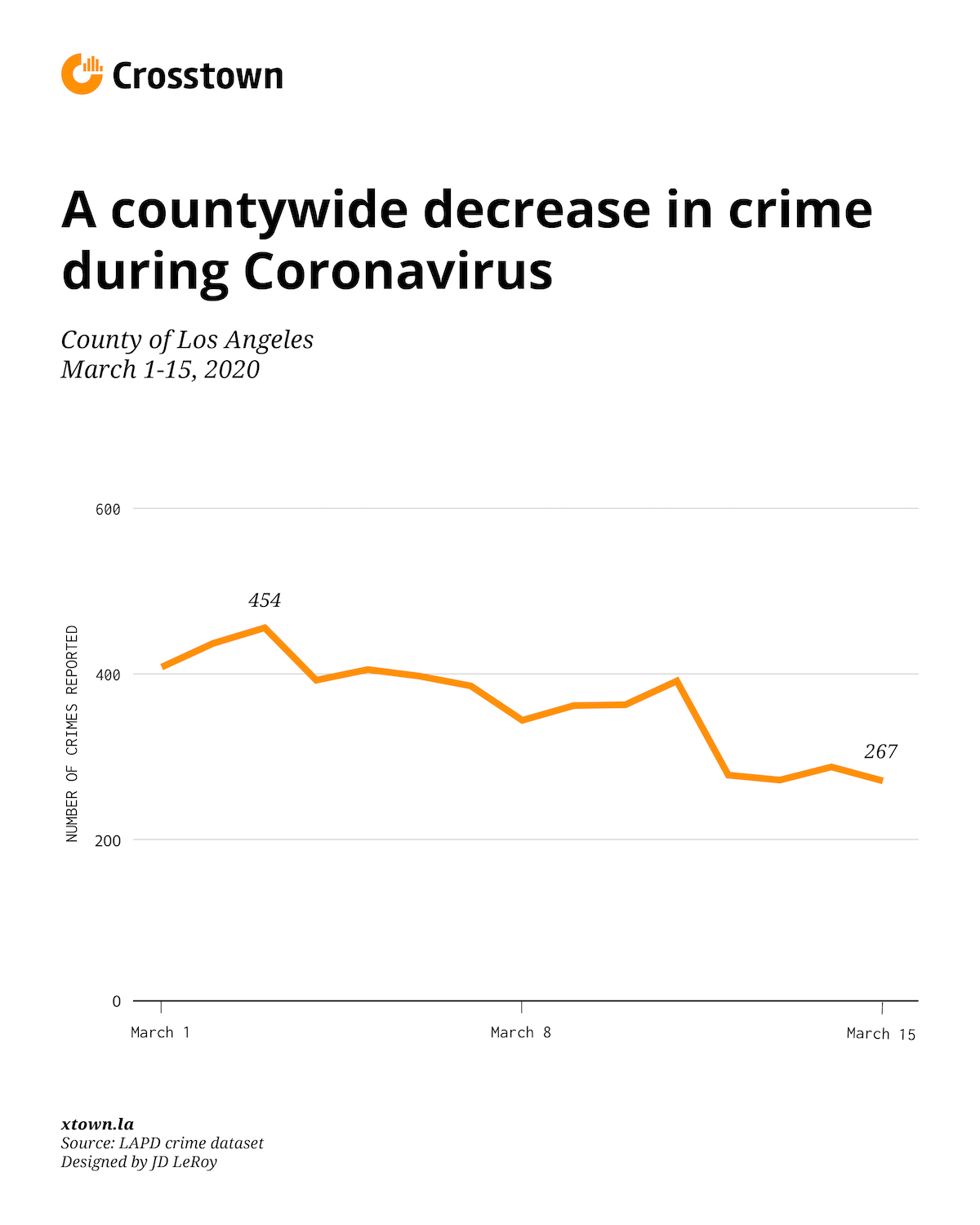 "We believe the coronavirus outbreak and people sheltering in place at home is contributing to the drop in criminal reports," said a Sheriff's spokesperson in an email.
The first confirmed case of COVID-19 in Los Angeles County was reported on Jan. 26. The first death occurred on March 11. As of March 20, there were 292 confirmed cases and two confirmed deaths.
The first major local measure to prevent the spread of the virus was taken on March 13, when the Los Angeles Unified School District announced the closure of its schools for at least two weeks.
On March 15, LA Mayor Eric Garcetti ordered all businesses to close temporarily, including bars, gyms and movie theaters. Restaurants were permitted to stay open, but only to serve takeout and delivery orders. The rest of LA County followed suit the next day.
In the days since, the City of Los Angeles has relaxed parking enforcement, and allowed homeless people to keep their tents up during the day on city streets. The city is also lining up temporary shelters for the unhoused population to protect them from the pandemic. Then on March 19, California Gov. Gavin Newsom ordered all residents to stay at home and leave their homes only for essential reasons.
The data from both the LAPD and the LASD is preliminary, as sometimes crimes are reported several days after they occur. 
Crime has been falling in the City of Los Angeles for several years. Even still, the first 15 days of March showed a decrease of 20% when compared to the same period in 2019.
How we did it: We examined publicly available LAPD data, as well as publicly available LASD data on reported crime. For neighborhood boundaries, we rely on the borders defined by the Los Angeles Times. Learn more about our data here.
LAPD and LASD data only reflect crimes that are reported to the department, not how many crimes actually occurred. In making our calculations, we rely on data both agencies make publicly available.
The LAPD does periodically update past crime reports with new information, which sometimes leads them to recategorize past reports. Those revised reports do not always automatically become part of the public database. We try to update our reporting when new data becomes available.
Want to know how your neighborhood fares? Or simply just interested in our data? Email us at askus@xtown.la.
Updated on March 20, 2020 with comment from the Los Angeles County Sheriff's Department and the March 20 total for COVID-19 cases in LA County.