LA vs. SF: Whose city workers get paid more?
From firefighters to garbage truck drivers, pay for essential staff can vary
After an ICU nurse and a doctor, is there any worker more essential right now than a garbage truck driver? 
With millions of Californians stuck inside to slow the spread of COVID-19, we examined how much certain essential (and some non-essential) city workers get paid. Police officers, firefighters, even elected officials are still at work, many of them on the front lines of the crisis. And, of course, the trash must be collected. 
We compared City of Los Angeles salaries against those of its chief urban rival, San Francisco. 
There is a lot that distinguishes the two cities. We have the Hollywood Sign, they have the Golden Gate Bridge. We have more smog (except lately), they have more fog. We have really high rents, they have ridiculously high rents. 
Now that most of us are stuck at home, we decided to compare which city pays its workers more.  
[See our story about how much teachers make in Los Angeles County] 
Overall, LA workers come out on top. That's great for city employees; maybe not so great for city taxpayers. But the picture becomes a little less clear when you compare specific departments.
The median salary for an LA city worker during the 2018 fiscal year (the most recent year for which salary data from both cities was available) was $107,324, or 13% higher than an SF city worker's pay of  $95,391. But it pays more to be a cop with the SFPD, where the median salary was $100,434 – 51% higher than LAPD's $66,588 in 2018. 
Another relevant detail: San Francisco's cost of living is 7% higher than LA's, according to the Bureau of Labor Statistics. 
There is no easy way to make an exact comparison between the two cities. (To see our methodology, scroll to the "How We Did It" section below.) LA city workers serve four million residents spread out over 469 square miles, while San Francisco employees tend to around 900,000 people covering only 47 square miles. 
There are many factors that can drive worker pay, such as union negotiations and state funding bills. For our calculations, we included overtime pay. This means that a city department that is understaffed could have a higher median salary because employees are working more hours. 
San Francisco's best paid workers tend to walk away with more. The highest-paid worker in San Francisco, the chief investment officer of the city's retirement system, made $550,066 in 2018. LA's highest paid worker, a pilot who steers cargo ships to the docks at the Port of Los Angeles, made $526,553 in 2018. 
So which city is more generous? Check out our data below. 
Sanitation Workers
If you're stuck at home and your trash doesn't get picked up, pretty soon a global pandemic might not be your biggest problem. But sanitation workers do more than just pick up the garbage. They also clean alleyways, sidewalks and homeless encampments and scrape dead animals and litter off the streets. 
In LA, the average pay of "refuse collection truck operators" was 5% higher than their San Francisco counterparts. But "general laborers" in the sanitation department in San Francisco got paid 21% more on average than their closest LA equivalents, "maintenance workers." 
Police Departments
The Los Angeles Police Department has roughly 10,000 sworn officers – about four times the size of the San Francisco Police Department – as it spans a much larger, more populated area. But LAPD police officers overall made less than their SFPD counterparts in 2018.
We compared the salaries of police officers at the I, II and III rank for both cities. These include rank-and-file patrol officers, but not officers at higher ranks, like a detective or sergeant. We also compared the police chief's salary in both cities.
San Francisco police officers of rank I, II or III made 20% more on average than LA police officers in 2018. However, the LA police chief made almost $30,000 more.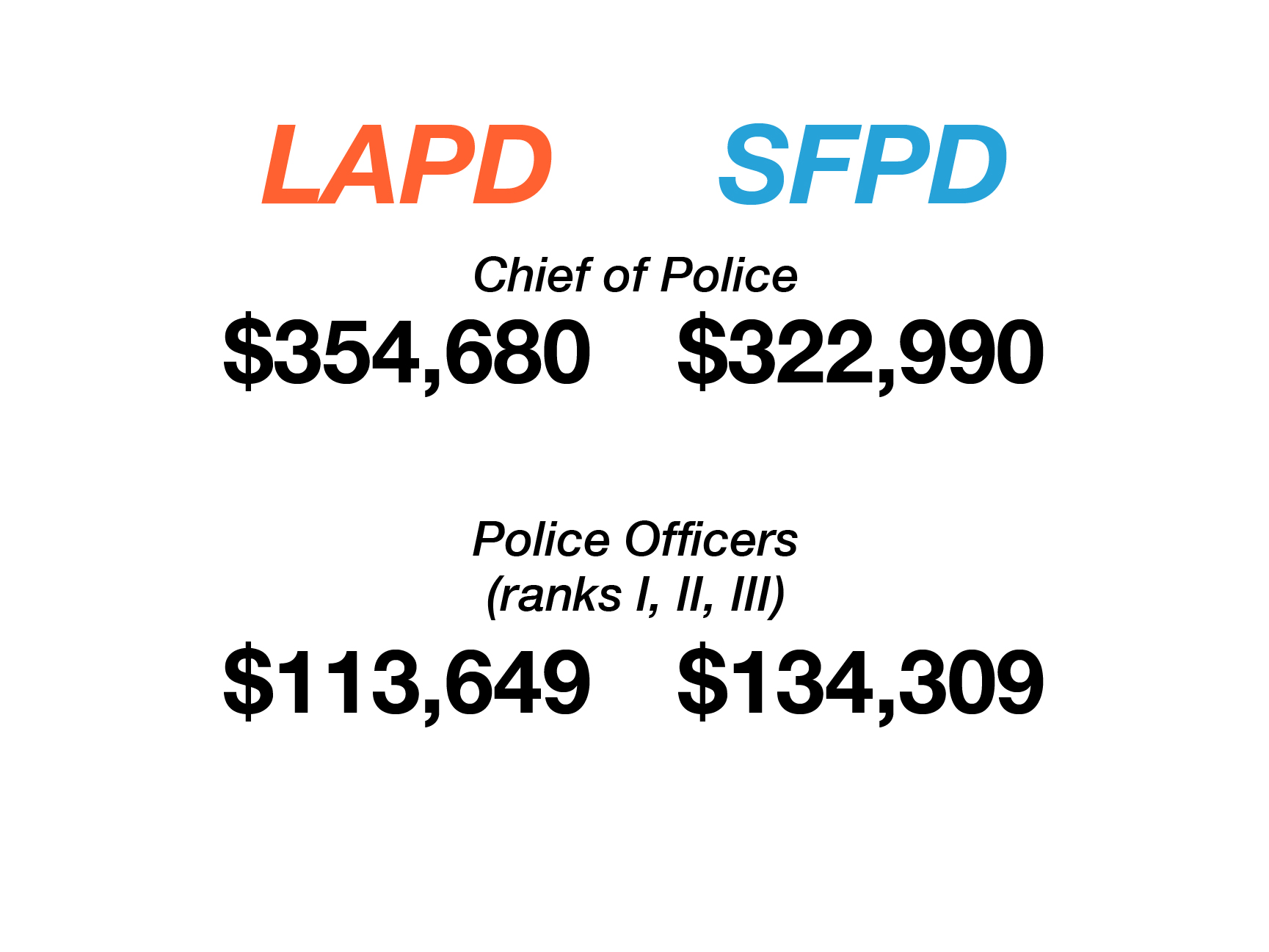 Fire Department
Similar to police officers, we looked at the salaries of firefighters at the I, II and III rankings (not all employees in the department). These do not include leadership rankings like lieutenants, captains and chiefs. We also compared the fire chief's salary in both cities.
San Francisco firefighters on average made 5% less than LA firefighters in 2018. However, the San Francisco fire chief made almost $30,000 more.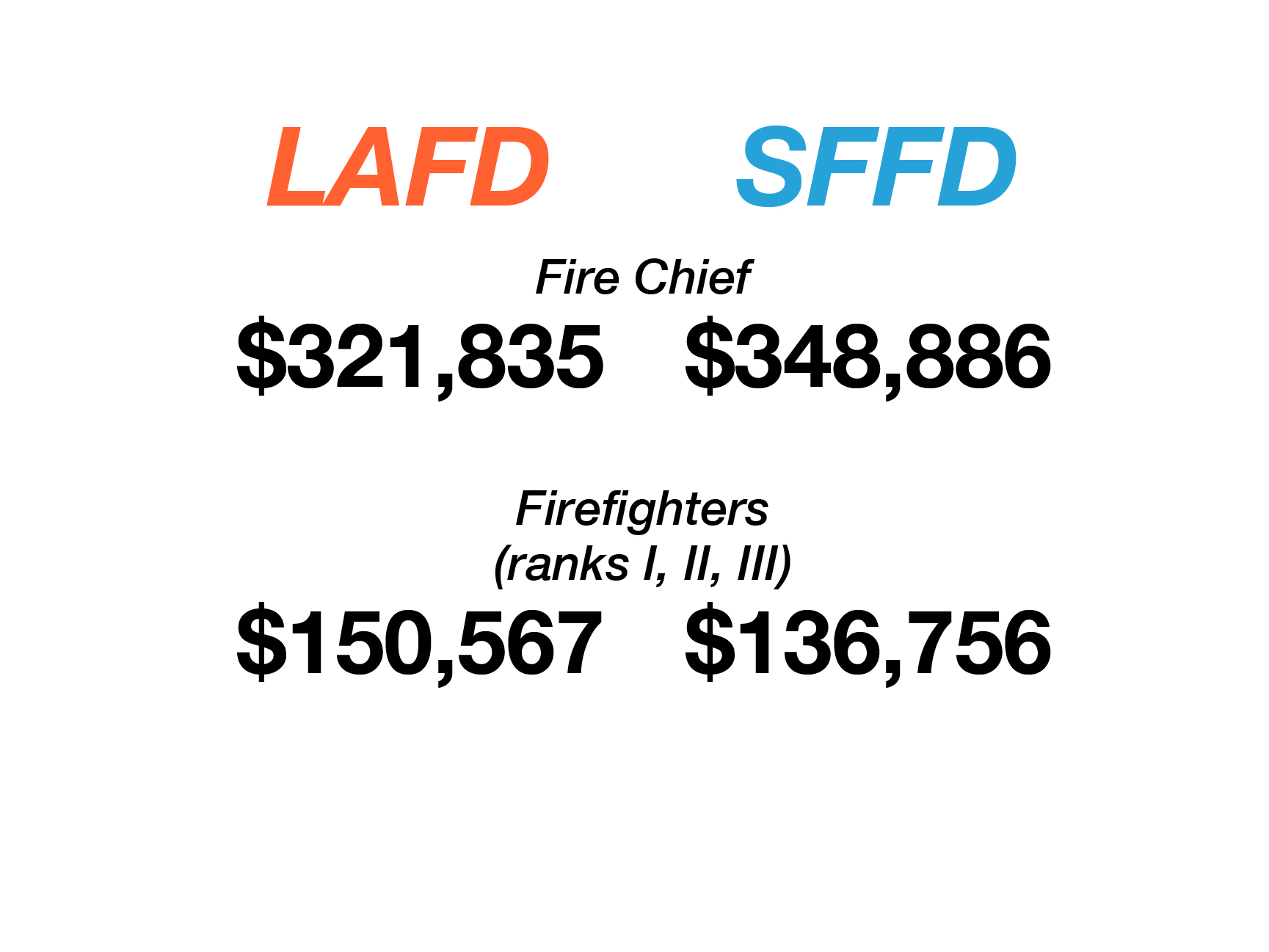 Major Office Holders
When it comes to elected officials, the salary differences are all over the map. In 2018, LA Mayor Eric Garcetti made $277,849, 37% more than former San Francisco Mayor Mark Ferell. But San Francisco's city attorney made $268,721, 8% more than LA's Mike Feuer.
LA's city clerk also made 72% more than San Francisco's. (Note: Some of these officeholders have changed since 2018.)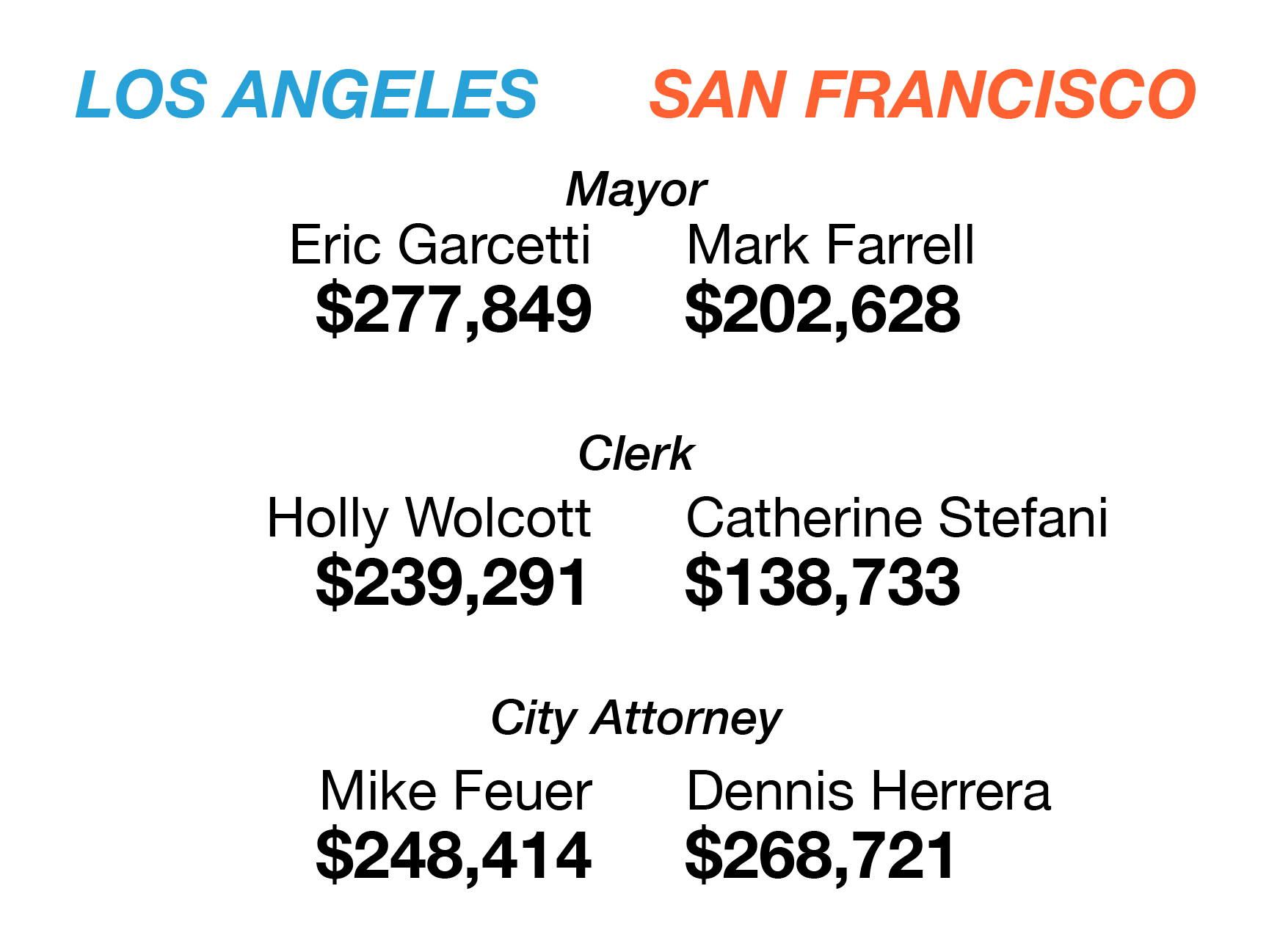 How we did it: We looked at city employee salary data from LA City Controller Ron Galperin's open data portal and the San Francisco Controller's Office to compare city employee salaries in LA and San Francisco in the 2018 fiscal year (the most recently available dataset for LA. San Francisco already has their 2019 data available. LA is still getting there.)
There is no way to make a precise comparison between two different datasets for two different cities – some jobs in one city do not align perfectly with the jobs in another – but we tried to get as close as possible by setting some boundaries. We eliminated part-time workers, and only looked at city employees who made above $30,000 for the year in regular and overtime pay. We did not include employee benefits in salary totals.
We then narrowed down employees by department (fire, police, sanitation, etc.) to get specific numbers and calculate averages and medians. We then ran our numbers by the relevant departments in each city.
Any questions? Write to us at askus@xtown.la.