Where are LA's new COVID-19 clusters?
In some parts of LA, the coronavirus curve is flattening. But in many lower income areas, it's still steep
Seven weeks in, one part of Los Angeles is flattening the curve. Pacific Palisades, home to nearly 25,000 people, hasn't seen a new COVID-19 case in five days. Brentwood, with 35,000 people, has had one new case this month. Beverly Crest, with 11,000 residents, has recorded only two cases so far in May. 
In another part of Los Angeles, the curve is still steep. The City of Inglewood, population 112,000, had 55 new cases during the first five days of May. Nearby Westmont, with almost 34,000 residents, had 104 cases. 
Across the county, a stark picture is emerging: There are vast swathes of Los Angeles that are only seeing a few new cases pop up each day. These areas are generally higher income, with lower population densities. But there are other sections of the county – largely denser, lower income areas – where the numbers are still growing rapidly. 
Hermosa Beach, population 20,000, for example, had only two new cases over the 10-day period from April 26 – May 5. During the same time period, the less affluent Lennox, population about 23,000, had 20.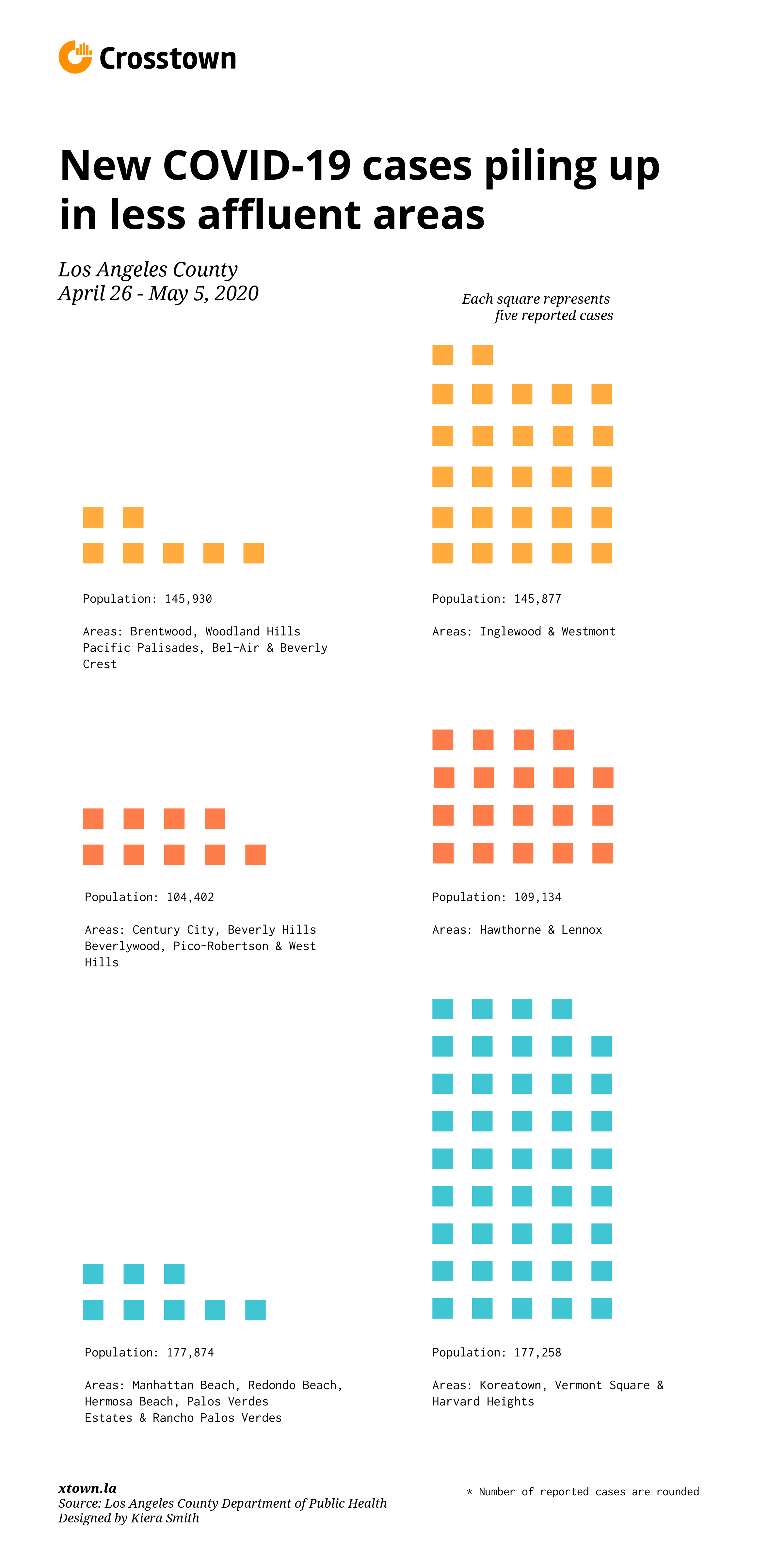 Uneven progress
Broadly, the spread of the disease does appear to be slowing. In the 10-day period from April 26 to May 5, there were 8,227 new cases and 425 coronavirus-related deaths in Los Angeles County. That's a slight improvement from the 10-day period before that, when there were 8,674 new cases and 458 new deaths.
But the more time passes, the more lopsided the spread of COVID-19 has become. We compared new infections in areas with similar populations in order to track how the disease is hitting some areas harder than others. 
There are roughly 100,000 residents in Beverly Hills, Century City, Beverlywood, Pico Robertston and West Hills combined. Over the 10-day period of April 26 to May 5, these neighborhoods registered a combined total of 43 cases. 
Hawthorne and Lennox also have roughly 100,000 residents. During the same period, these areas had 137 new cases.  
Lower incomes, more cases 
Los Angeles is home to five of the 10 most crowded ZIP codes in the country. This includes the No. 1 most crowded ZIP code — 90011 — an area that roughly aligns with the Historic South Central neighborhood. That neighborhood of nearly 50,000 had 63 cases from April 26 – May 5. Encino, a wealthier neighborhood with a similar population, had 15 new cases during that time period. 
While it appears that the wealthier areas have fewer new cases, there could be many reasons driving the disparity.
Dr. Irving Steinberg, an associate dean at the University of Southern California School of Pharmacy, said that people with different income levels may also have differing abilities to abide by stay-at-home orders. When told to shelter in place, people who live in lower income, denser areas "went indoors to narrow corridors, elevators, banisters that might have been touched by people who were infected," he said. "In other words, we told people to socially distance but then we put them into the very place where that was impossible."
He added that people who work in different job categories encounter different levels of risk. "I don't think it's necessarily wealth by itself – it may be work within the service industry that tends to be happening more in these areas," Steinberg said. "Maybe essential workers are to be found more in these poorer neighborhoods. And then one has to look at underlying diseases that tend to occur more in these areas."
The affluent coastal neighborhoods of Manhattan Beach, Redondo Beach, Hermosa Beach, Palos Verdes Estates and Ranchos Palos Verdes are home to nearly 180,000 residents. They saw 39 new cases of COVID-19 from April 26 to May 5.
In central Los Angeles, the densely populated areas of Koreatown, Vermont Square and Harvard Heights had a combined case increase of 220 from April 26 – May 5, almost six times as high as the total case increase in the wealthy coastal neighborhoods during the same period.
Not all affluent areas are seeing low numbers, however. Pasadena, with a population of 145,000, had 157 new cases during the previous 10 days.  
Last week, Los Angeles Mayor Eric Garcetti announced that all county residents – including those without symptoms – can now get free coronavirus testing at city-run sites. Over the weekend, thousands of cars snaked through the parking lot at the Warner Center, where the city had set up a drive-through testing site. As new results come in, it could alter the picture of infections across the county. 
How we did it: We used publicly available data from the Los Angeles County Department of Public Health as the source for our case counts. We aggregated case counts from contiguous or nearby neighborhoods in order to be able to make comparisons of areas with similar populations. Click here to see our coronavirus map, which charts the progress of the virus by neighborhood.
The LADPH does periodically update past reports with new information, which sometimes causes case counts to fluctuate. Those revised reports do not always automatically become part of the public database. We try to update our reporting when new data becomes available.
Want to know more? Or simply just interested in our data? Email us at askus@xtown.la.