The Detective: An exploding car
Odd dispatches from LAPD crime reports May 10 - May 24, 2020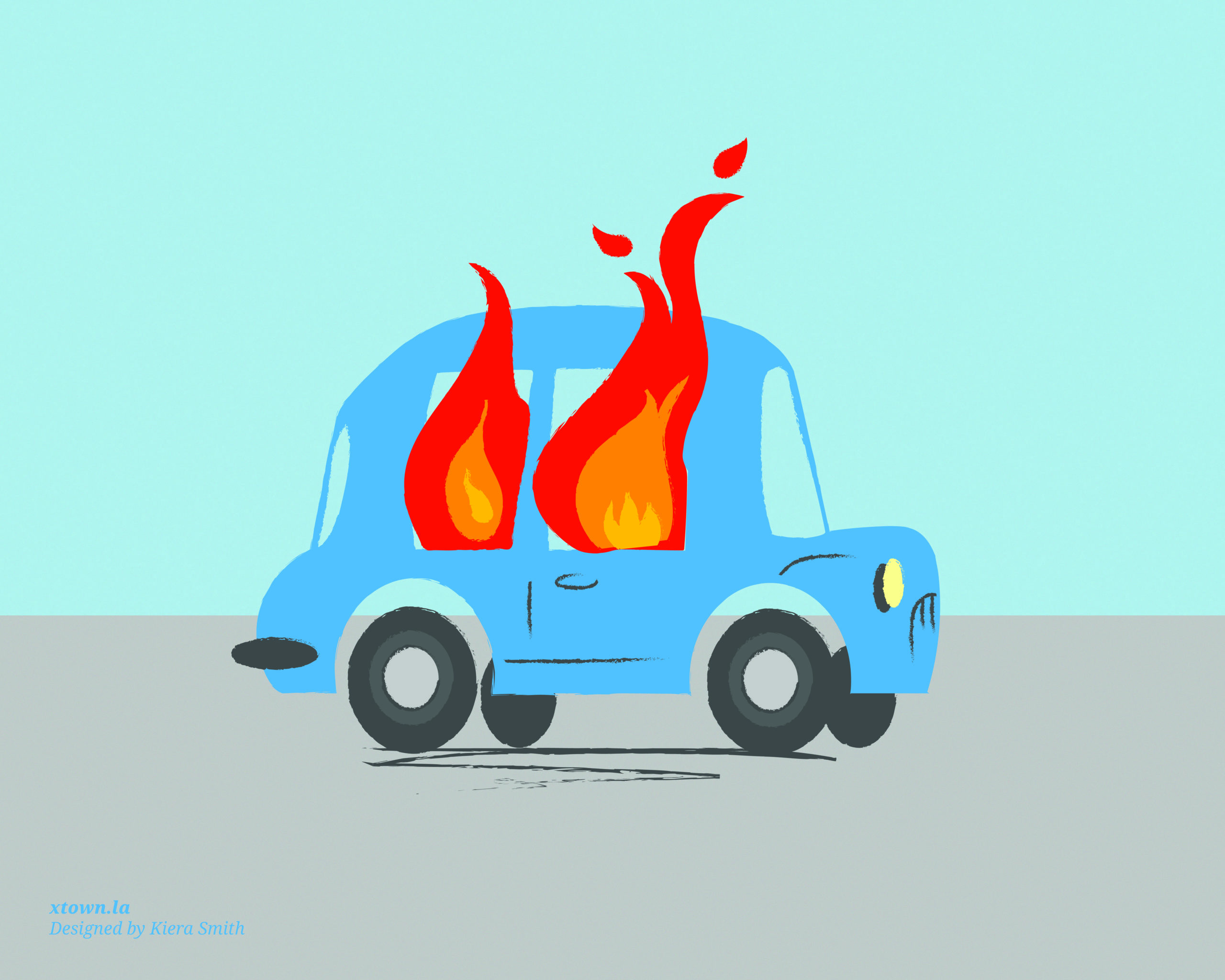 Here are a couple of recent anomalies in Los Angeles Police Department data found by the Detective, our data-crawling robot, and aggregated by the robot's human assistant, Nisha Venkat.
? At 7:50 a.m. on May 24 at a hotel in Westchester, the Detective found an instance of attempted "lynching" of two police officers. The officers were both males – one white, the other Black.
Despite a 2015 law that removed the word "lynching" from the California penal code because of its wrenching historical significance, the LAPD still lists the term in its crime manual. The technical definition of the term, according to the LAPD manual, is when a "mob removes a person from under lawful custody of a peace officer."
The appearance of this term in LAPD crime data is rare, with just two incidents reported so far this year and just 27 cases since 2010, the year that the LAPD started making its crime data publicly available. This instance happened the day before Minneapolis police killed George Floyd.
? We're all desperate for the pandemic to end so we can get back to going places and seeing things. But on May 15, someone in Los Angeles made an appeal to more unconventional powers … with an animal sacrifice. 
According to LAPD data, the suspect used a knife six inches or longer on an animal for "ritual/occult" purposes. Investigation is still ongoing, but a message to the 28-year-old suspect in Downtown Los Angeles … maybe just call your elected official next time?
? On May 16, four separate incidents of child pornography were reported. Two of them were in Van Nuys, and the other two were in Sun Valley and Valley Glen. Details for all these incidents are sparse. Reports of child pornography are were once rare. There were just two reports in 2012. But 2014 registered an all-time high of 68. Thankfully, it looks like reports of child pornography are on the downswing. There were 52 cases in 2019, and 23 so far in 2020.
? On May 10 in Panorama City a case of arson got personal when an explosive device detonated as the victim exited their vehicle. Perhaps the spookiest part – the victim knew the suspect. 
Moral of the story? Always check under your car before getting inside.
How we did it: At Crosstown, we examine publicly available crime report data from multiple Los Angeles County law enforcement agencies. We have a robot on the team called the Detective that scans the LAPD publicly available data for anomalies. LAPD officers tag most crime reports in their system with MO codes, for "modus operandi," Latin for operating method or style. The MO codes are shorthand for describing what happened in a crime incident.