Pool permits take a dip, then start rising
Amidst a pandemic and broiling temperatures, Angelenos look for an escape in their own backyard
As the coronavirus hit Los Angeles in the spring, the number of permits issued to build new swimming pools, like most other types of building permits, nearly ground to a halt. Then, something strange happened: Even with a decimated economy, pool permits began rising. 
As summer temperatures soared to record highs, and public pools remained shuttered in the effort to prevent the spread of COVID-19, people began to think the best relief could be found in their own backyard. In April, the city issued only 45 pool permits. But the permits more than doubled the following month, and by July had more than quadrupled, to 184. That was down only 12% from the previous July. 
Nat Almany of Noga Pool and Spa Inc. has seen the shift firsthand. He said his company is doing a lot of business this year, and the biggest reason is the pandemic.
"People can't go out to nice restaurants or bars, so the best thing they can do is invest in their own homes and create a nice aesthetic in their backyard," he said. "They don't want to rely on businesses to entertain themselves."
It's no surprise that Angelenos who can afford a pool want one. Hot summer temperatures helped fuel a massive amount of pool building in affluent areas of Los Angeles over the last seven years. 
Yet that nearly froze when Mayor Eric Garcetti issued his Safer at Home order in March. The 45 permits granted this April was the lowest monthly total since at least 2013, when permit data became publicly available. (A permit does not guarantee that the pool actually gets built.)  
Monthly pool permit comparison, 2020 and 2019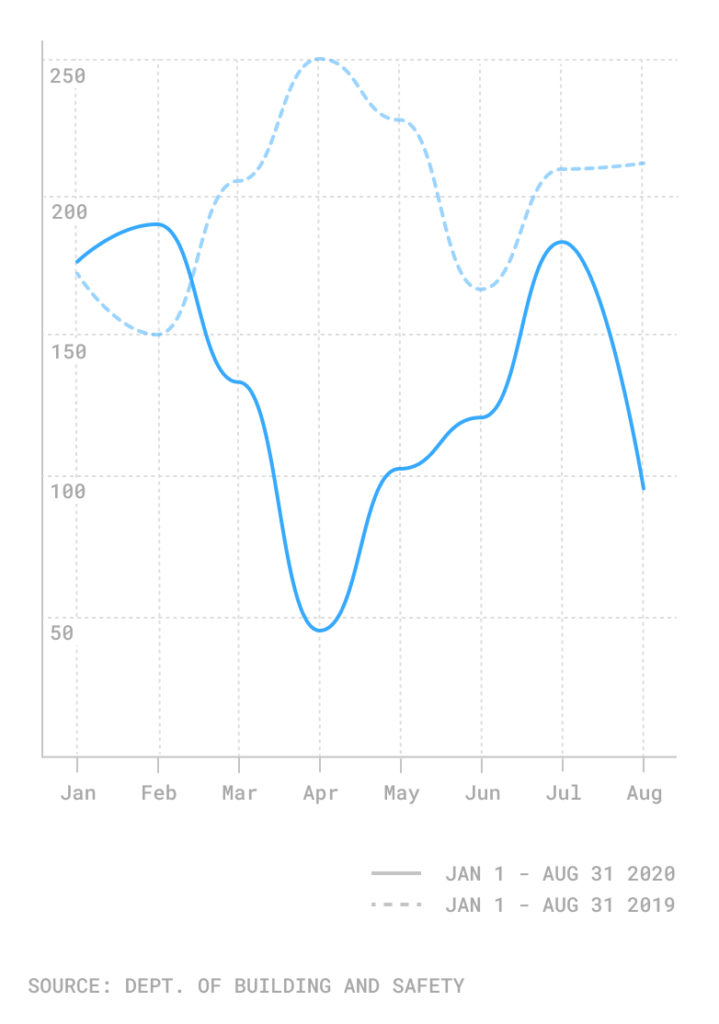 Residents of Sherman Oaks filed 29 permits for new pools from April 1-July 31, making it the most active neighborhood for new permits. It was followed by Brentwood, with 28 permits.
Although pool permit applications overall were down 34% compared with the same time last year, Steve Melkon, project manager for JMI Construction, said requests for his company to install patios and pools started to pick up in April and May.
The most requested feature clients are asking for? 
"Baja decks," said Almany, referring to a shallow area of a pool where someone can sit in a chair and be partially submerged in water. Clients, he said, "love it so they can tan." 
Public pools closed
The typical cost to build a pool in Los Angeles is between $40,000 and $80,000, according to All American Builders, which specializes in pool construction. The price can be impacted by size, type of pool and licensing fees. New pools typically take six to eight weeks to finish.
The pickup in pool construction comes as the economy remains unsettled and many businesses have been forced to close, lay off or furlough employees. Unemployment across California is currently at 13.3%, and Los Angeles has been one of the hardest-hit areas due to the pandemic. The Public Policy Institute of California found that 44% of workers in families earning less than $30,000 are underemployed, compared with only 14% of workers in high-income families. About 4 million of those poor and near-poor Californians live in Los Angeles County, according to the PPIC. 
The consequences of extreme heat are extremely unequal, especially for poor and marginalized communities where homes may lack air conditioning. Public pools were traditionally an answer for many people to escape the heat, but city pools have been shuttered this summer due to the pandemic. 
Daniel Rizera, a pool clerk with the City Department of Recreation and Parks, said there are six pools that service neighborhoods south of the 10 Freeway, but only three are open throughout the year. All six have been closed since March due to COVID-19. 
"We've been getting a lot of calls about how hot it was this summer, especially the last couple of weeks," said Rizera. "We also get emails that say things like, 'Open the pools right now,' and, 'It's too hot for this, I can't deal with the heat.' It sucks, but we can't do anything about it. We are in a pandemic."
How we did it: We examined the City of Los Angeles' publicly available data on reported pool permit applications from Jan. 1, 2020 – Aug. 31, 2020. For neighborhood boundaries, we rely on the borders defined by the Los Angeles Times. Learn more about our data here. 
In making our calculations, we rely on the data the Dept. of Building and Safety makes publicly available. On occasion, their department may update past permit applications with new information, or recategorize past permits. Those revised permits do not always automatically become part of the public database.
Want to know how your neighborhood fares? Or simply just interested in our data? Email us at askus@xtown.la.