LA's COVID-19 bright spot: decline in hospitalizations
New case counts have been inching upwards, but fewer people admitted to the ICU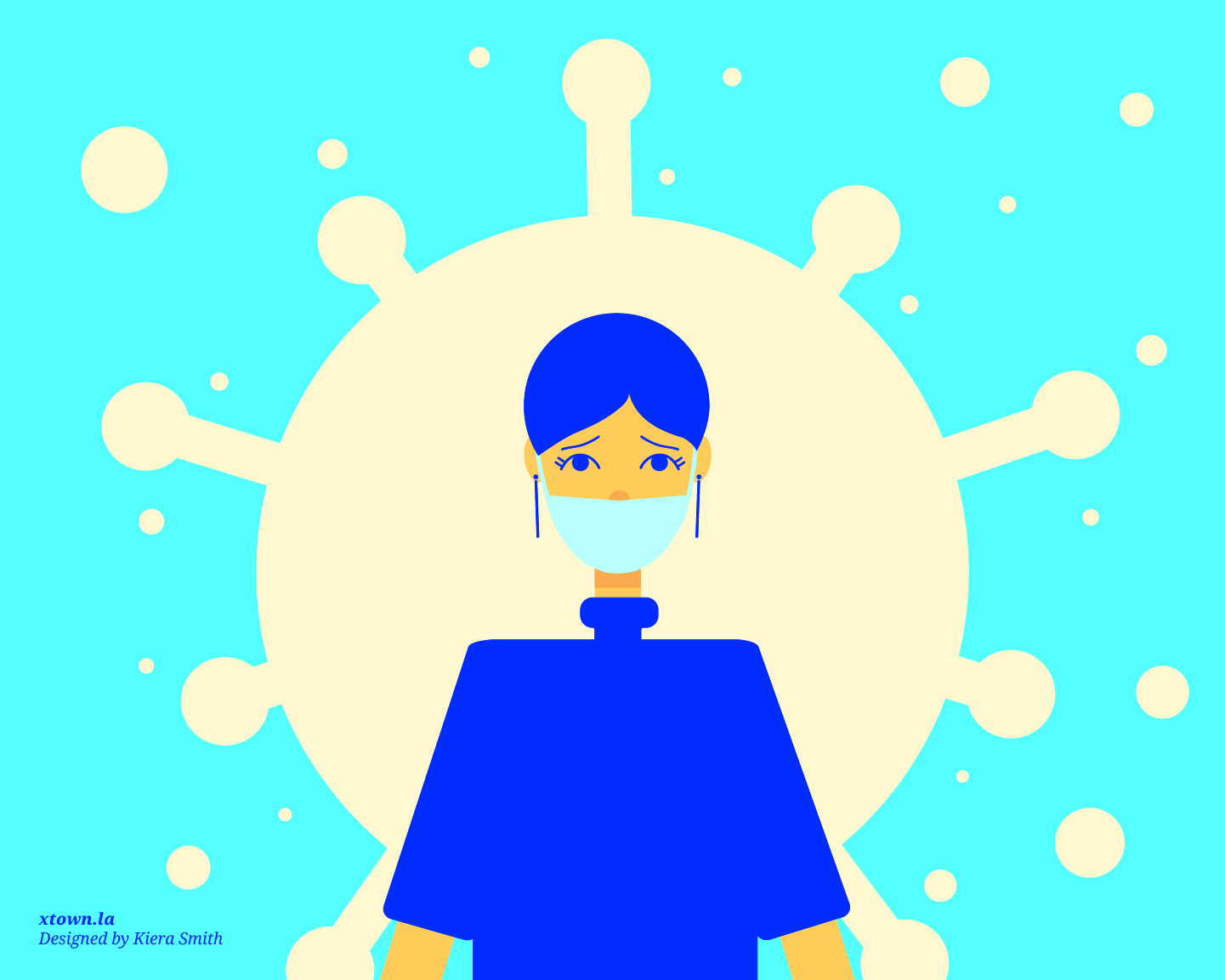 President Trump's stay at Walter Reed National Military Medical Center made the number of people hospitalized nationwide for COVID-19 tick up by one.
In Los Angeles County, public health officials have been keeping a close watch on the number of COVID-19 hospitalizations for a simple reason — a flood of coronavirus patients in intensive care units could overwhelm the health system. But on that front, they've been able to report a rare piece of good news: By late September, daily hospitalizations for those with COVID-19 had fallen approximately 70% from just two months before.
It's one of the few bright spots in the county's fight against coronavirus. The daily number of new infections remains stuck at around 1,000 and the number of deaths is often over 25. While that's an improvement from early August, when the county was routinely reporting more than 2,000 cases and 30 deaths a day, recently, the pace of progress has slowed. Not so with hospitalizations, which have fallen at a faster clip. 
"I'm grateful that so many people are doing their part to protect their fellow neighbors, workers and family members from COVID-19, and it is clear that the actions people are taking have reduced the number of people hospitalized and dying," said Dr. Barbara Ferrer, Los Angeles County Director of Public Health, in a Sept. 27 statement. 
'Flatten the curve'
Examining hospitalizations reveals how much things have changed since the onset of the virus. In the first few weeks of March, as the novel coronavirus began ripping across Los Angeles, the guiding principle for political leaders and public health experts was to prevent hospitals and medical facilities from being overrun with sick and dying patients.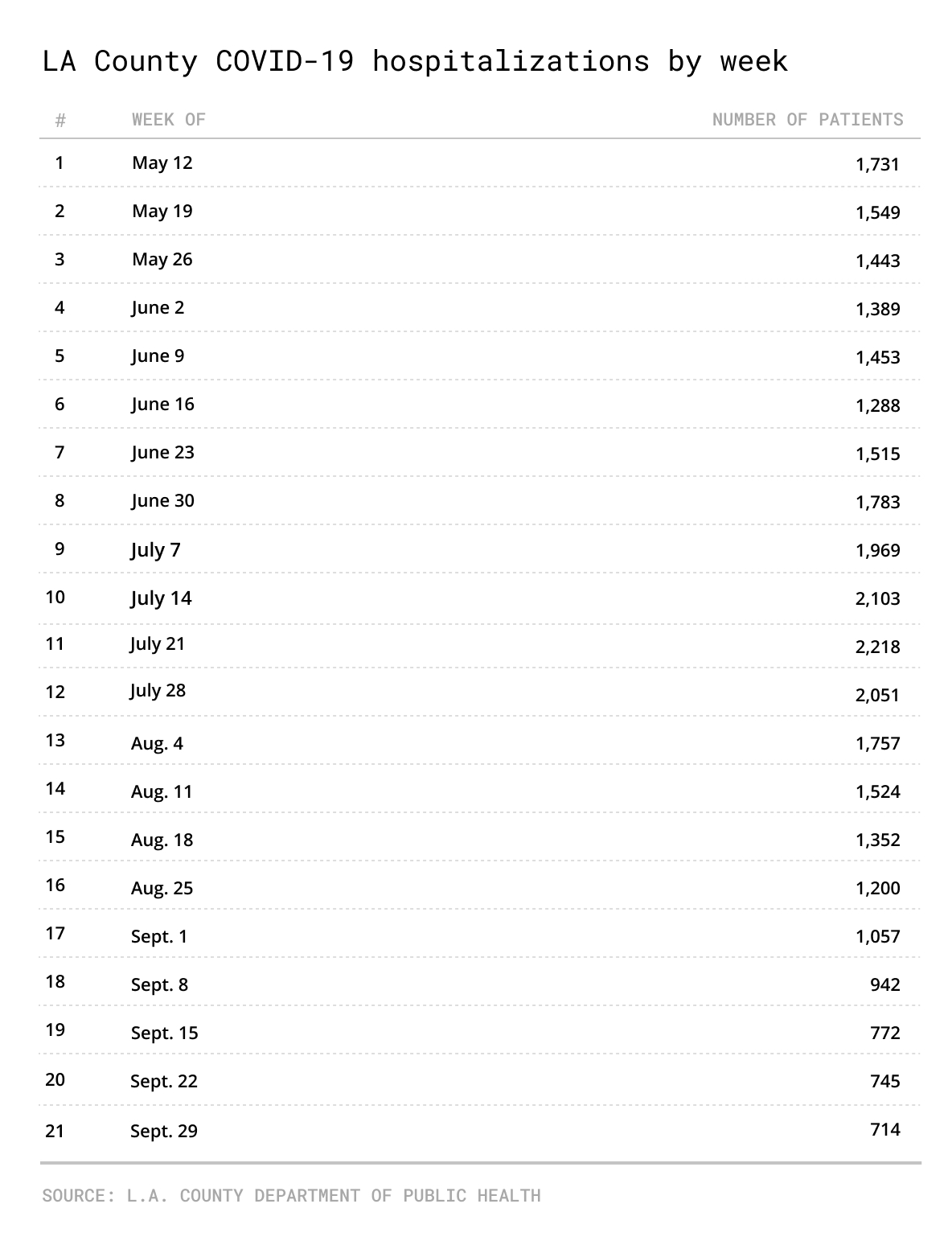 The early call to "flatten the curve" wasn't an effort to quash COVID-19 in its tracks. Rather, it was to manage the spread of the highly contagious virus, and to prevent Los Angeles streets from being filled with the incessant ambulance sirens that were haunting New York City. When Mayor Eric Garcetti on March 15 dictated that bars and restaurants would be limited to take-out or delivery service only, and when he enacted the Safer At Home order four days later, an overarching aim was to keep hospitalizations in check.
Hospitalizations do not garner the level of attention that the daily count of new cases and deaths engender, but the metric does offer an effective, if slightly delayed, measure of how Los Angeles is faring. Although COVID-19 had killed 6,576 Angelenos by Sept. 30, hospitalizations that week were at the lowest level since early in the pandemic.
The apex occurred on July 20, when 2,232 people were hospitalized with COVID-19, according to the daily updates issued by the Department of Public Health. On Sunday, officials announced the lowest level since early spring, with 673 COVID patients in hospital beds.
Hospitalizations are what is known as a lagging indicator. People who contract the coronavirus generally do so two to 14 days after being exposed, and it often takes weeks until someone is sick enough to require the highest level of care. It can be several more weeks until an individual passes away, so a high daily death count, while tragic, tends to indicate how pervasive the virus was a month or so before.
There are different levels of care within hospitals. The Public Health Department's data dashboard shows that, in general, approximately one-third of the people who are hospitalized due to COVID-19 require treatment in the intensive care unit. At the July crest of the virus, more than 600 people were in ICU beds. By late September the figure hovered around 200. 
Peaks and valleys
The peaks and valleys of the Los Angeles hospitalization count reveal the ramifications of public behavior and the control measures that were in place several weeks prior. On May 12, according to Public Health data, 1,731 people were in hospital beds (before that day the county updates revealed the overall number of people who had been hospitalized during the crisis). From there, the tally gradually declined, reflecting the impact of the safety protocols many Angelenos adopted. 
The situation changed in late May, when three things happened at once: Political leaders, facing demands to reopen the economy, began relaxing restrictions on businesses; Memorial Day weekend prompted people to get together at barbecues and parties; huge crowds of Angelenos took to the streets to demand racial justice and police reform after the May 25 killing of George Floyd in Minnesota.
It is impossible to say how much each element contributed to a rise in cases and hospitalizations, but within weeks, numbers were soaring. Hospitalizations hit 1,515 on June 23, surpassed 1,900 nine days later, and eclipsed 2,000 on July 8. For five consecutive days starting on July 19, more than 2,200 people were hospitalized with COVID-19.
The rising figures sparked concern even before July 4, prompting local leaders to pull back on the reopenings and close L.A. County beaches over the holiday weekend. Again, hospitalizations reflected the change in behavior: Two weeks after the July 20 high point, the number of people in hospitals was at 1,784. On Aug. 20, the count stood at 1,378. On Sept. 4, fewer than 1,000 COVID patients were in hospital beds.
The numbers continued to decline: 889 people were hospitalized on Sept. 11, and the figure was 739 a week later. 
Danger ahead?
Changing behavior is not the only thing that has reduced hospitalizations. Advances in treatment and the medical community's improved understanding of the virus has lessened the length of some hospital stays and prevented others. 
Elected officials and public health experts remain focused on ensuring there is adequate hospital capacity, and alarms have been sounded that the fall flu season could again put a strain on medical resources. State Health and Human Services Secretary Dr. Mark Ghaly recently warned that hospitalizations in California could surge 89% by the end of October if a new spate of infections continues.
Local leaders learned after the July spike to proceed cautiously. Still, there are demands to get people back to work. On Sept. 30, county leaders announced that nail salons, breweries, shopping malls and some other businesses could begin to reopen at reduced capacity and with strict safety protocols in place. Additionally, some elementary schools can seek permits to bring students back to the classroom. 
Hospitalization levels a few weeks from now should reflect the impact of these changes and current behavior.
How we did it: We examined data from the daily coronavirus updates provided by the Los Angeles County Department of Public Health from May 12-Sept. 30, 2020, as well as figures from the department's COVID-19 surveillance dashboard. In some cases dashboard figures were later updated. 
Interested in our data? Check out the Crosstown coronavirus interactive map, or email us at askus@xtown.la.