No accident: Major drop in traffic collisions this year
Pandemic kept cars off the road, leading to fewer wrecks, at least for a while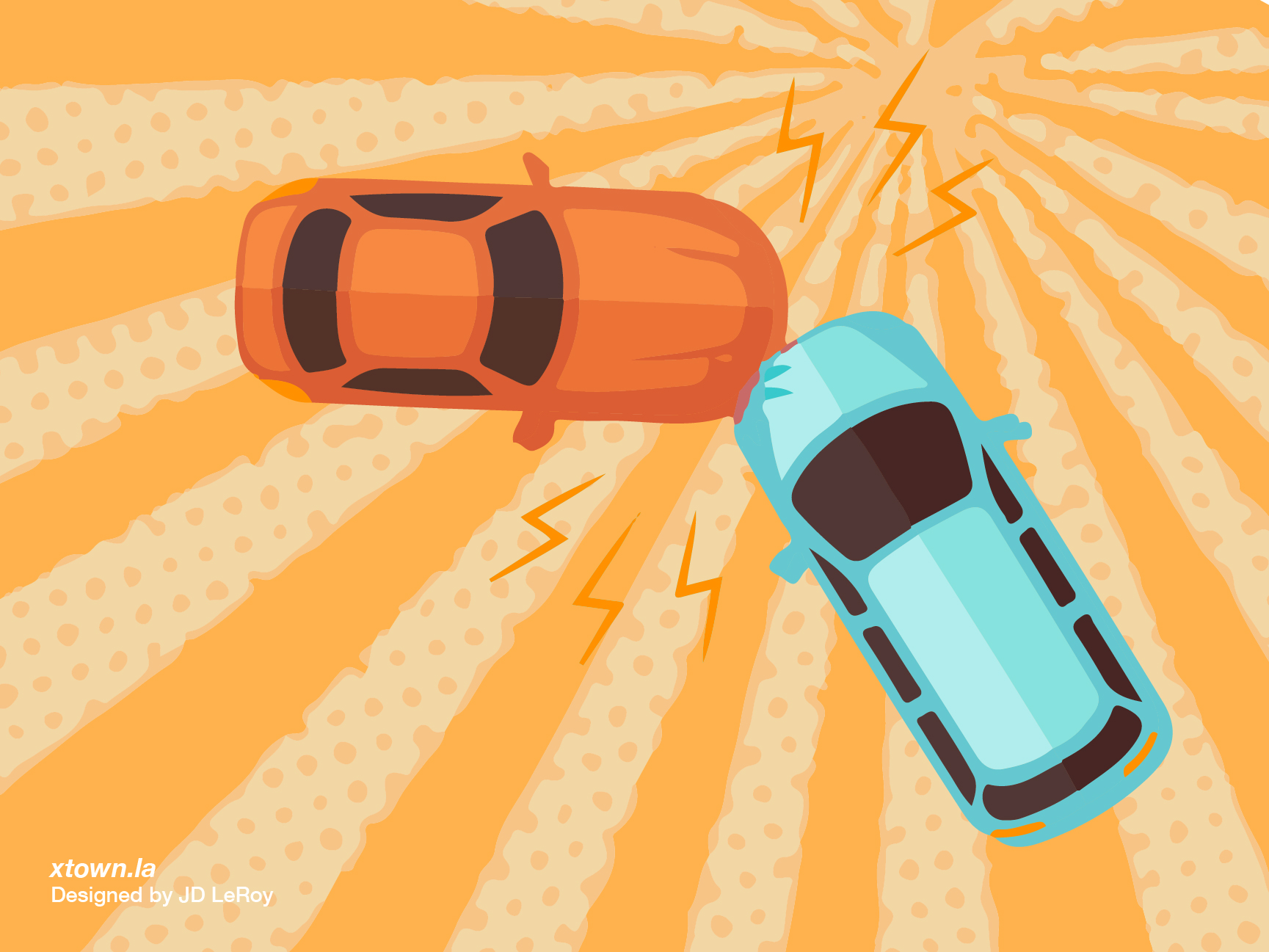 When the coronavirus hit Los Angeles in March and people began sheltering at home, the number of traffic collisions in the city instantly fell. Accidents are down nearly 42% in the first nine months of this year, but in the most recent period for which data is available, they have begun climbing again. 
The city recorded 24,541 collisions between January and the end of September, a steep drop from the 42,279 accidents during the same time last year, according to Los Angeles Police Department data. The decline began in March, the month that Mayor Eric Garcetti ordered all non-essential businesses to close: There were 2,917 collisions this March, a 41% drop from the same month a year ago. 
Total traffic collisions in Los Angeles, 2019 vs. 2020
The difference is most stark between April and July, when far fewer people were driving to work or to accomplish every little errand. This year, the LAPD recorded between 1,723 and 2,159 collisions each month. The 2019 figures were all at least twice as high, bouncing between 4,487 and 4,858.
If collision reports are anything to go by, traffic has not returned to the level before the pandemic. But they have been on the rise lately. The number of collisions in August climbed to 2,983, a boost of more than 800 from July. September was a bit lower, with 2,662 collisions, according to the LAPD, but the figure is still well above March-July levels, when the roads were all but empty. 
Monthly drop in collisions, 2019 vs. 2020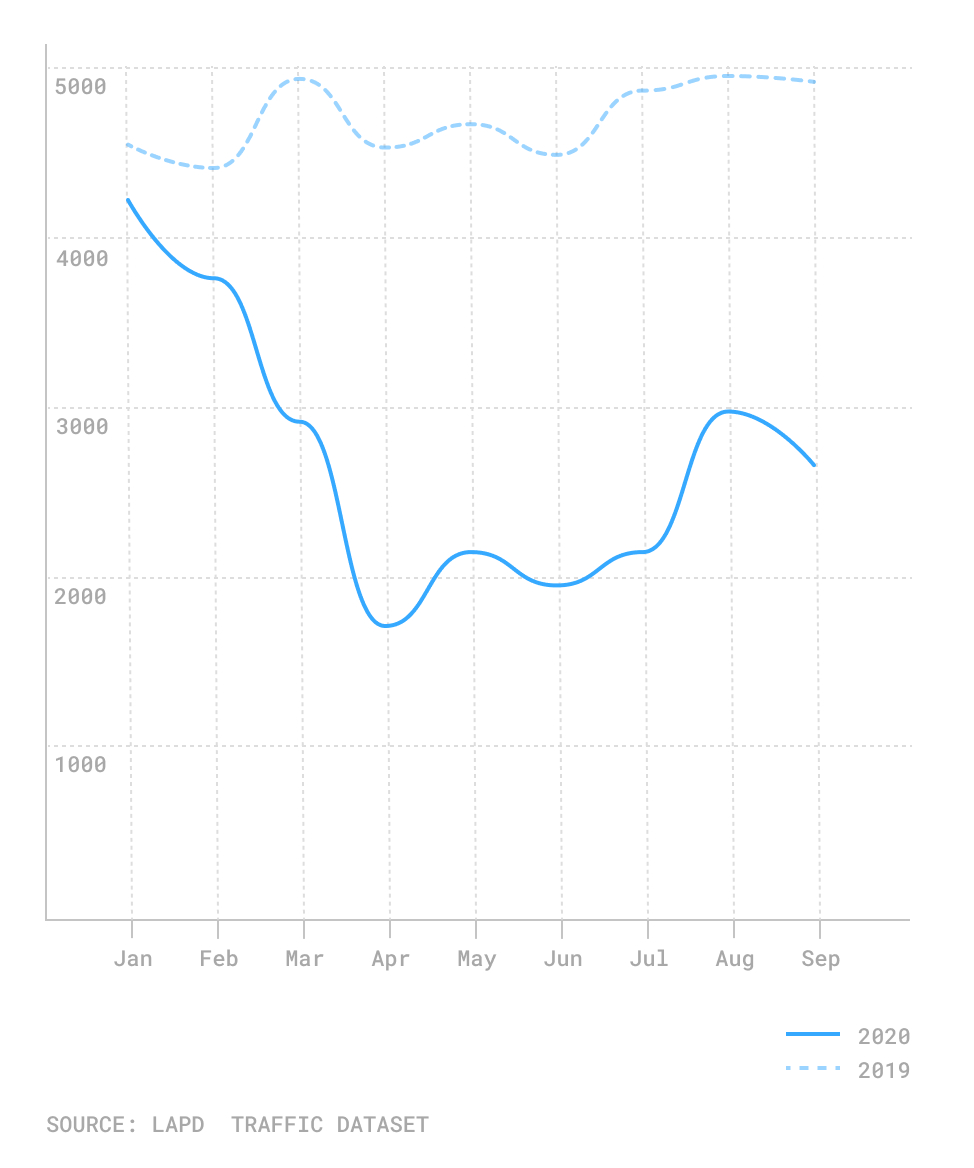 Tracking the body shops
A 2018 report by transportation data tracker INRIX found that Los Angeles drivers have the fifth-worst traffic in the country. One consequence of more cars on the road is a higher incidence of accidents, according to Curbed LA. 
The decline in driving, and the impact of the global pandemic on the American economy, has been reflected in car sales in the U.S., which dropped nearly 10% in the third quarter of the year, following a 31% freefall in the second quarter, as reported by the Associated Press. Auto manufacturers, including Toyota, Ford and Nissan, all reported a decline in sales.
However, a turnaround could be in play, as sales grew nearly 5% in September, the first monthly increase since February, according to the AP report.
One telltale sign of a decrease in driving in Los Angeles is a drop in business at the region's ubiquitous auto repair and body shops. As the usually busy holiday travel season approaches, many shops have seen far fewer customers than normal.
"People haven't been driving much, so it's decreased," said Josie Padilla, who works at Vermont Auto Body in Koreatown. "Our sales dropped 50%-60% as far as work goes. Our body man is not even on a set schedule."
Paula Bazan, manager of Lucky Auto Body Repair, in Westlake, said they, too, are feeling the economic impact.
"In the beginning, it did slow down to the point we were worried about what would happen," she said. "We are not back to where we used to be. We used to do 80-90 cars a month. Now we are at 60 cars a month."
One thing that has not changed is where accidents happen. Downtown was the top spot for collisions both this year and last year. However, the 1,234 collisions from January through September in the community is down 43% from the same timeframe last year. 
Top neighborhoods for traffic collisions, Jan.-Sept., 2019 vs. 2020
That trend is matched in other neighborhoods. According to the LAPD, Van Nuys remains the second most-frequent neighborhood for collisions. Through September this year, there were 780, a 45% decrease from the same period in 2019. Westlake has seen a nearly 44% drop in collisions compared with the same time last year.
The good news is every neighborhood on our top 10 list saw a decline in car collisions, which means fewer people will be going into the new year with higher auto insurance premiums.
How we did it: We examined LAPD publicly available data on reported traffic collisions from Jan. 1–Sept. 31, 2020, compared with the previous year.  For neighborhood boundaries, we rely on the borders defined by the Los Angeles Times. Learn more about our data here. 
In making our calculations, we rely on the data the LAPD makes publicly available. On occasion, LAPD may update past collision reports with new information, or recategorize past reports. Those revised reports do not always automatically become part of the public database.
Want to know how your neighborhood fares? Or simply just interested in our data? Email us at askus@xtown.la.