Wait, is LA becoming bike-friendly?
COVID-19 brought a record low for bike collisions in the city
September marked a record for bike safety in Los Angeles: Even with more cyclists on the road, the month had the fewest bicycle-vehicle collisions since the city began releasing data in 2012.
There were 18 bike-vehicle collisions recorded in the city that month, according to data from the Los Angeles Police Department, down from 185 during the same period in 2019, the lowest number ever recorded. At the same time, the number of cycling trips in Los Angeles logged by Strava Metro, which tracks data on bike usage in urban areas, rose by 52%, to 191,010. 
The September milestone is part of a trend that began as soon as the COVID-19 pandemic started to spread across Los Angeles. Through November of this year, the total number of bike collisions has fallen by 70%, to 496, down from 1,655 during the same period in 2019. 
Bike-car collisions by month in Los Angeles, 2019 vs. 2020
As soon as county health authorities issued the "safer at home" order on March 19, forcing many businesses and schools to close, the roadways of car-loving Los Angeles emptied of traffic. Cyclists rushed to take advantage of the suddenly quiet streets. 
Since then, traffic has returned, though it is still below its pre-pandemic levels. However, with more cyclists on the road and fewer of them getting into collisions, Los Angeles now has an opportunity to reexamine how it could turn itself into a more bike-friendly city. 
In May, Los Angeles launched a "slow streets" initiative, which tries to create more space for cyclists and pedestrians by limiting many streets to local traffic. 
Culver City launched a similar initiative. Meghan Sahli-Wells, a Culver City councilmember and avid cyclist, hopes to see measures like the Slow Streets Program become permanent after the pandemic. 
"We've created temporary — that I hope will become permanent — dedicated bus and bike lanes through the middle of downtown Culver City," said Sahli-Wells. "A lot of these measures that we've been taking as a city are making me feel comfortable in my short commutes within the city." 
Sahli-Wells is encouraged by the reduced number of bike collisions and cars on the road since the start of the pandemic, but is concerned that drivers have become more erratic. 
"Folks are becoming speed demons… and that really needs to be addressed," she said. 
Monthly cycling trips logged in Los Angeles, 2019 vs. 2020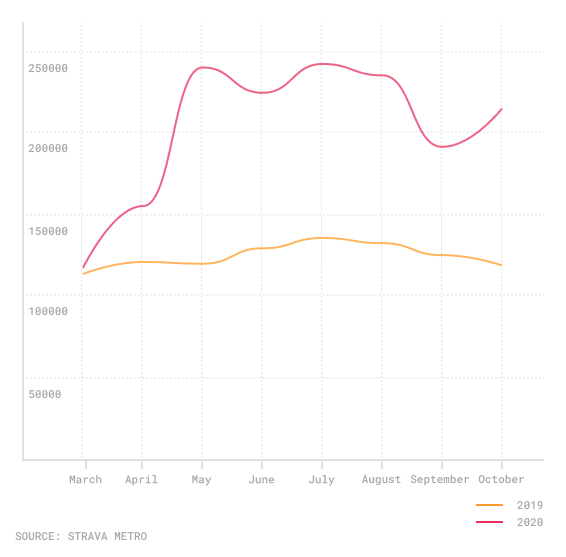 Brenda Yancor, who serves as the community engagement manager at the Los Angeles County Bike Coalition, has similar concerns about COVID-19 driver behavior.  
"Every 10 miles per hour [increase] in speed really reduces the chances of survival for someone who's hit by a car going at that speed," said Yancor.
To keep collisions down and reduce the number of severe and fatal incidents, Capt. Jonathan Pinto of LAPD's South Traffic Division said that law enforcement focuses on two things: traffic-stop education and increasing the visibility of officers at high-risk intersections. 
"As a traffic captain, [I] really believe in education," said Pinto. "The traffic stop is an educational stop and sometimes we decide … [if] it should be a verbal warning, a written warning, an educational discussion or a citation." 
Advocates like Yancor are hoping that even as traffic does increase, biking won't diminish. "I would hope that people who picked up a bike for the first time ever, or the first time in a while, will see how much more liberating it can be on a bike and will have become a little bit more comfortable facing the dangers that do exist," she said. 
How we did it: We examined publicly available LAPD data on reported collisions in the City of Los Angeles.  
Want to know how your neighborhood fares? Or simply just interested in our data? Email us at askus@xtown.la.