'Shots fired,' LA's other emerging epidemic
A 141% spike in shooting victims alarms police and community leaders
A wave of shootings continues to shake Los Angeles. In the first two months of the year, police fielded reports of 570 shots fired, up 88% from the 303 at the same time in 2020. 
That has resulted in a corresponding surge of shooting victims. Through Feb. 27, according to Los Angeles Police Department data, 267 people had been hit by gunfire, up from 111 in the same period last year. That is a 141% increase. 
Shooting victims and shots fired, 2021 vs. 2020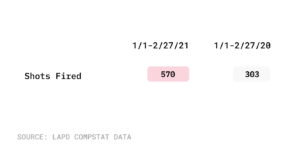 Alarm is rising across the city. The Los Angeles Police Protective League, the union representing most rank-and-file officers, posted a graphic on Twitter detailing the 18 people shot in the city in a 47-hour period starting on Friday, Feb. 26. It said four people died.
"We continue to struggle with homicides and shooting violence," LAPD Chief Michel Moore told the Los Angeles Police Commission on Feb. 23, adding, "We have a concern about the level of violence that is still ahead of last year."
The shootings come as the city has experienced a nearly 26% drop in overall crime during the first two months of the year. But the rise in gun violence is causing concern among community members and police, especially in the South Bureau. 
Homicides in Los Angeles are also up, though not quite as dramatically as shootings. Through Feb. 27, 64 people had been murdered in the city, an increase of 39% from the 46 at the same time last year. 
Stressed-out neighborhoods
Deputy Chief Regina Scott, the commanding officer of LAPD Operations-South Bureau, which oversees the Harbor, 77th Street, Southeast and Southwest divisions, told the Police Commission that, through Feb. 13, the bureau had recorded a 165% increase in shots fired and a 358% spike in victims shot while walking down the street or sitting in cars or homes. Scott said two of the victims were wheelchair-bound.
"If you compare South L.A. to the rest of the city, we represent 65% of the city's shooting victims," Scott said at the Feb. 23 meeting. "In just six weeks we've had 110 victims shot compared with just 24 last year. These are numbers we haven't seen since the late nineties or early 2000s."
Scott said the increase is being driven by a "phenomenal number of weapons," along with disruptions to the community due to COVID-19, and corresponding economic problems. She showed commissioners photos of at least 90 guns taken off the street by police; the firearms ranged from pistols to military-style weapons with large-capacity magazines and several boxes of ammo.  
"It shows the sheer amount of guns and weapons our suspects have access to," she said.
Some neighborhoods have seen stunning increases. From Jan. 1- Feb. 22, Watts recorded the highest number of shootings of any community this year; there were 25 reports of a shot being fired, up from three in the same period last year. In the neighborhood of Green Meadows, the 21 shots-fired reports are a 950% increase from the two during the same time in 2020. Florence has seen 24 calls for shootings, up from 10 last year. 
Neighborhoods with biggest increases in reports of shots fired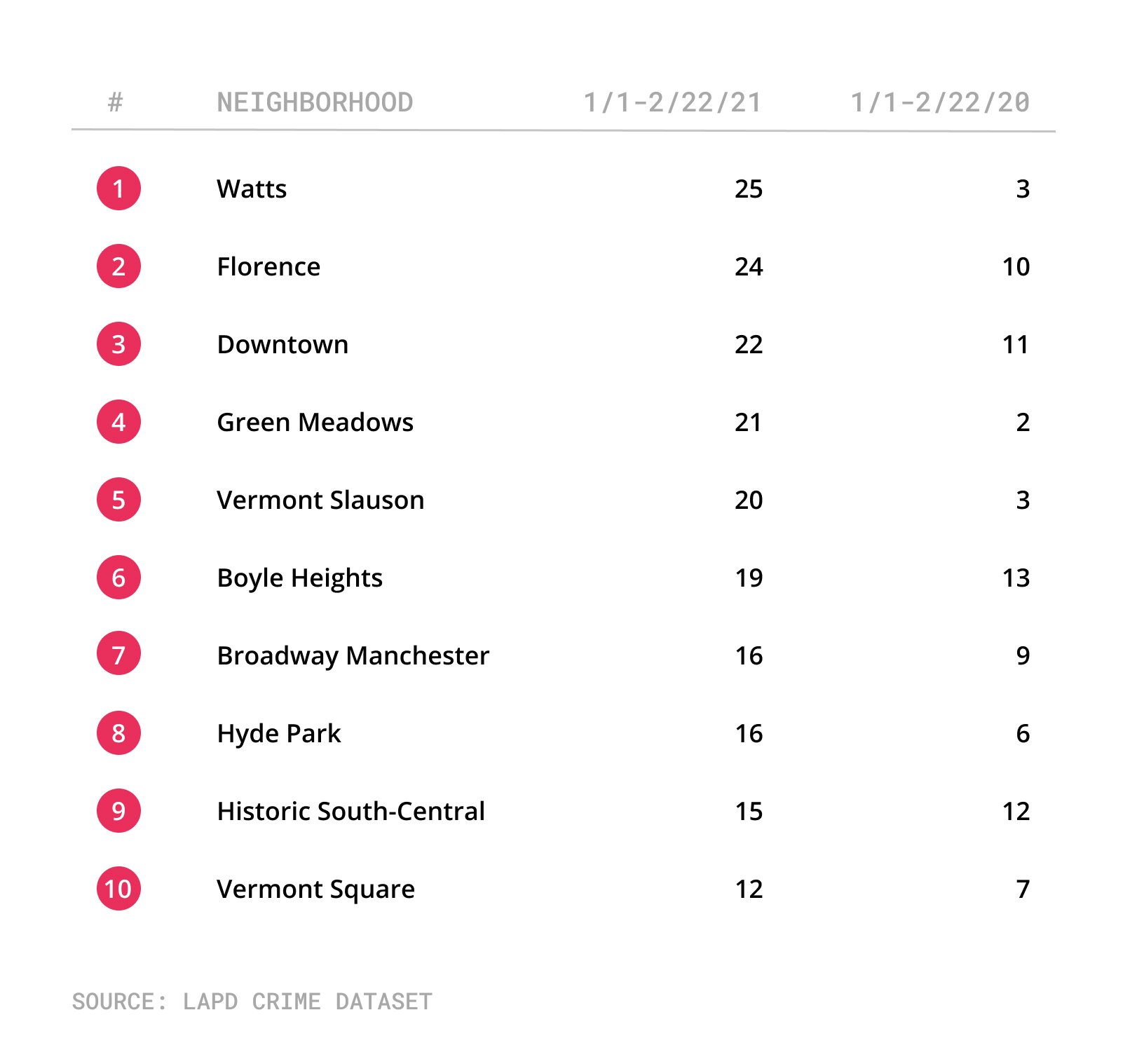 Community leaders are clamoring for assistance in combating the growing number of struggles, including everything from the need for food assistance, housing insecurity and violence. Andres Ruiz, a Provisionally Licensed Lawyer Staff Attorney and public safety chair for the Boyle Heights Neighborhood Council, expressed concern over the 46% rise in shots fired in the area (19 this year, up from 13 in 2020). He said he sees the increase in crime as a call for help. 
"We are living in an era where people don't know how they are going to pay their bills, facing eviction and hunger, and individuals resort to survival tactics," Ruiz said, stressing he was speaking for himself, and not the council. "We need to understand what is going on in neighborhoods to understand how to help heal the community so these issues aren't happening." 
Marsha Mitchell, communications director for the Community Coalition, an organization that works to "transform the social and economic conditions in South L.A.," called for funding community intervention workers, investing in programming for young people and giving neighbors a seat at the decision-making table.   
"The people closest to an issue are usually the most passionate about finding solutions," said Mitchell. "Community interventionists possess first-hand knowledge and an authentic lived experience that has proven invaluable in curbing violence throughout Los Angeles over the years."
'Not just numbers'
Scott said the LAPD can't arrest its way out of the situation and intends to invest in more community outreach, gang prevention and working with youth programs. 
Skipp Townsend, executive director of 2nd Call, a gang intervention nonprofit, told the Police Commission that intervention workers can facilitate meetings and allow people to discuss their grievances. He added that they also teach young people how to deal with their emotions so they don't respond to violence with more violence.  
"I believe it takes the community to save the community," Townsend said at the Police Commission meeting. "I found that the healing process hasn't started, but it's hard to heal when it's constantly occurring every day."
LAPD Assistant Chief Beatrice Girmala told commissioners that the community should remember that the victims of shootings aren't just numbers. She introduced family members who spoke on how gun violence has affected their lives. 
"We want to give voice to victims, survivors and their families and shed light on the sacrifices and impact that gun violence has had on our communities," Grimala said. 
How we did it: We examined publicly available crime data and from the Los Angeles Police Department from Jan. 1-Feb. 22, 2021. For neighborhood boundaries, we rely on the borders defined by the Los Angeles Times. Learn more about our data here.
LAPD data only reflects crimes that are reported to the department, not how many crimes actually occurred. In making our calculations, we rely on the data the LAPD makes publicly available. LAPD may update past crime reports with new information, or recategorize past reports. Those revised reports do not always automatically become part of the public database.
Want to know how your neighborhood fares? Or simply just interested in our data? Email us at askus@xtown.la.