The Crosstown COVID Tracker
Los Angeles County is stalled in its fight against new coronavirus infections
We keep you up to date by compiling a weekly rundown of the most important local data on new cases, vaccinations, and hospitalizations across Los Angeles County. 
Cases and Deaths
Seven-day average of new COVID-19 infections
Los Angeles County is stalled in its fight against the coronavirus. New COVID-19 infections are stuck at around 600 cases per day. As of April 3, the seven-day average for new cases was 605. This means that as of now, the record low for average COVID-19 cases in 2021 is still held by March 25, when the seven-day average was 569. While the county had been seeing a sharp decline in cases over the past two months, the recent plateau shows that we're not in the clear just yet.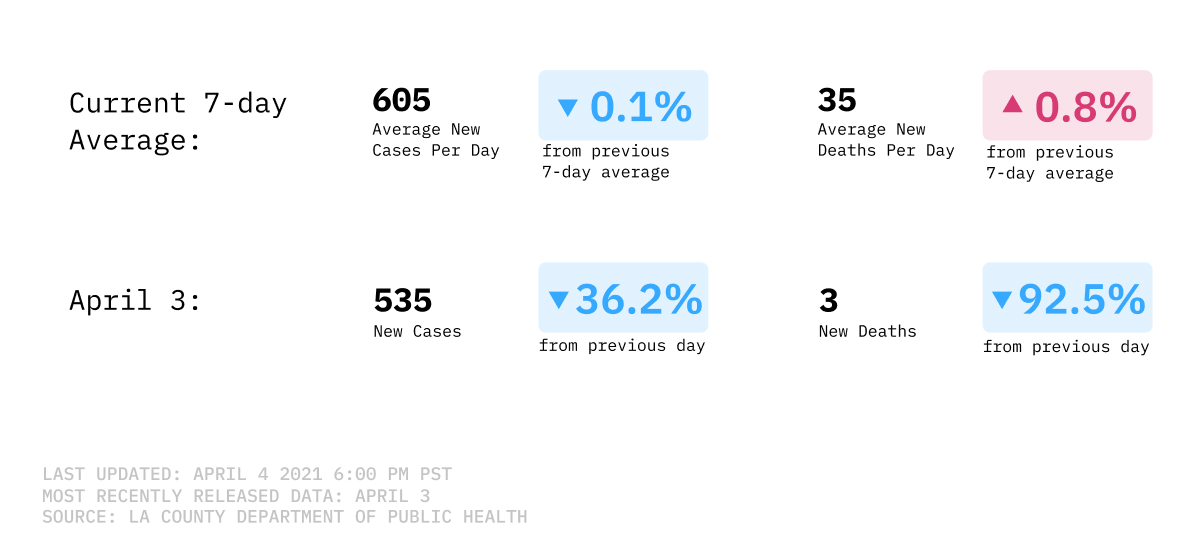 COVID-19 related deaths show a more promising decline. On Saturday, April 3, the county reported an average of 34 deaths. While this is a slight increase from the 27 average deaths reported on April 1, it also marks an 83.3% decrease from the 204 average deaths reported on Feb. 3 just two months prior. 
Vaccinations
Los Angeles County has officially reached over 4 million vaccinations in total. This includes 1,323,686 second doses and 78,653 of the single-dose Johnson & Johnson vaccine. After two weeks of record-breaking vaccination rates, it's difficult to compare the county's progress this most recent week. This is because the Los Angeles County Department of Public Health released only three days of vaccination data, from March 25-27, rather than the usual seven. During this timeframe, Los Angeles County administered 218,692 new vaccinations, 91,338 of which were second doses. 
Vaccine doses administered in Los Angeles County by week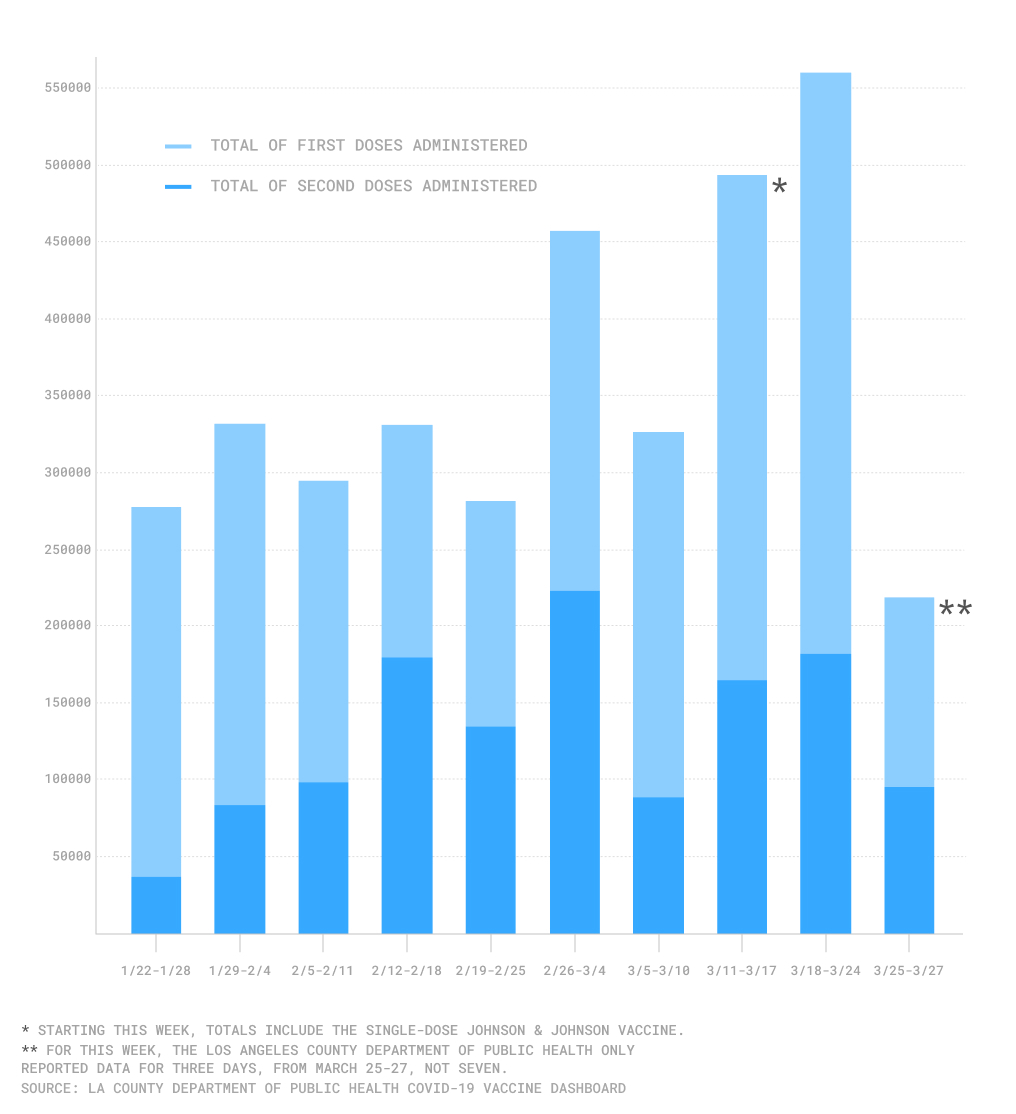 Although it's hard to compare vaccination rates, the county continues to receive more and more vaccines. In a March 31 press release, the Department of Public Health stated that the county received 378,400 total doses this week, a 35.6% increase from the 279,000 doses received the week before. Additionally, last week Los Angeles County only received 6,000 Johnson & Johnson vaccine doses, compared to the 54,000 received in this most recent week. However, the county still faces a lack of supply, as 300,000 additional appointments could have been booked this week had there been doses available.
Hospitalizations
Three-day average of countywide COVID-19 hospitalizations
Despite the stubborn level of new COVID-19 infections, hospitalizations are on a steady decline. On April 3, Los Angeles County reported 596 hospitalizations, a record low since the early months of the pandemic. That represents a milestone: It's the first time since May 12, 2020 that hospitalizations have fallen below 600. (The Department of Public Health doesn't have daily hospitalization data available for the period between March and early May of 2020.) This also marks a 92.1% decrease from three months prior, when hospitalizations were at 7,544 on Jan. 3. 
How We Did It: We analyzed coronavirus data related to new cases, deaths, hospitalization and vaccinations data provided by the Los Angeles County Department of Public Health.
Interested in our data? Check out the Crosstown coronavirus interactive map or email us at askus@xtown.la.