LA's vaccine vans show success in hitting the hard-to-reach
Mobile units vaccinate Latinx residents at nearly double the rate of large sites
Los Angeles's massive vaccine rollout has already administered more than 9 million doses. But that success masked a deeper problem: Many predominantly Black and Latinx communities were being left behind.
The City of Los Angeles has come up with an effective strategy. It's bringing the vaccines directly to people via mobile distribution sites.
According to the latest data released by Los Angeles Mayor Eric Garcetti's office, 90% of vaccines administered at the city's mobile sites have gone to communities of color. Nearly 65% of those doses have gone to people identifying as Latinx. That far exceeds the levels at the mass vaccination sites that were set up at places such as California State University, Northridge. At those big locations, only 37% of doses went to Latinx people.
Demographics of those vaccinated at mobile sites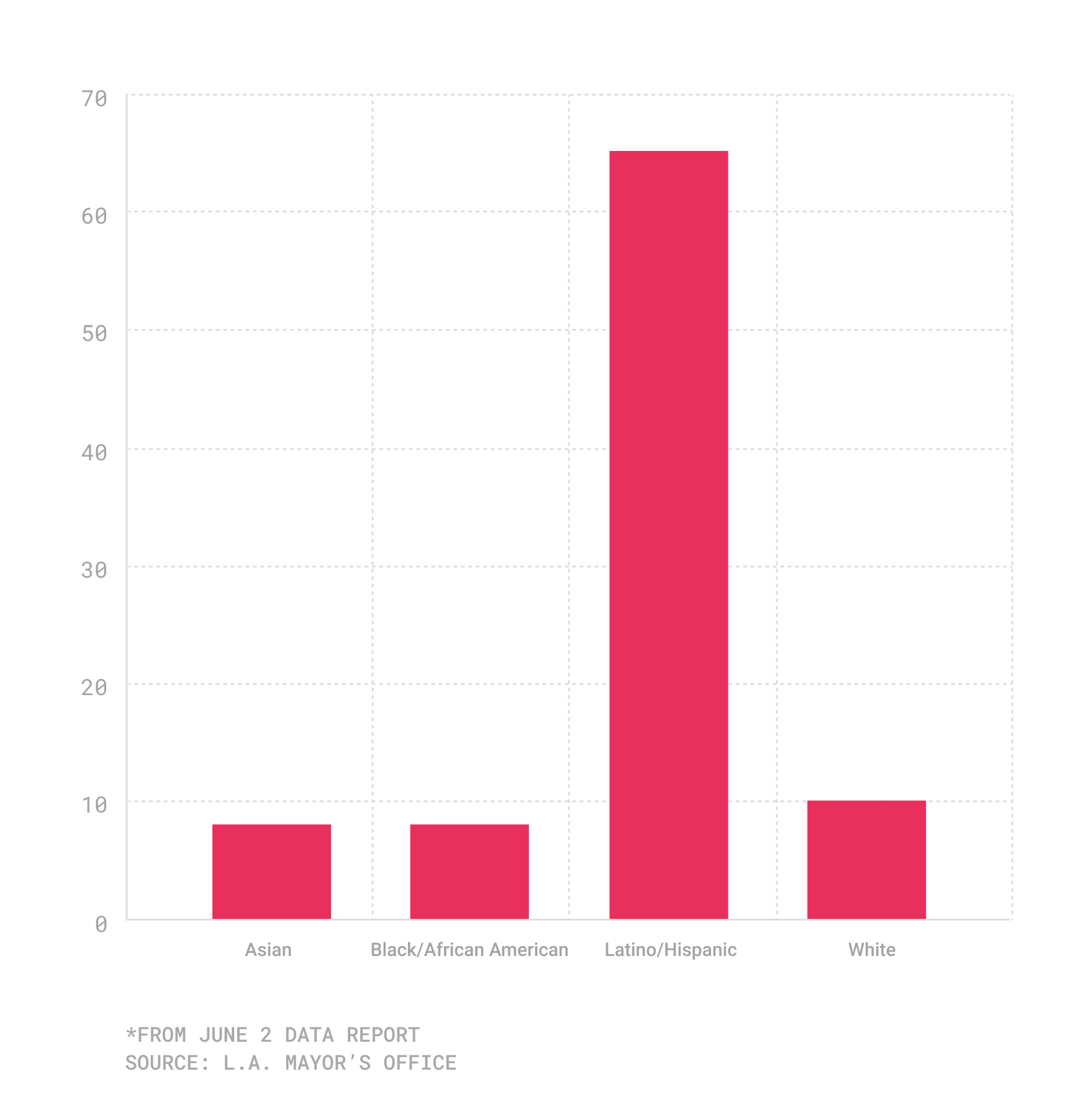 Demographics of those vaccinated at traditional sites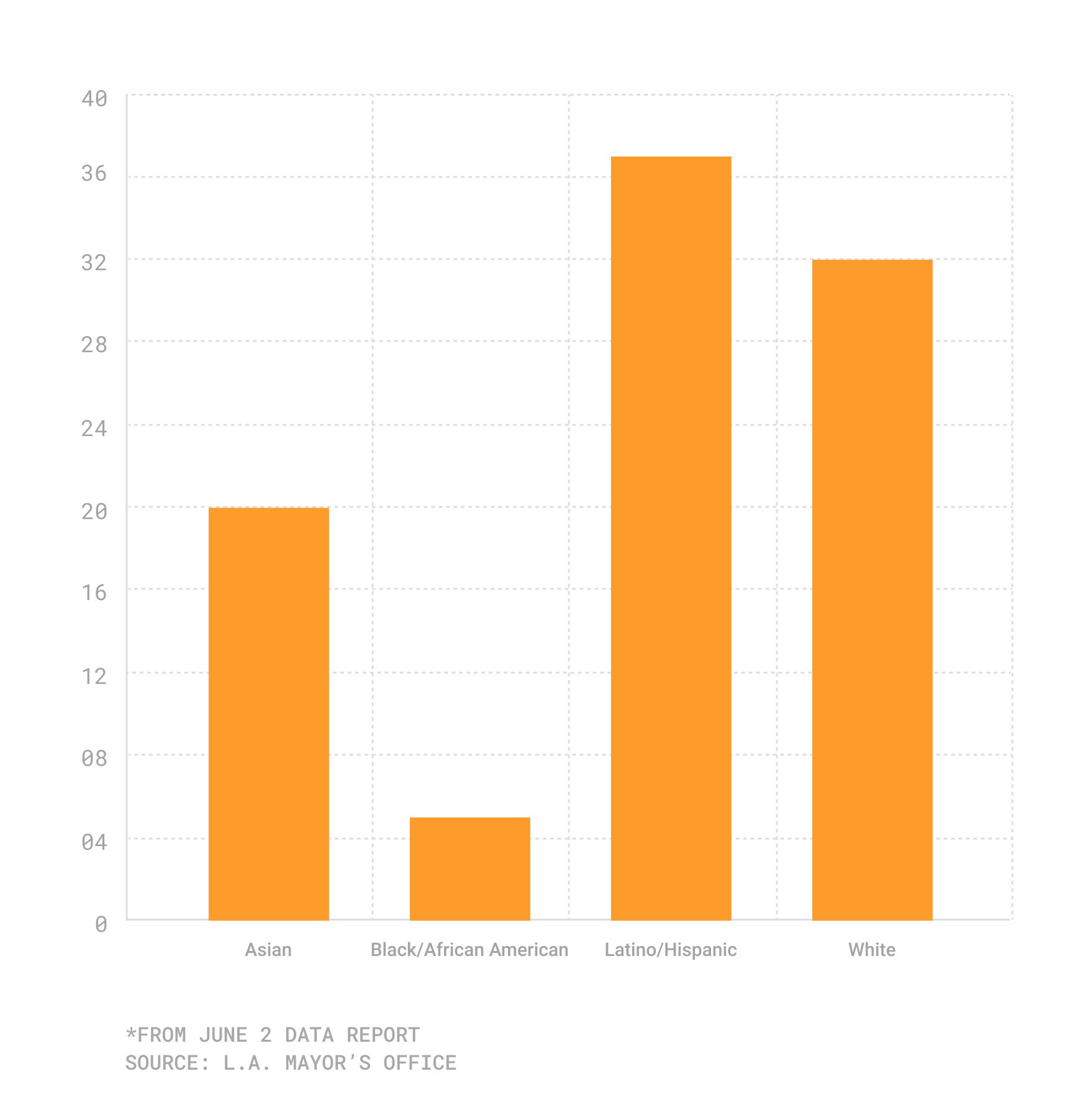 The city's program, called Mobile Outreach for Vaccine Equity, or MOVE, currently operates ten vans traveling to places like city parks and recreation centers where they administer doses on the spot, no appointment necessary. Today, the city is increasing the number of mobile van teams and plans to add more next week. 
The COVID-19 death rate among the Latinx population is 323 per 100,000 residents, higher than any other group, according to the Los Angeles County Department of Public Health. The comparable rate among Black residents is 209 per 100,000, and 123 for white residents.
These groups also have some of the lowest vaccination rates. According to the Department of Public Health, 41.1% of Black residents over 16 and 48.3% of Latino residents have received at least one dose. That is significantly lower than the 62.7% of white residents and 71.3% of Asian residents.  
"Reaching hard-hit and marginalized communities with vaccines requires providing direct access in these communities with small, nimble units," said Daniela Burza, a site manager working for Community Organized Relief Effort, a group that partners with the city on vaccine distribution. 
Easy access

 
The city began experimenting with mobile vaccine sites in February. Instead of drive-through operations or massive tent set ups, MOVE sites temporarily operate at recognizable neighborhood locations to eliminate the need for transportation and internet access to look up directions or make an appointment.
"Everyone should have a right to health care, regardless of their socioeconomic status, their background, where they live or their legal documentation," Burza said.
The mobile clinics have now administered a total of 116,103 doses. This is only a fraction of the overall 1.3 million doses administered by the city and the 9.4 million administered across the county, reflecting the program's relatively small scale and niche reach. 
The 10 MOVE clinics can administer up to 1,500 doses a day. With the addition of new teams, that capacity is expected to increase. 
Keep it local
The city deploys the mobile teams in areas with both high COVID-19 vulnerability and low vaccine rates. Currently, there are 11 sites, including the night clinics. For example, a clinic currently operates out of a park in Green Meadows — a neighborhood where only 46% of the population has received a first dose.
These sites stay open for five days and the night clinics offer extended evening hours to accommodate those with non-traditional work schedules. According to Burza, mobile sites were initially closed to the general public, and only residents of the specific area could get vaccinated at a MOVE location. 
"Many of our vaccination sites are in fact concentrated in these areas, which are also the areas that were hard hit by the pandemic," Los Angeles County's director of public health, Dr. Barbara Ferrer, said in COVID-19 briefing on Wednesday. "We do want to make it extremely easy to get a vaccine if you live in these communities."
According to the mayor's office, the areas with the highest distribution to people of color include Vermont Square, South Park and Downtown. The vaccination rates in these neighborhoods are 55%, 47% and 74%, respectively. 
Moving to mobile
In the early days of vaccine distribution, doses were in short supply and only those with special classifications (such as healthcare workers and teachers) could secure an appointment. Since then, however, the vaccine rollout has expanded to the point where anyone over the age of 12 can get a shot, often on a walk-in basis. As the demand for vaccines has waned, the city's focus has shifted from a mass vaccination model to a mobile-first distribution that focuses on communities that have been among the hardest to reach. 
By Aug. 1, the City of Los Angeles plans to operate fully on a mobile vaccine program, with 14 clinics total. The city hopes to reach more neighborhoods and set up vaccine distribution at high-traffic events.
How we did it: We examined data from the City of Los Angeles and from the Los Angeles County Department of Public Health on vaccine distribution by race and ethnicity.  
Want to know how your neighborhood fares? Or simply just interested in our data? Email us at askus@xtown.la.