The Detective: The laser pointers are back
A rundown of recent criminal activity in Los Angeles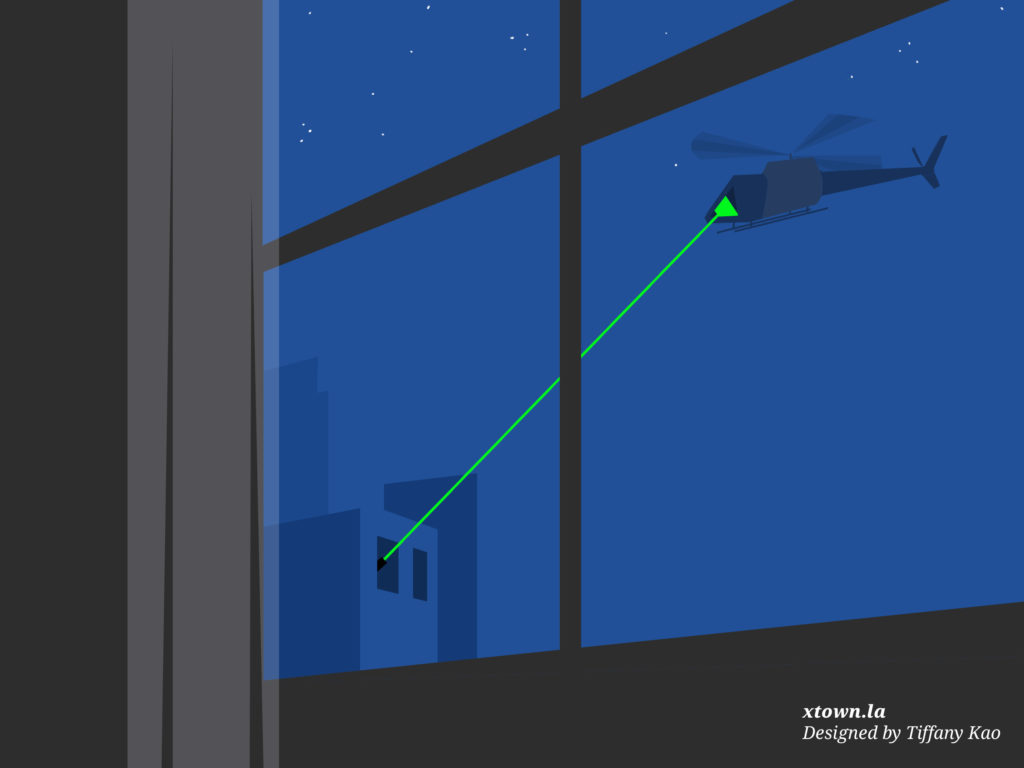 Here are some recent anomalies in Los Angeles Police Department data found by the Detective, our data-crawling robot, and aggregated by the robot's human assistant, Taylor Mills. This period covers May 24-30, 2021. 
? A few months ago, there was a spate of calls about airplane pilots being endangered by people on the ground aiming laser pointers into the sky. The pointers are at it again. On May 30, two Los Angeles Police Department officers reported being endangered when someone targeted their helicopter flying in Sylmar. The aircraft was over Foothill Boulevard when the potentially blinding light began shining.
Since the LAPD made its data publicly available in 2010, there have been 48 instances reported of lasers targeting a police helicopter. Seventeen of those were logged as assault with a deadly weapon against the officers inside the aircraft. 
? A 55-year-old taxi driver's job turned dangerous when he picked up a fare after midnight on May 26 in North Hills. Sometime after entering the vehicle, the passenger demanded money and threatened to hurt or tie up the driver. Although robbery is the second-most common crime against taxi drivers, according to the LAPD this marked the first instance that a threat of tying one up had been used. It also was not the only crime perpetrated against a taxi driver on May 26; another driver in the Harbor-Gateway neighborhood was targeted.
[Get COVID-19, crime and other stats about where you live with the Crosstown Neighborhood Newsletter]
? On the morning of May 25, commuters on a Metro bus in Hyde Park had an unwelcome surprise. At around 7 a.m., one passenger on the bus broke a window on the vehicle as it traveled down Slauson Avenue. The LAPD registered the incident as vandalism related to organized crime, though it is unclear what prompted the designation, or what set off the suspect.
Crimes occurring on Metro buses fell drastically during the pandemic, but as Los Angeles reopens the public transit system is seeing an uptick. There were 52 crimes reported in the transit system in May, compared to 28 in the same month last year.
? An office building in North Hollywood became the target for a high-level burglary—literally. At 11:30 a.m. on May 25, an unidentified individual made their way to the structure's roof. Once on top, the person stole $25,000 worth of unspecified equipment. A cutting tool was utilized during the theft and police listed the victim as a 67-year-old woman. 
This amount of damage is rare for a burglary: Only 10 have been reported that were this costly.
How we did it: At Crosstown, we examine publicly available crime data from multiple Los Angeles County law enforcement agencies. We have a robot on the team called the Detective that scans the LAPD publicly available data for anomalies. LAPD officers tag most crime reports in their system with MO codes, for "modus operandi," Latin for operating method or style. The MO codes are shorthand for describing what happened in a crime incident. 
Questions about our data? Write to us at askus@xtown.la.