The Crosstown Vaccine Tracker
A look at the weekly trends in Los Angeles inoculations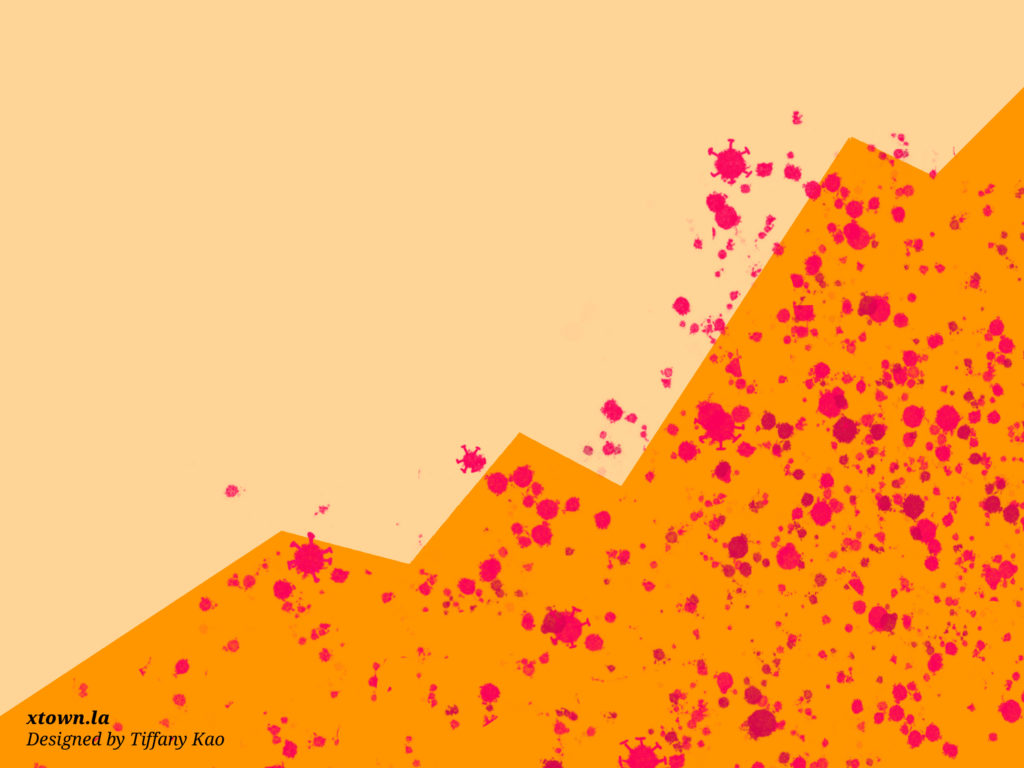 As the Delta variant of the coronavirus spreads across Los Angeles County, health leaders and elected officials are in a sprint to get more people vaccinated. Crosstown is following the progress, providing the most important new data about inoculations, along with information on the local impacts and trends of COVID-19.
Vaccination Progress
When it comes to vaccinations, Los Angeles County continues to inch forward week by week. According to the County Department of Public Health, as of July 2 (the most recent day for which data is available), a total of 10,560,284 doses of the coronavirus vaccine had been administered. That includes 4,681,076 second doses.
This breaks down to 68.7% of residents 16 and older having received at least one dose; 60%—nearly 5 million people—are now considered fully vaccinated. For residents 65 and older, 87.5% have received at least one dose, and 77% are considered fully vaccinated.
In the week of June 26-July 2, the County administered 177,120 doses, 95,084 of which were second doses. This is the lowest number of doses that the County has administered in a single week since the widespread vaccination program started, and continues a trend of fewer people getting jabbed. The recent week is about 15% of the total during the busiest week of March 28-April 4, when 1,178,651 doses were dispensed.
Vaccinations by Race/Ethnicity
Nearly three months have passed since all Angelenos 16 and older became eligible for the vaccine. However, there continues to be a disparity along racial and ethnic lines when it comes to who is receiving the doses. Factors including access to information, reliable Internet service and cars are playing a role, as is vaccine skepticism within some communities.  
[Get COVID-19, crime and other stats about where you live with the Crosstown Neighborhood Newsletter]
As of July 2, 75.5% of Asian residents in Los Angeles County had received at least one dose, making them the group with the highest vaccination rate. An estimated 65.3% of white residents had been vaccinated. 
Meanwhile, groups that have been disproportionately impacted by COVID-19 continue to have lower rates of coverage. According to County data, 54.2% of Los Angeles' Latinx population has taken a shot, and only 44.7% of Black inhabitants have received at least one dose. 
Percentage of Los Angeles County residents who have received at least one vaccine dose, by race/ethnicity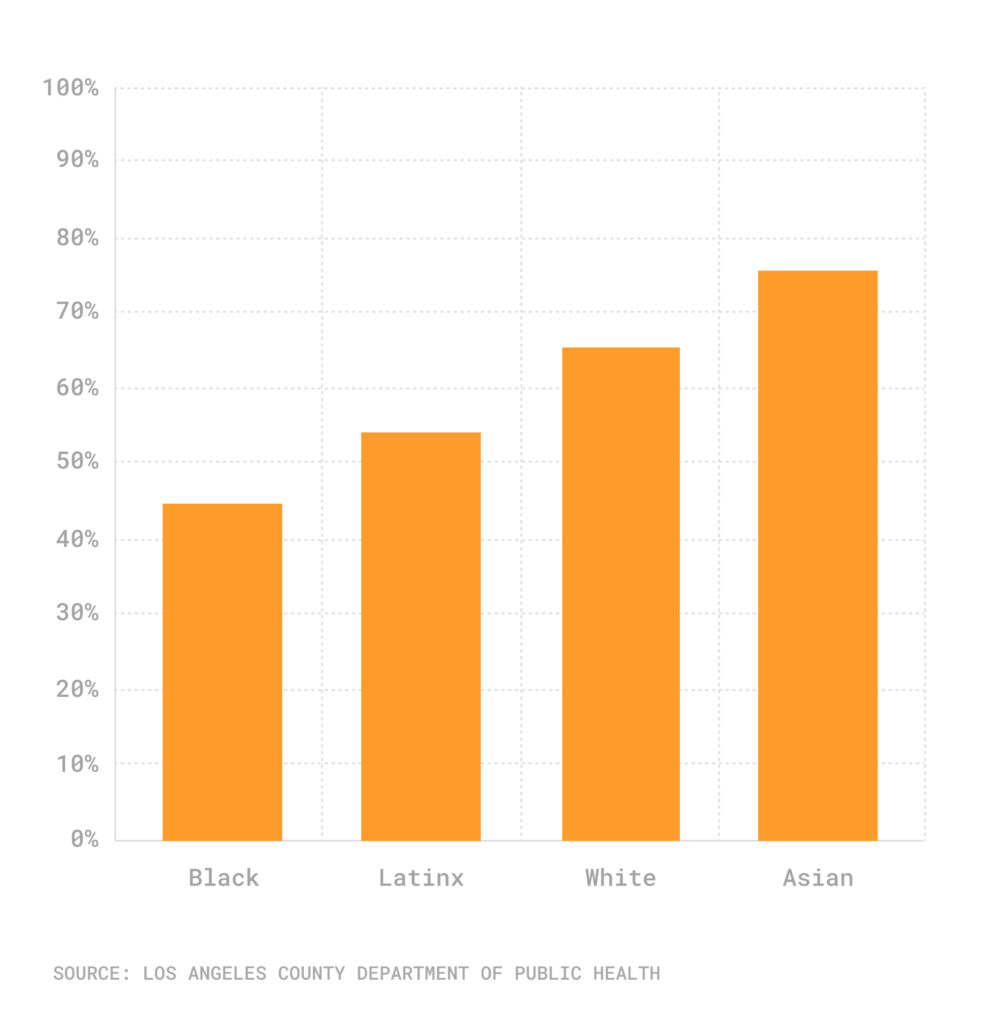 While vaccination rates are growing in general, the new figures echo a racial and ethnic disparity that existed two months ago. On May 2, the County reported that only 36.5% of Black residents had received at least one dose, compared to 66% of Asian residents, 59.1% of white Angelenos, and 40.2% of Latinx people.
Case by case
The Delta variant continues to cause concern in Los Angeles County, with particular worry that the holiday weekend will lead to further spread. On Saturday, July 3, the Department of Public Health reported 644 new cases, the first time daily cases have exceeded 600 since April 16. Over the past two weeks, the seven-day case average has more than doubled, from 220 on June 22 to 458 on July 6.
COVID-19 daily positivity rate, June 1-July 7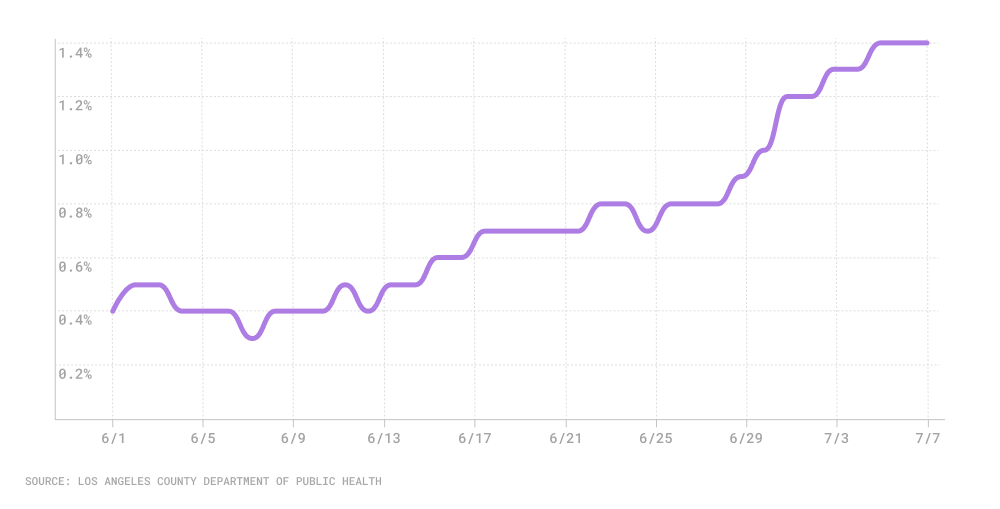 The daily test positivity rate is also on the rise. On June 7, the County reported a 0.3% positivity rate. On July 4, the figure stood at 1.4%. That means the positivity rate more than quadrupled in less than one month.
How We Did It: We analyzed coronavirus data related to new cases, deaths, hospitalization and vaccinations data provided by the Los Angeles County Department of Public Health.
Interested in our data? Check out the Crosstown coronavirus interactive map or email us at askus@xtown.la.