The Crosstown Vaccine Tracker
A look at the weekly trends in Los Angeles inoculations
On June 15, the state of California relaxed its mask mandate and many coronavirus gathering restrictions, and Los Angeles followed suit. One month later, the Delta variant is spreading across Los Angeles County and cases are climbing at a pace not seen in months, while the numbers of vaccinations administered each week continues to decline. Crosstown is following the progress, providing the most important new data about inoculations, along with information on the local impacts and trends of COVID-19.
Vaccination Progress
More Angelenos are getting vaccinated, but not at the rate that health officials want to see as the Delta variant spreads and primarily infects unvaccinated people. According to the County Department of Public Health, as of Friday, July 9 (the most recent day for which data is available), a total of 10,687,573 doses of the coronavirus vaccine had been administered. That includes 4,751,256 second doses.
This breaks down to 69.3% of residents 16 and older having received at least one shot; 61% are now considered fully vaccinated. The numbers are more promising for seniors, as 87.8% of the population 65 and older have received at least one dose, and 77% are considered fully protected.
In the week of July 3-9, the County administered 127,289 doses, 70,180 of which were second doses. Once again, this is the lowest number of doses the County has put in arms in a single week since the widespread vaccination program started. The recent figure is about 10.8% of the total during the busiest week of March 28-April 4, when 1,178,651 doses were dispensed.
[Get COVID-19, crime and other stats about where you live with the Crosstown Neighborhood Newsletter]
Vaccinations by Age
Today marks about two months since Los Angeles County began vaccinating 12- to 15-year olds and three months since the County opened up vaccinations to all residents 16 and older.
As of July 9, residents between the ages of 65-79 are the most vaccinated group, with 91.5% receiving at least one dose. Of the approximately 2 million people who are 50-64, 73.8% have received at least one dose.
Vaccination rates by age group in Los Angeles County as of June 13 and July 9
Only 40.5% of the 12-15 set have received at least one dose, a figure impacted by the short window that this group has been eligible for inoculations. However, numbers are climbing; about a month ago, on June 13, just 30.8% of 12- to 15-year olds had received at least one dose. 
Case by case
It was always expected that numbers would rise to some degree after restrictions were eased, but the rapid spread of the Delta variant appears to have boosted cases beyond levels many anticipated. On July 9, the Department of Public Health reported 1,107 new cases, the first time daily cases had exceeded 1,000 since March 11. The pace has only increased, and on Wednesday there were 1,315 new cases; that marked the sixth consecutive day of more than 1,000 new cases.
The seven-day case average has skyrocketed from 190 on June 14 to 1,090 on July 14. This is the first time average cases have reached 1,000 since March 15.
Hospitalizations are also going up. On Wednesday, the County reported 398 people hospitalized with COVID-19, up from 275 one week prior. The lowest number of COVID-19 hospitalizations was the 212 recorded on June 14. 
Daily COVID-19 hospitalizations in Los Angeles County, June 1-July 14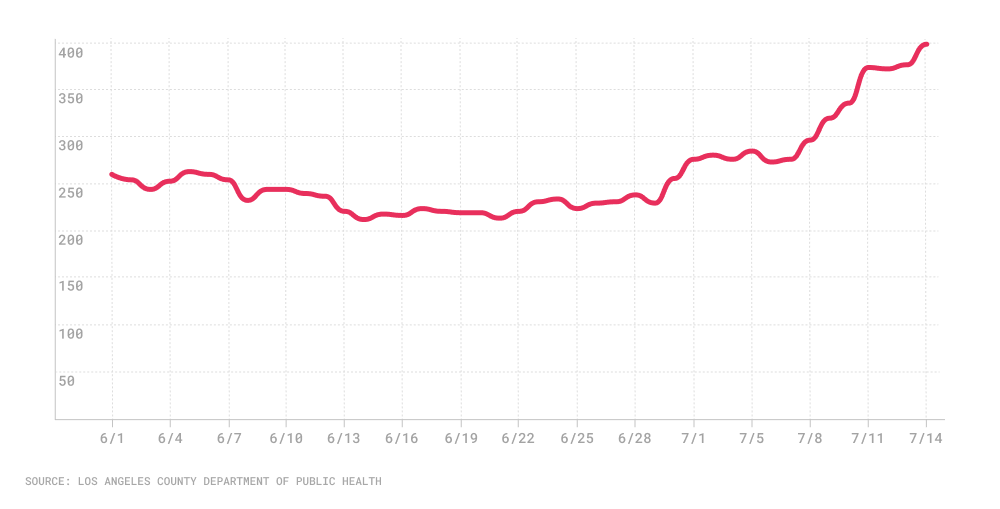 Similarly, the daily test positivity rate is increasing. It reached 3.7% on July 14, compared with 0.3% at the beginning of June.
How We Did It: We analyzed coronavirus data related to new cases, deaths, hospitalization and vaccinations data provided by the Los Angeles County Department of Public Health.
Interested in our data? Check out the Crosstown coronavirus interactive map or email us at askus@xtown.la.