The Crosstown Vaccine Tracker
Latest surge slows slightly; vaccines increase
It has been more than two weeks since the Los Angeles County Department of Public Health reintroduced the indoor mask mandate, regardless of vaccination status, due to the spread of the highly contagious Delta variant. Crosstown is following the progress, providing the most important new data about inoculations, along with information on the local impacts and trends of COVID-19.
Case by case
This past week, the rate of increase in average cases was 18.9%. A week ago, it was 51.7%. Although average cases have stopped increasing at the rate they were before, the figure has crossed the 3,000 mark. The last time average cases were this high was Feb. 14. Most recently, on Aug. 4, the seven-day average was 3,086. Unfortunately, the rise in cases also brings an increase in deaths. As of Aug. 4, the seven-day average for deaths was 11, up from 4 a month ago.
Seven-day average of new COVID-19 cases in Los Angeles County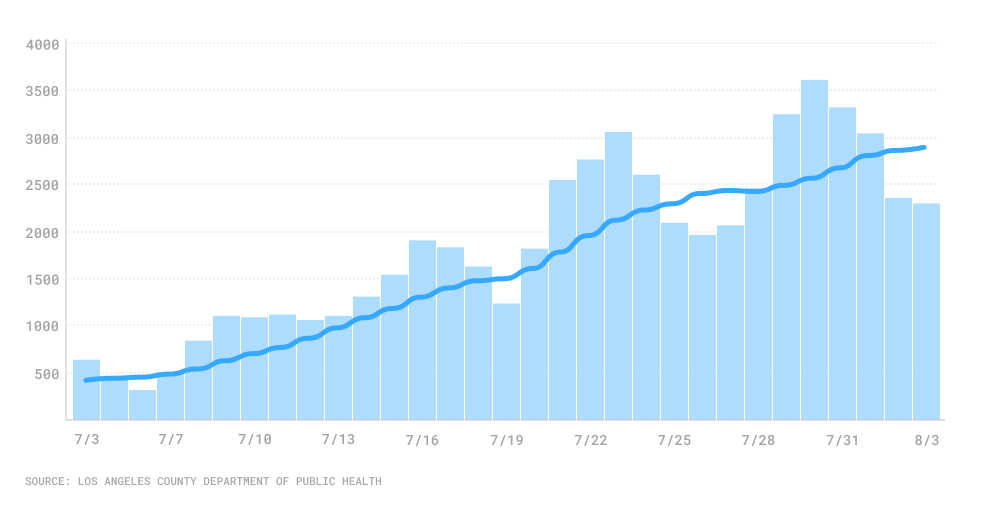 Daily case figures continue to bounce between 2,000 and 4,000. While this is an improvement from the more than 15,000 daily cases reported throughout much of January, it's also a stark increase from the 100-300 cases reported each day at the beginning of June. 
On July 30, the Department of Public Health reported 3,606 cases, the highest cases have been since Feb. 6. On Aug. 3, this number went down to 2,293.
Hospitalizations have also been rising at a steady pace. On Aug. 4, the County reported 1,242 hospitalizations; that's a 314% increase from the 275 hospitalizations one month prior. On Tuesday, the daily test positivity rate reached 6.6%, the highest it's been since Feb. 11, and a sharp increase from the 0.3% reported at the beginning of June.
[Get COVID-19, crime and other stats about where you live with the Crosstown Neighborhood Newsletter]
Vaccination Progress
The pace of vaccinations is picking up again, but not to the point they were at just a few months ago. In the week of July 24-30, the County administered 168,008 total doses, a 32% increase from three weeks ago. Of those, 72,200 were second doses.
Vaccine

doses administered weekly, Los Angeles County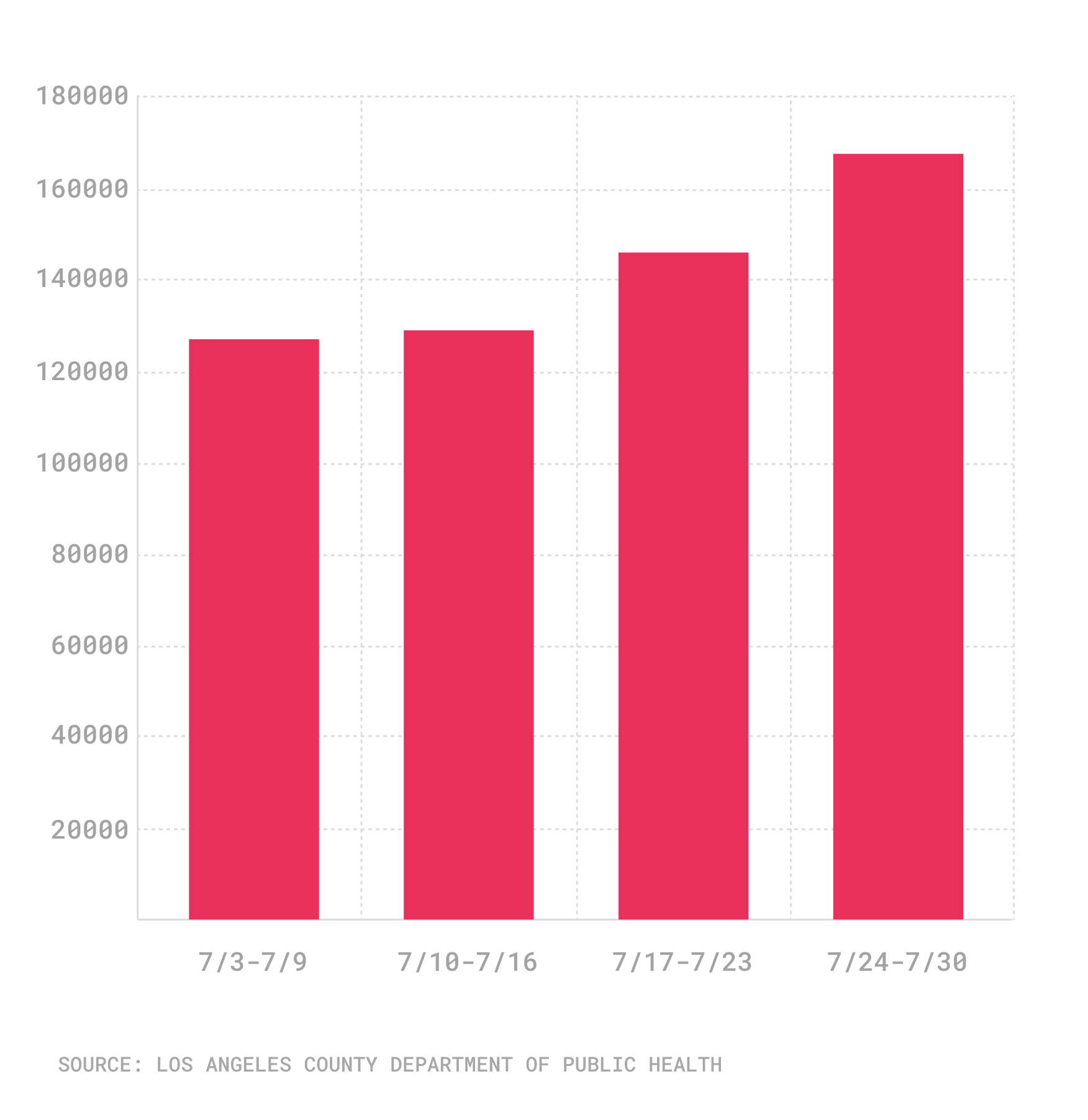 Still, that's just 14.3% of the doses administered during the busiest week of March 28-April 4, when 1,178,651 doses were administered.
As of Friday, July 30 (the most recent day for which data is available), a total of 11,131,262 doses of the coronavirus vaccine had been administered. This includes 4,958,686 second doses.
Percent of vaccinated Los Angeles County residents 
This breaks down to 71.7% of residents 16 and older having received at least one dose of the vaccine; 63% are now considered fully protected. These figures are even higher for seniors, as 88.9% of residents 65 and older have received at least one dose, and 79% are considered fully vaccinated.
Vaccinations by race
Nearly four months have passed now since all Los Angeles residents 16 and older became eligible for the vaccine. Despite this, there continues to be a racial and ethnic disparity in who is receiving these doses. 
Percent vaccinated by race in Los Angeles County
As of July 30, 77.4% of Asian residents in Los Angeles County had received at least one dose, making them the group with the highest vaccination rate. About 67.4% of white residents had been vaccinated. 
Meanwhile, Latinx and Black Angelenos continue to have lower rates of vaccination. According to County data, 56.9% of Los Angeles's Latinx population has taken a shot, and only 47.6% of Black residents have received at least one dose, making them the only racial or ethnic group stuck below 50%.
While vaccination rates are growing, these figures still echo a racial and ethnic disparity seen three months ago. On May 2, the County reported that only 36.5% of Black residents had received at least one dose, compared with 66% of Asian people, 59.1% of white residents, and 40.2% of Latinx Angelenos.
How We Did It: We analyzed coronavirus data related to new cases, deaths, hospitalization and vaccinations data provided by the Los Angeles County Department of Public Health.
Interested in our data? Check out the Crosstown coronavirus interactive map or email us at askus@xtown.la.