The Crosstown Vaccine Tracker
A look at the weekly trends in Los Angeles inoculations
It has been more than three weeks since the Los Angeles County Department of Public Health reintroduced the indoor mask mandate, regardless of vaccination status, due to the spread of the highly contagious Delta variant. Crosstown is following the progress in the fight against the coronavirus. Below is the most important new data about inoculations, along with information on the local impacts and trends of COVID-19.
Case study
The average COVID-19 case rate in the most recent week increased by 10.9%. While that may sound alarming, it is actually down from an 18.9% increase the previous week, and two weeks prior the rate spiked by 51.7%. In recent weeks the number of daily new cases has generally been in the 3,000-4,000 range. On Aug. 11, the seven-day average was 3,422. 
Los Angeles County is starting to see an increase in deaths as well, which was always expected as cases began to rise. On Aug. 11, the seven-day average was 16, up from six one month ago.
COVID-19 hospitalizations in L.A. County, June 11-Aug. 11
Daily hospitalizations are also on the rise. On Aug. 11, the Department of Public Health reported 1,573 people with COVID-19 in local hospitals; that is the highest figure since March 1. On Wednesday, the test positivity rate was 4.6%. That is down from 6.3% on July 30.
Vaccination Progress
The vaccination rate has remained fairly stagnant for the past couple of weeks. From July 31-Aug. 6, the County administered 159,429 doses, including 61,760 second doses. This is a 5.1% decrease from the nearly 170,000 vaccinations administered the week prior.
As of Friday, Aug. 6 (the most recent day for which data is available), a total of 11,290,691 doses had been administered. The County has now crossed the threshold of 5 million second doses, as 5,020,446 of them have been given.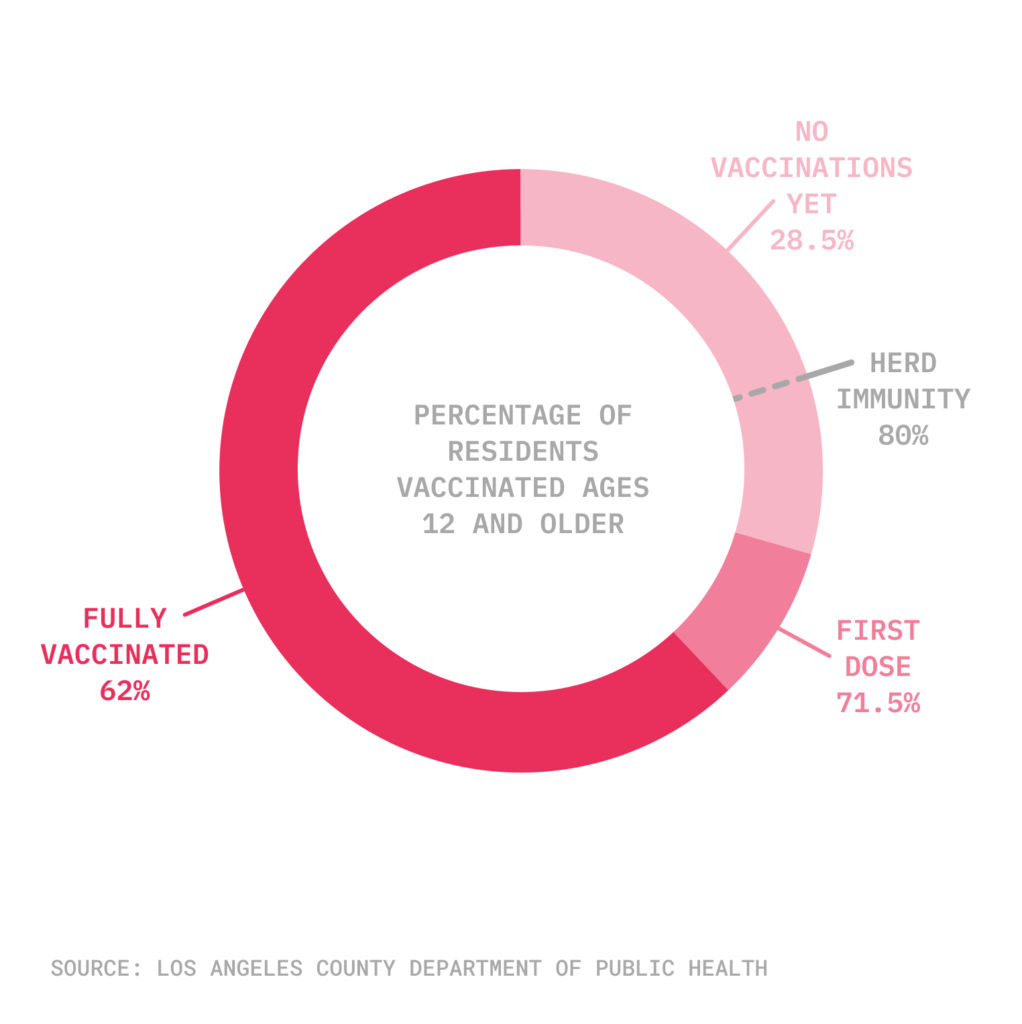 This breaks down to 71.5% of County residents 12 and older having received at least one dose of the vaccine; 62% are now considered fully protected. (Overall numbers may appear lower than in previous weeks, but that is because the Department of Public Health is now including rates for residents aged 12-15; previously it designated only people 16 and up.)
Seniors, meanwhile, are highly protected as a group, with 89.3% of residents 65 and older having received at least one dose, and 80% are considered fully vaccinated.
Vaccinations by age
Today marks exactly three months since Los Angeles began vaccinating 12- to 15-year olds, and it is nearly four months since the County opened up inoculations to all residents 16 and older.
As of Aug. 6, residents aged 65-79 are the most vaccinated group, with 93.2% receiving at least one dose. More than 2 million Angelenos are 50-64, and 76.6% of them have taken at least one shot in the arm.
Only 51.7% of the 12-15 set have received at least one dose, likely because this group has been eligible for a shorter amount of time, and also because inoculations for this segment require parental approval; some parents may not have the time to bring their child to a vaccination, and others may have safety concerns (studies have shown the vaccines are safe for this age range).
While the figure is lower than other age groups, this marks the first week that the 12-15 crowd passed the 50% mark in protection. Two months ago, on June 13, only 30.8% of L.A. County's 12- to 15-year olds had received at least one dose.
How We Did It: We analyzed coronavirus data related to new cases, deaths, hospitalization and vaccinations data provided by the Los Angeles County Department of Public Health.
Interested in our data? Check out the Crosstown coronavirus interactive map or email us at askus@xtown.la.