The Crosstown Vaccine Tracker
A look at the weekly trends in Los Angeles inoculations
On Monday, the FDA granted full approval to the Pfizer-BioNTech vaccine, potentially clearing the way to more vaccine requirements by employers. It is the latest development in a busy summer that started with the relaxing of many COVID-19 safety restrictions, and then pullbacks as the Delta variant caused cases to spike and led to the reintroduction of the mask mandate in Los Angeles County in July. Crosstown is following the progress to deliver the most important data about infections and vaccinations.
Case study
The average COVID-19 case rate decreased by 5.3% from Aug. 16-23. The previous week, cases fell by 0.4%. On Monday, the seven-day average of new cases was 3,222.
Seven-day average of COVID-19 deaths in Los Angeles County, July 1-Aug. 25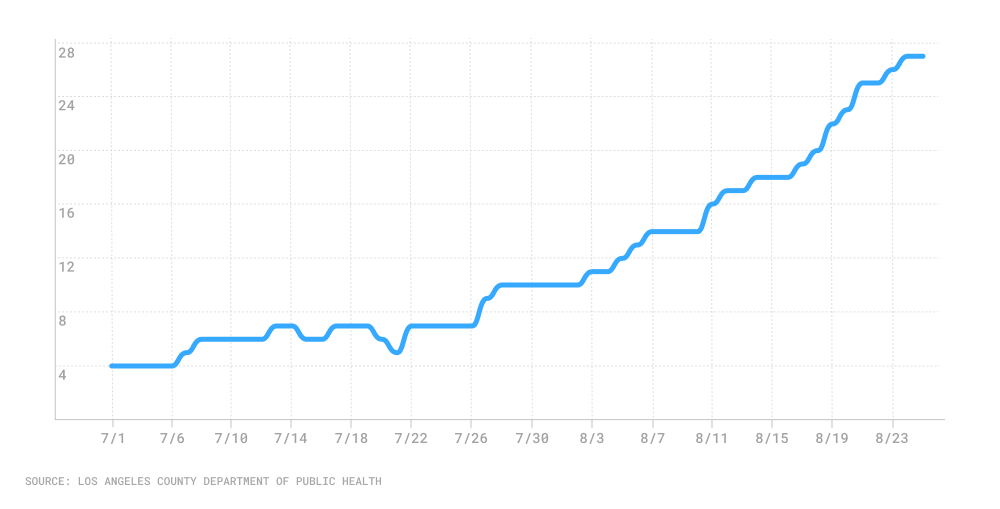 Even as the number of new COVID-19 cases falls, deaths continue to rise (a surge in cases is typically followed by an increase in deaths about a month later). On Monday, the seven-day average of deaths was 26, marking a 271.4% increase from a month prior. On Aug. 19, the Los Angeles County Department of Public Health reported 35 deaths. On Tuesday the County tallied 39 deaths, the highest daily figure since April.
In the past few days, hospitalizations have remained fairly stable, an important turnabout from the recent past. From Aug. 16-23, the rate of increase in hospitalizations was 4.2%; two weeks prior, the level grew by 31.1%. On Aug. 19, Los Angeles County reported 1,790 COVID-19 related hospitalizations, the highest figure since Feb. 26. On Wednesday, the level stood at 1,747 people in hospitals, according to the Department of Public Health.
On Wednesday, the test positivity rate stood at 2.9%, down from 3.5% the week prior and 6.2% three weeks ago.
Vaccination progress
The weekly vaccination rate has once again dipped to its lowest point since eligibility opened to every resident 12 and older in May. Between Aug. 13-19, the County administered 58,516 total doses, including 24,571 second doses. This is a 53.4% decrease from the approximately 125,000 vaccinations dispensed during the six-day period of Aug. 7-12.
As of Aug. 19 (the most recent day for which data is available), a total of 11,474,822 doses had been put into arms. This includes 5,095,017 second doses.
This breaks down to 72.7% of County residents 12 and older having received at least one dose, and 63% are still considered fully protected. Meanwhile, 89.8% of residents 65 and older have received at least one dose, and 80% of seniors are considered to be fully vaccinated.
How we did it: We analyzed coronavirus data related to new cases, deaths, hospitalization and vaccinations data provided by the Los Angeles County Department of Public Health.
Interested in our data? Check out the Crosstown coronavirus interactive map or email us at askus@xtown.la.