Pool permits splash into record territory
Amid pandemic, more Angelenos than ever are seeking a refreshing backyard escape from the heat
The beaches stayed open this summer, but not every Angeleno is eager to pack up their towel and sandals and head to the ocean. Amid the pandemic, the number of applications to build backyard pools shot up—with the second quarter bringing the highest number of permits issued in at least a decade—though an examination of publicly available data reveals that a relatively limited number of neighborhoods benefit. 
According to the city Department of Building and Safety, there were 1,691 permits issued for new pool construction in Los Angeles from Jan. 1-July 31 of this year, a 95.7% jump from the 864 approved in the same period in COVID-rattled 2020. 
Pool permits issued by month in Los Angeles, Jan. 2019-July 2021
That's a lot of backyards filled up with concrete and chlorine, but they are not evenly distributed across the city. Sherman Oaks had 111 permits issued in the first seven months of this year, adding to the 104 approved in 2020. 
This total of 215 permits issued in Sherman Oaks is greater than the cumulative total for 47 other Los Angeles neighborhoods from Jan. 1, 2020-July 1, 2021. 
[Get COVID-19, crime and other stats about where you live with the Crosstown Neighborhood Newsletter]
Reflecting a familiar pattern, Nat Almany, coordinator of operations at Agoura Hills-based Noga Pools, said most projects are breaking ground in wealthier neighborhoods.
"Where there is the most sought-after real estate, there is the greatest concentration of jobs," Almany said.
The 45 permits issued for pools Almany's business is building this year exceeds the 20 secured in the same timeframe in the pre-pandemic period of 2019. Almany attributes the increase to continued uncertainty caused by COVID-19.
"Now people need their at-home sanctuary more than any time because they figured, maybe it's going to get locked down again," he said.
Busy quarter
Home pools have always been a quintessential part of the Los Angeles landscape, and as wealth increased, so did pool construction. A peak occurred in 2018, when the city issued 2,515 pool permits. 
The second quarter of the year is typically the most active period for securing permits, likely because people are thinking about backyard relief from the hot summer sun. Los Angeles dove into record territory this year, issuing 869 permits from April-June. The next highest total was the 691 permits issued in the second quarter of 2018.
With excavation, infrastructure and concrete pours, pools come at a cost. Almany said Noga Pools' projects tend to range between $60,000-$90,000. Then there is the ongoing price of maintenance, including a hit on water and energy bills for heated pools.
Neighborhoods with the most pool permits issued, Jan. 2000-July 2021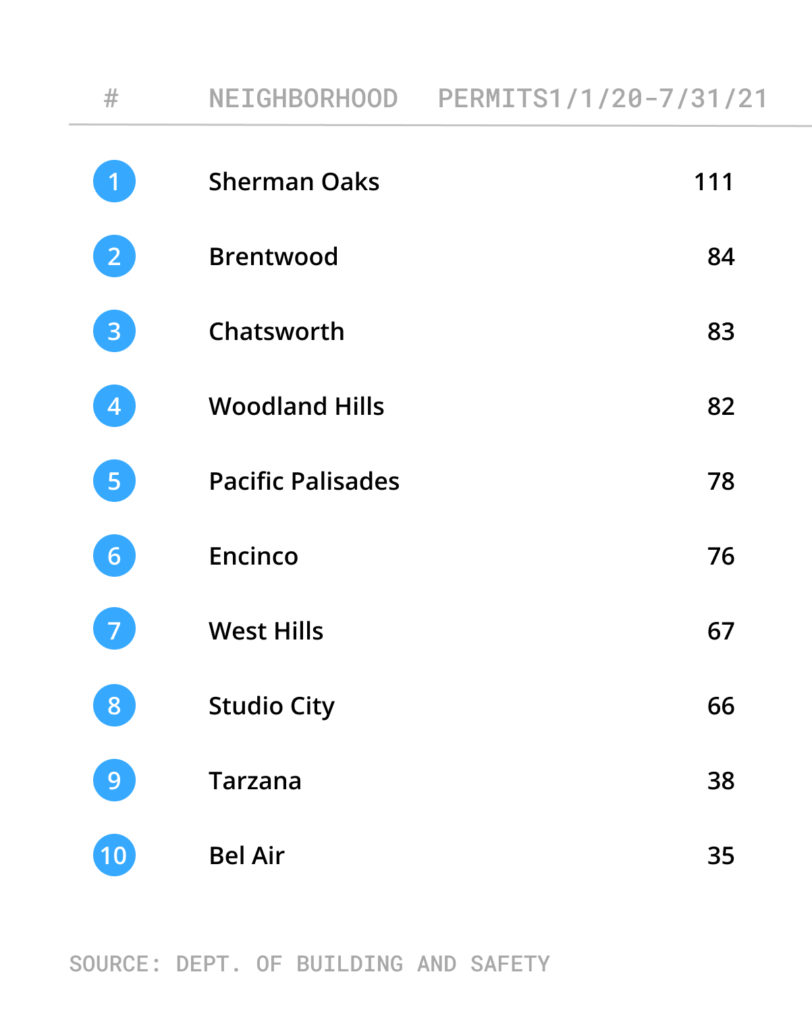 The second most popular neighborhood in the city for pool permits in the period was Brentwood, which saw 84 issued. Close behind were Chatsworth and Woodland Hills, with 83 and 82 permits issued, respectively. 
Since 2013, the city has issued 521 pool construction permits for Brentwood homes, and it's likely many were neighbors. According to Building and Safety Department data, there were 55 permits issued for Mandeville Canyon Road alone in the community. 
Not surprisingly, low-income neighborhoods see far fewer pools. This can be an effect of both economics and lot size—Department of Water and Power regulations prohibit running high-power lines over any body of water, which could diminish space for a pool in denser communities. 
Department of Building and Safety data shows that many neighborhoods south of the 10 Freeway saw only single-digit permits issued in the first seven months of the year. Harvard Park and Vermont-Slauson each saw just one permit issued. In Historic South-Central, seven of the eight permits issued were for apartment complex pools. 
How we did it: We examined the City of Los Angeles's publicly available data on pool permit applications from Jan. 1, 2010-July 31, 2021. For neighborhood boundaries, we rely on the borders defined by the Los Angeles Times. Learn more about our data here. 
In making our calculations, we rely on the data the Department of Building and Safety makes publicly available. On occasion, their department may update past permit applications with new information, or recategorize past permits. Those revised permits do not always automatically become part of the public database.
Want to know how your neighborhood fares? Or simply just interested in our data? Email us at askus@xtown.la.