After a pandemic-year surge in murders, Los Angeles sees even more bloodshed
In 2021 the city has already recorded 285 homicides. Young Black and Hispanic men are dying at disproportionate levels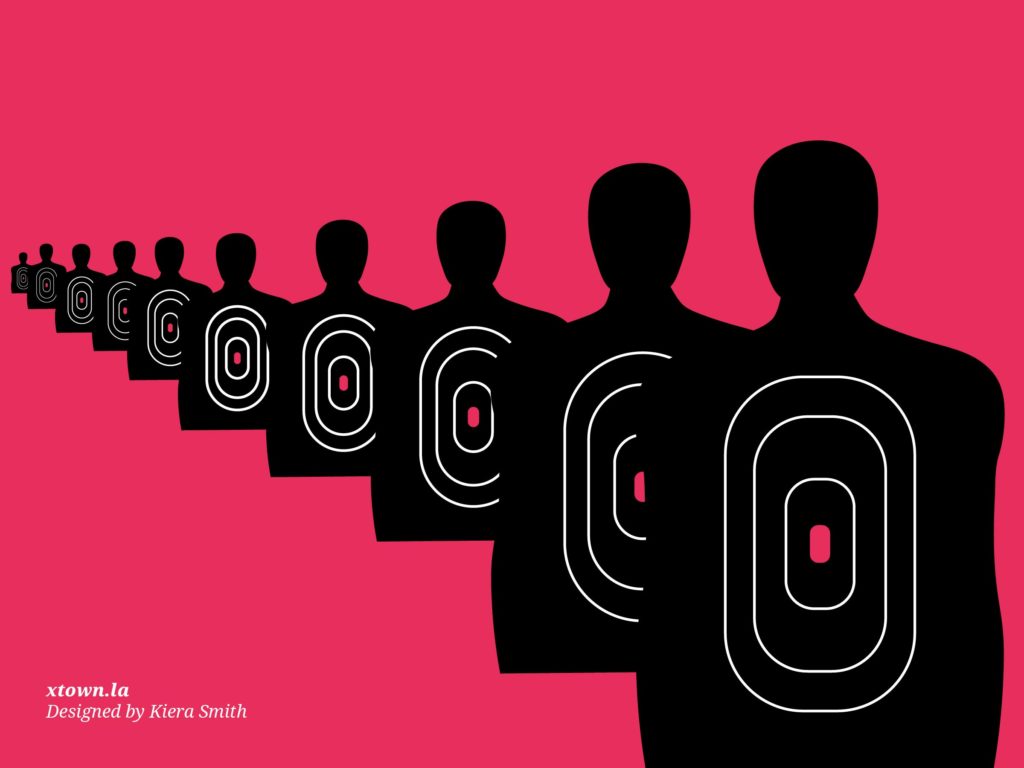 When the coronavirus pandemic arrived, the murder rate in Los Angeles began rising. This was not an isolated trend, as the FBI revealed this week that homicides surged in cities across the United States in 2020. 
That the suffering was widespread provided little solace, and Los Angeles ended the year with 343 killings. It was the first time the city recorded more than 300 murders since 2009.
According to Los Angeles Police Department data, 2021 is shaping up to be even more dire. Through Sept. 21, the city had seen 285 murders. At the same time last year, 227 people had been killed.
Homicides in Los Angeles, Jan. 1-Sept. 21, 2017-2021
Racial divide 
The data provides a grim window into where the violence is occurring, when homicides are taking place and who the victims are. 
A total of 153 people, or more than half of those killed, have been young men of color. From Jan. 1-Sept. 21, a total of 94 Hispanic men (the term used in LAPD datasets) and 59 Black men between the ages of 18-39 were murdered.
So far in 2021, Black people account for 33% of homicide victims. Only about 9% of the city's population is Black.
Homicide victims by ethnicity in Los Angeles, Jan. 1-Sept. 21, 2021
According to LAPD data, 54.7% of murder victims are Hispanic, surpassing the approximately 49% of the city's population that is Hispanic. Although 28% of city residents are white, just 20 white people have been homicide victims this year.
[Get COVID-19, crime and other stats about where you live with the Crosstown Neighborhood Newsletter]
Young, male victims 
Those killed were overwhelmingly men, with nearly nine of every 10 victims listed as male. 
Homicide victims by gender in Los Angeles, Jan. 1-Sept. 21, 2021
Victims were frequently young, with 180 of the people killed—or 63% of those who died—being ages 18-39. According to police data, 18 murder victims were 29 years old. 
In July, 48 Angelenos were killed, making it by far the deadliest month in at least a decade, and on July 2 alone there were six murders. That was part of a particularly violent summer—from June 21-Sept. 21, a total of 123 people were homicide victims, or 43% of the year's overall count.
Homicides by month in Los Angeles, Jan. 1-Sept. 21, 2021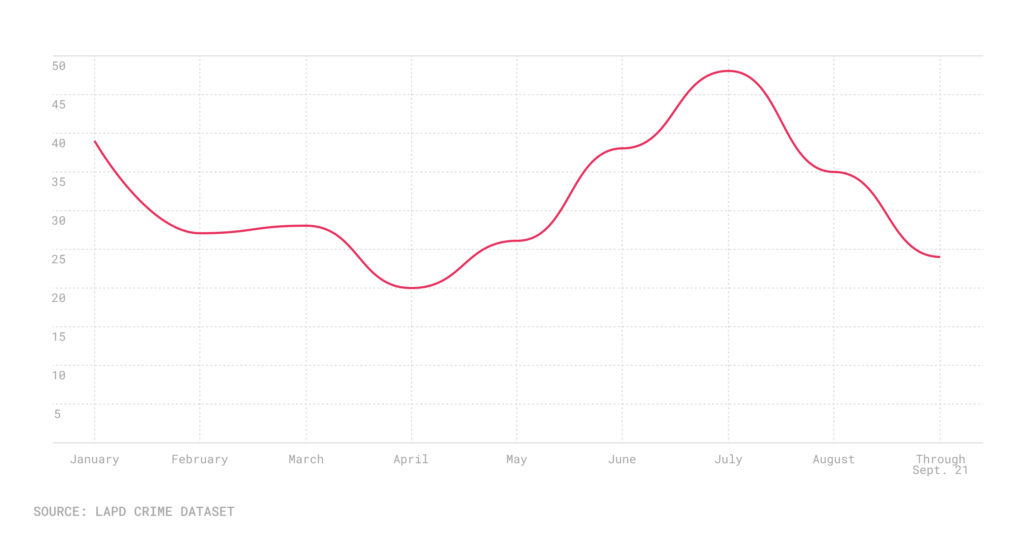 Downtown experienced the greatest number of killings, with 23. The victims included a 31-year-old Black man who was shot to death on Feb. 27 at Sixth and Wall streets in Skid Row. On July 17, a 35-year-old Hispanic woman was found beaten to death in a hotel on Figueroa Street.
The neighborhood with the second-most murder victims was Watts, where 16 people were killed. Boyle Heights and Wilmington each saw 11 homicides.
Prevalence of guns
Gun violence continues to be an outsized problem. According to LAPD Compstat statistics, through Sept. 18, shots-fired reports in the city were up 29.8% over last year, and there was a 47.7% increase compared with the pre-pandemic year of 2019.
Homicides by weapon used in Los Angeles, Jan. 1-Sept. 21, 2021
Of the 285 murders in the city through Sept. 21, a total of 208 involved a handgun or other firearm. Twenty-nine people were killed by a knife or other sharp object.
How we did it: We examined publicly available crime data from the Los Angeles Police Department from Jan. 1, 2016-Sept. 21, 2021, as well as LAPD Compstat data. Learn more about our data here.
LAPD data only reflects crimes that are reported to the department, not how many crimes actually occurred. In making our calculations, we rely on the data the LAPD makes publicly available. LAPD may update past crime reports with new information, or recategorize past reports. Those revised reports do not always automatically become part of the public database.
Want to know how your neighborhood fares? Or simply just interested in our data? Email us at askus@xtown.la.