The Crosstown Vaccine Tracker
A look at the weekly trends in Los Angeles infections and inoculations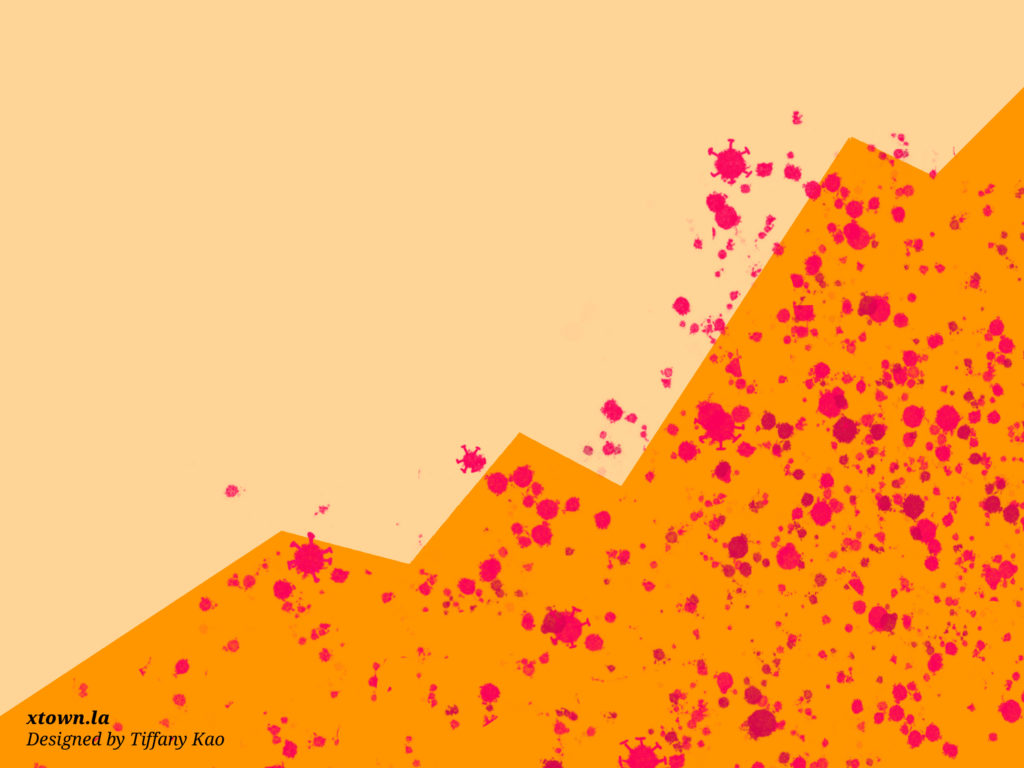 The move to vaccinate more Americans against the coronavirus continues as winter approaches. Earlier this month, the Centers for Disease Control and the Advisory Committee on Immunization Practices approved boosters for the Moderna and Johnson & Johnson vaccines (Pfizer boosters were green-lit last month). Next week, the CDC and Food and Drug Administration are expected to okay vaccinations for children 5-11; that includes an estimated 900,000 who live in Los Angeles County. With the Vaccine Tracker, Crosstown is delivering the latest and most important data on infections and inoculations.
Meet the needle
In the week of Oct. 15-21, a total of 167,611 doses were dispensed to county residents, including 46,184 second doses. While this is a 3% increase from the week prior, it also marks a 23.1% drop from two weeks ago, according to the Los Angeles County Department of Public Health.
As of Oct. 21, the most recent day for which data is available, a total of 13,028,883 doses had gone into the arms of county residents, and 5,706,084 second doses had been dispensed.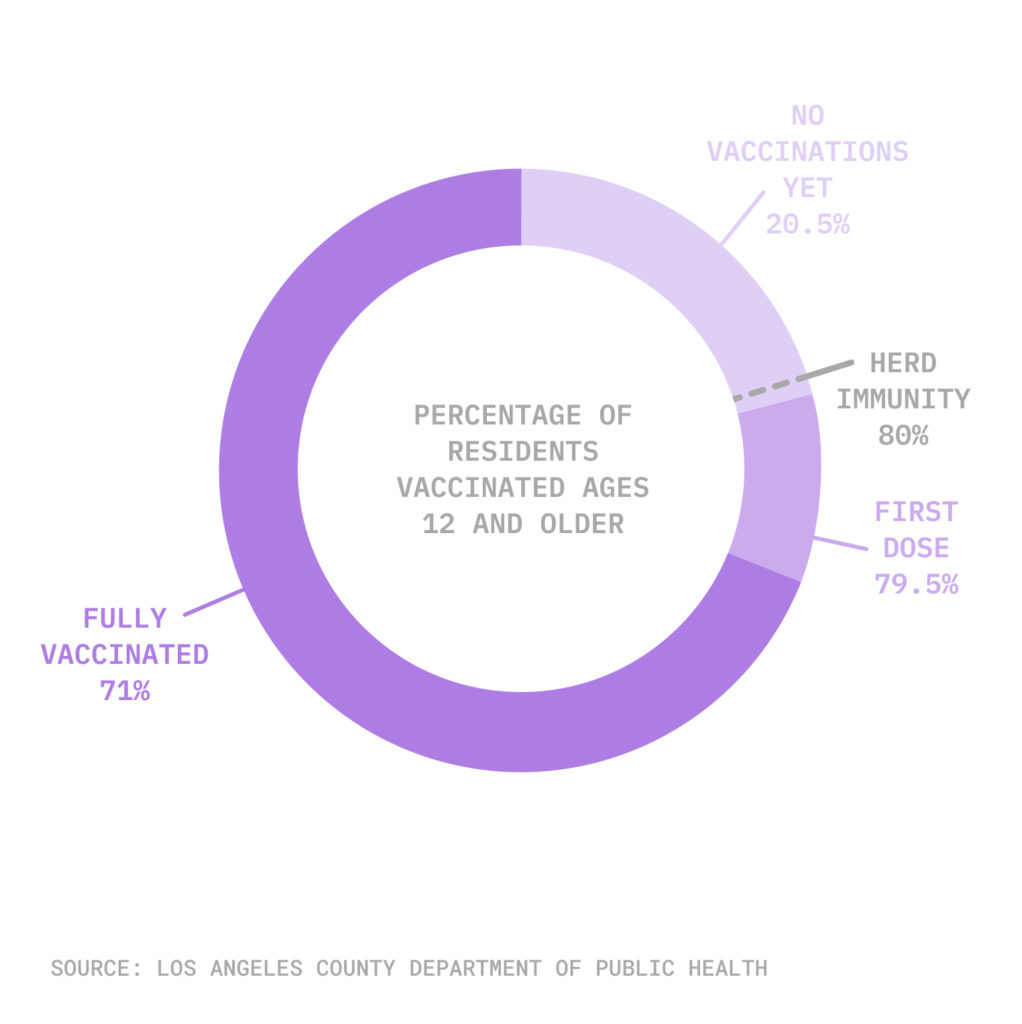 According to the Department of Public Health, 97.6% of the more than 1 million county residents who are ages 65-79 have received at least one dose, making them the most protected age group. However, just 71.6% of the almost 1.8 million county inhabitants ages 18-29 have gotten a jab. That means more than 500,000 people in that age range so far have said no to the vaccine.
[Get COVID-19, crime and other stats about where you live with the Crosstown Neighborhood Newsletter]
Case by case
For the past two weeks, the seven-day COVID-19 case average has sat in the low 1,000s. On Oct. 26, the seven-day average was 1,037 cases, marking a 1.3% increase from the 1,024 cases a week prior. Still, this is a marked improvement from the 3,520 average cases reported on Aug. 18.
On Oct. 26, the seven-day average of deaths stood at 18, a marginal increase from the 16 reported one week ago. This figure has not exceeded 20 average deaths since Oct. 12.
The number of county residents hospitalized with COVID-19 dipped below 600 on Oct. 22 for the first time since July 20. That was short-lived, and on Tuesday, 629 people were in local hospitals with COVID-19, marking a 4.8% increase over the four-day period. 
COVID-19 hospitalizations in Los Angeles County, Sept. 28-Oct. 27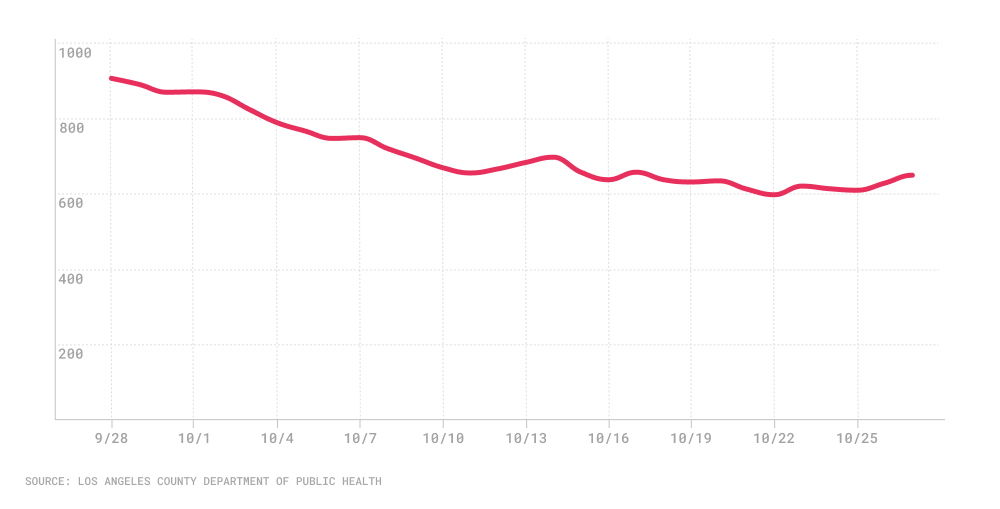 The daily test positivity rate has remained below 1% since Oct. 15. On Oct. 26, the figure stood at 0.9%.
The positivity rate continues to be even lower on Los Angeles Unified School District campuses. The district does weekly testing of all students and staff, and from Oct. 19-25, there were only 313 positive results out of 446,908 tests. That works out to a .07% positivity rate.
How we did it: We analyzed coronavirus data related to new cases, deaths, hospitalization and vaccinations data provided by the Los Angeles County Department of Public Health, as well as data from the Los Angeles Unified School District.
Interested in our data? Check out the Crosstown coronavirus interactive map or email us at askus@xtown.la.