Post-pandemic pet abandonment? Not in Los Angeles
Fears that people who adopted pets during COVID-19 would give them up are overblown, data show
As the coronavirus pandemic wore on, a disturbing narrative began to take hold. Media outlets reported that many people who had adopted animals soon after COVID-19 hit were returning them. Just consider the July 8, 2021 Reuters story with the headline "In California, dogs fill shelters as pandemic lockdowns ease." 
There's one issue: In Los Angeles at least, statistics tell a far different tail—er, tale.
"The data that we have does not bear out that story at all," said Jamie Holeman, communications and marketing director with the Pasadena Humane Society.
The Humane Society is one of a trio of local animal welfare operations where, contrary to glossy headlines, the number of pet surrenders has actually decreased to the lowest level in years. While some individuals likely returned their pandemic pets as they went back to work, most shelters did not fill up with newly abandoned dogs and cats.  
[Get COVID-19, crime and other stats about where you live with the Crosstown Neighborhood Newsletter]
Declining surrenders
In the fiscal year that ran from July 1, 2020-June 30, 2021, the Los Angeles County Animal Care and Control department took in 5,200 animals that were surrendered by owners, an approximately 50% decrease from the previous year.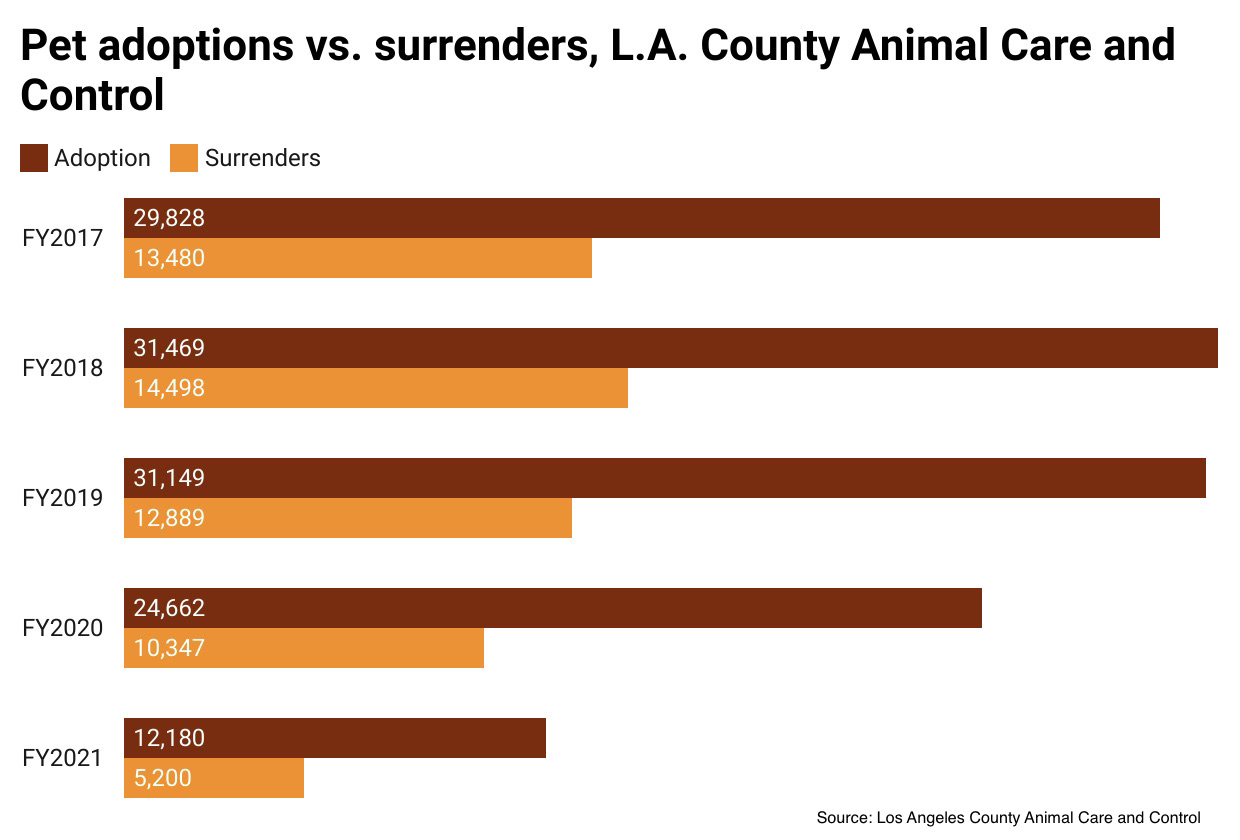 It was similar for Los Angeles Animal Services, which runs six shelters across the city of Los Angeles. In 2019, according to agency data, 13,826 animals were surrendered. In 2020, the number dropped to 6,930. During the first eight months of 2021, there were 6,952 surrenders. While that is ahead of last year, it remains far below pre-pandemic levels. 
All three entities also recorded a substantial decrease last year in animal intakes, a category that includes pets surrendered by an owner, strays, and animals brought in during a natural disaster or police investigation.
[Get COVID-19, crime and other stats about where you live with the Crosstown Neighborhood Newsletter]
The Pasadena Humane Society experienced a 54% decline in total intakes in 2020. The shelter's Holeman said that numbers have gone up slightly from last year, but the level is "pretty insignificant." 
Los Angeles Animal Services recorded 30,977 animal intakes in 2020, a 45% decline from the 56,575 in 2019. Through Aug. 31 of this year, the department had 25,370 intakes. 
During the 2021 fiscal year, Los Angeles County Animal Care and Control took in 24,856 animals, a 46% decrease from the previous year.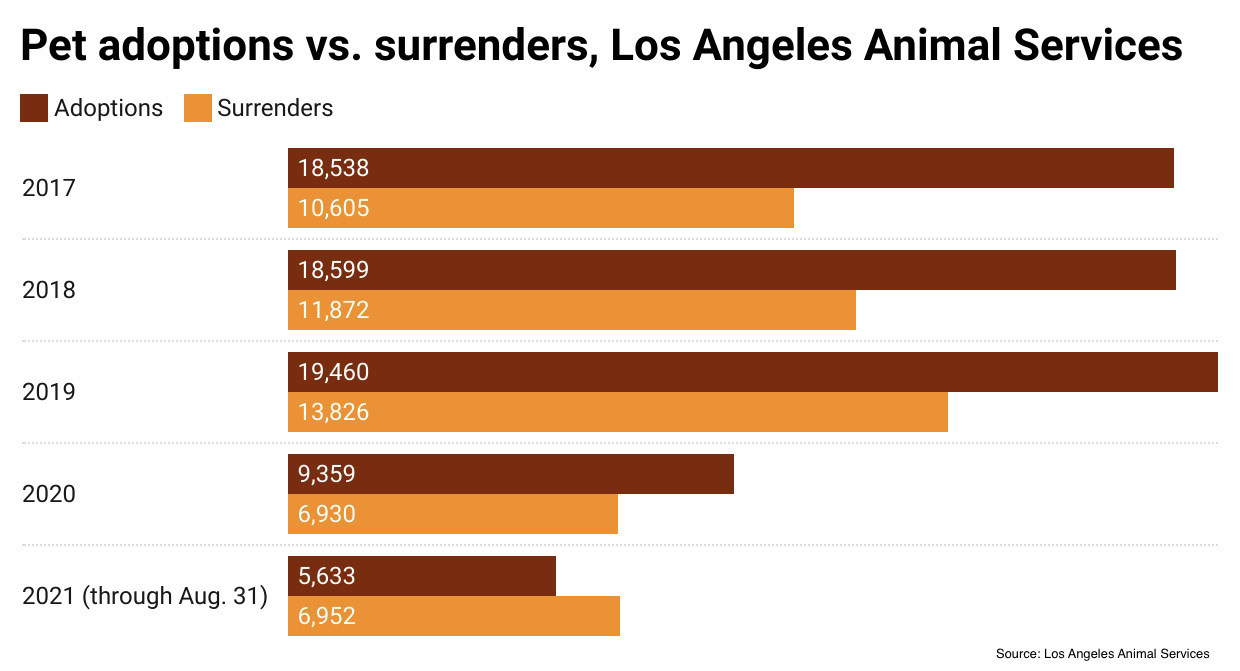 By appointment only
When the pandemic began, many animal welfare organizations took steps to protect pets. The Pasadena Humane Society shifted much of its operations to appointment only. This helped the shelter provide owners thinking about surrendering their furry friend with vital information and resources.
"Prior to having an appointment-based system, we never knew when animals were coming in," Holeman said. "If somebody is thinking about surrendering their pet, they could give us a call and speak to somebody in our animal resource center who acts like a counselor. They'll talk to them and go through different programs and services that we might offer."
The county department implemented a managed intake strategy that aimed to keep pets with their owners.
"We're really trying to work with people to see how we can keep the pet in the home," said Allison Cardona, the deputy director for L.A. County Animal Care and Control. "If somebody comes to us and says, 'Hey, I'm having a really hard time, my dog's sick, and I can't pay for the veterinary care,' we can give them a voucher to work with one of our partner veterinarians."
Is this cat really a stray?

 
The county also kept its intakes down by shifting efforts to accept only animals in distress. Cardona used the example of the shelters not housing a cat if it appears healthy. 
"Truth is, somebody is taking care of it," Cardona said. "Somebody is giving it food, leaving food out and maybe they don't consider it their pet, but they're a caregiver or there are multiple caregivers."
The number of stray-cat intakes by Los Angeles County Animal Care and Control fell 65% in the 2021 fiscal year compared with the previous year. Stray-dog intakes decreased by 40%, according to county data. 
If animals are found healthy and not a threat to the public, Cardona said that people are encouraged to leave it alone and use other resources to find its owner. She suggested putting up fliers or using platforms such as Nextdoor or Facebook.
"That way, there's a higher chance that I'll find the owner than if I drive to another part of town or even to another city and bring it to a shelter, where the owner might not look for it," she said
How we did it: We examined publicly available data on animal intakes and animal surrenders at Los Angeles Animal Services, Los Angeles County Animal Care and Control and the Pasadena Humane Society.
Have questions about our data? You can write to us at askus@xtown.la