Rise in robberies sparks police concern
Increase includes a number of armed 'follow away' incidents
On Oct. 30, a man went shopping on Melrose Avenue. After making his purchases, he walked back to his car and then drove to a supermarket in the neighborhood of Ladera Heights. When he got out of the vehicle, he was suddenly confronted by a trio of young men.  
"One pointed a handgun at him and demanded his Gucci handbag," Los Angeles Police Department Chief Michel Moore told the civilian Police Commission on Tuesday morning. "They took his watch, which was valued in excess of $50,000, and some gold chains."
The incident was not an anomaly. The chief went on to explain that the department is seeing a wave of what he termed "follow home" or "follow away" robberies. He said they frequently involve people leaving Westside shops and that victims can be tailed for miles in their cars before being confronted. Thieves, he said, are "typically targeting expensive items like jewelry, watches, as well as purses and so forth."
[Get COVID-19, crime and other stats about where you live with the Crosstown Neighborhood Newsletter]
The precise number of "follow away" incidents is unknown, but they are part of an increasing number of overall robberies in Los Angeles. Moore said the trend has become notable in the past six to eight weeks.
Since mid-August, there have been five individual weeks in which the city recorded at least 179 robberies. Three of those were in consecutive weeks starting in the period of Sept. 26-Oct. 2.
In the rest of 2021, the plateau was only hit two times. 
Robberies by week in Los Angeles, May 30-Oct. 23
According to LAPD Compstat data, through Oct. 30 there had been 6,799 robberies in the city. Although that represents a 15% decline from the same period in the pre-pandemic year of 2019, it is a 1.9% increase over the number at the same point last year.
Compstat data shows that there were 704 robberies in the city from Oct. 3-30, a 7.3% increase over the previous four-week period. 
Pandemic drop
Robberies in recent years have been decreasing. According to publicly available LAPD data, the peak number of annual incidents in the past decade occurred in 2017, when there were 10,824 reports. The onset of the pandemic, which kept many people at home for months, contributed to the decline; in 2020 the LAPD recorded 8,115 robberies.
Annual number of robberies in Los Angeles, 2017-2021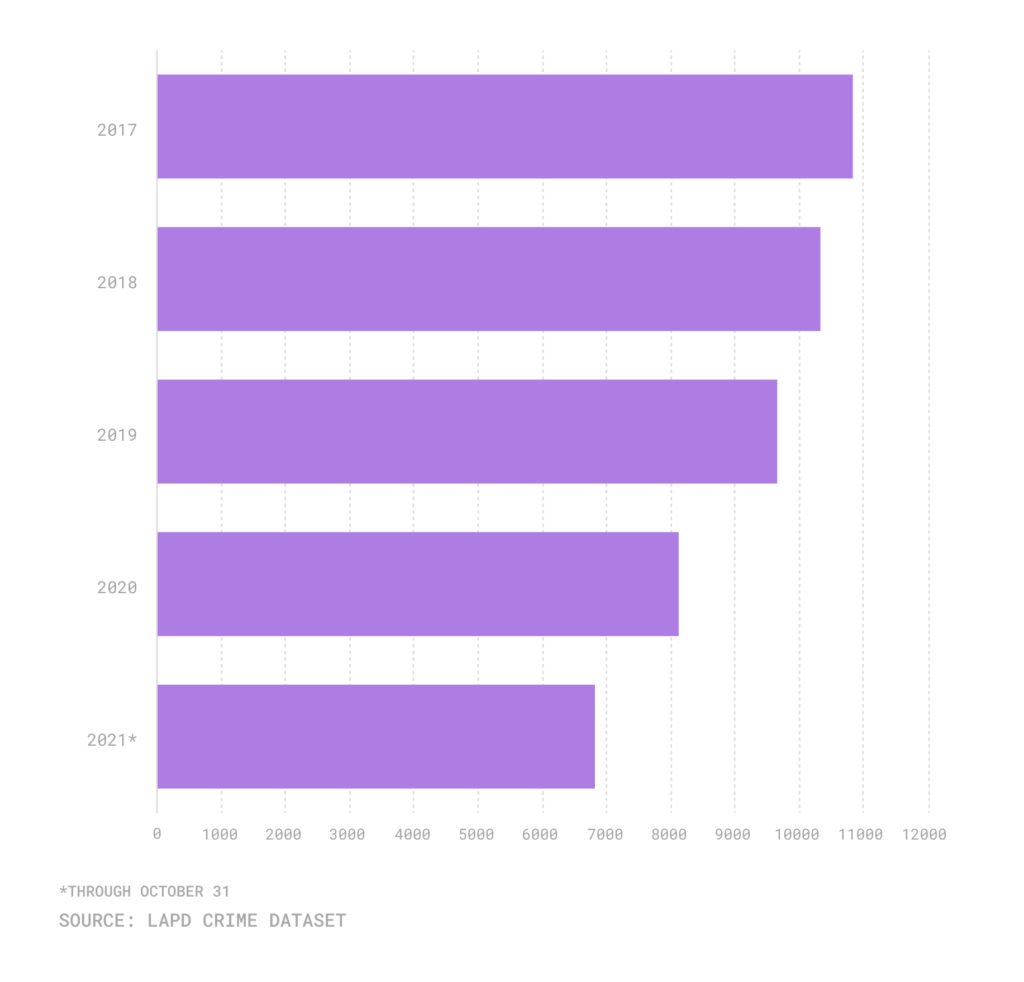 The reopening of the economy has brought some unsettling trends. Moore said that the introduction of numerous outdoor eating and drinking areas on sidewalks and in parking lanes has led to "opportunists" who will grab a phone, purse or other expensive item and run off.
Even more unsettling is an increase in the number of robberies that involve guns, part of an overall spike in shootings in the city. Moore raised the issue in two consecutive weeks to the Police Commission. At the Nov. 2 meeting, he said the department had recently recorded 12 street robberies in Hollywood, and that seven of them involved firearms. In the past, he noted, robberies were typically perpetrated with threats or bodily force.
"It's very concerning to us," Moore said at the Nov. 2 meeting. "It does speak to the underlying, overwhelming presence of firearms that are in our communities, and our need to stem the flow of those weapons.
Don't be a hero
Not surprisingly, densely packed neighborhoods with ample foot traffic continue to be the site of the largest number of robberies. In the first 10 months of the year, far more incidents occurred in Downtown than any other neighborhood.
Moore cautioned people to always stay aware of their surroundings, and the department on Monday posted an alert highlighting the rise in "follow away" incidents. 
He also stressed that people should not confront armed robbers. He said that happened this past weekend, when a man, again in the Melrose area, tried to fight off a thief.
"He did the wrong thing," Moore said of the victim. "He grabbed the gun and a round was fired. And while the suspect fled away, by the graces of God he wasn't shot.
"There is nothing on your person that's worth your life," Moore added. "So surrender the watch, surrender the jewelry or whatever is being demanded."
How we did it: We examined publicly available crime data from the Los Angeles Police Department from Jan. 1, 2017-Oct. 31, 2021, as well as LAPD Compstat data. Learn more about our data here.
LAPD data only reflects crimes that are reported to the department, not how many crimes actually occurred. In making our calculations, we rely on the data the LAPD makes publicly available. LAPD may update past crime reports with new information, or recategorize past reports. Those revised reports do not always automatically become part of the public database.
Want to know how your neighborhood fares? Or simply just interested in our data? Email us at askus@xtown.la.