The Crosstown Vaccine Tracker
Comparing Omicron's impact with last winter's surge
The Crosstown Vaccine Tracker helps you stay up to date on the latest and most important data on infections, inoculations and general risk. 
Case count
New COVID-19 infections are rising rapidly, as the more contagious Omicron variant lays down roots in the region. On Dec. 23, the seven-day average of new cases was 3,671. That is a 134.3% increase from the previous week's seven-day case average. Those numbers will likely not drop anytime soon, as people travel during the holiday season, increasing their exposure. (On Dec. 22, the single-day total of new cases was 8,633.)
But, as with everything related to the pandemic, this latest surge needs a dose of perspective. A year ago, the situation in Los Angeles was much more dire. On Dec. 21, 2020, the seven-day average of cases stood at 14,697. And it kept climbing after that. 
7-day average of COVID-19 cases, 2020 vs. 2021
At least so far, Los Angeles appears to be faring better than other similarly sized areas in the U.S. North Carolina has almost the same population, at just over 10 million. But its vaccination rate for people aged five and up is around 66%, about 12 percentage points below Los Angeles County. New York City has 8.8 million residents, and a vaccination rate slightly higher than Los Angeles. Though the situation is changing quickly, both New York and North Carolina have seen much steeper spikes. 
Weekly total of new COVID-19 cases
Tracking shots
One might expect that rising case counts and concerns about Omicron to prompt a stampede for new vaccinations and booster shots. That doesn't appear to be happening. The number of vaccine doses administered in Los Angeles County last week actually fell. From Dec. 9-16, a total of 346,538 doses—including 69,231 second shots—were administered. This marks a 13.3% decrease from the previous week. 
Countywide, 70% of residents aged five (or 6.8 million) and up are fully vaccinated. Slightly more than 2.1 million residents have received a booster dose. 
Booster doses administered by week, Los Angeles County
[Get COVID-19, crime and other stats about where you live with the Crosstown Neighborhood Newsletter]
Hospitalizations, deaths and tests
The seven-day average of deaths reported on Wednesday was 18, slightly higher than the 14 recorded a week prior. Hospitalizations are also rising. On Wednesday, the Los Angeles County Department of Public Health reported that 748 individuals with COVID-19 were being treated in hospitals. This marks a 30.5% increase from a month ago. 
While the numbers are higher, it is significantly lower than it was a year ago. This time last year, there were 6,155 people being treated for COVID-19 in hospitals. 
COVID-19 hospitalizations, Los Angeles County, 2020 vs. 2021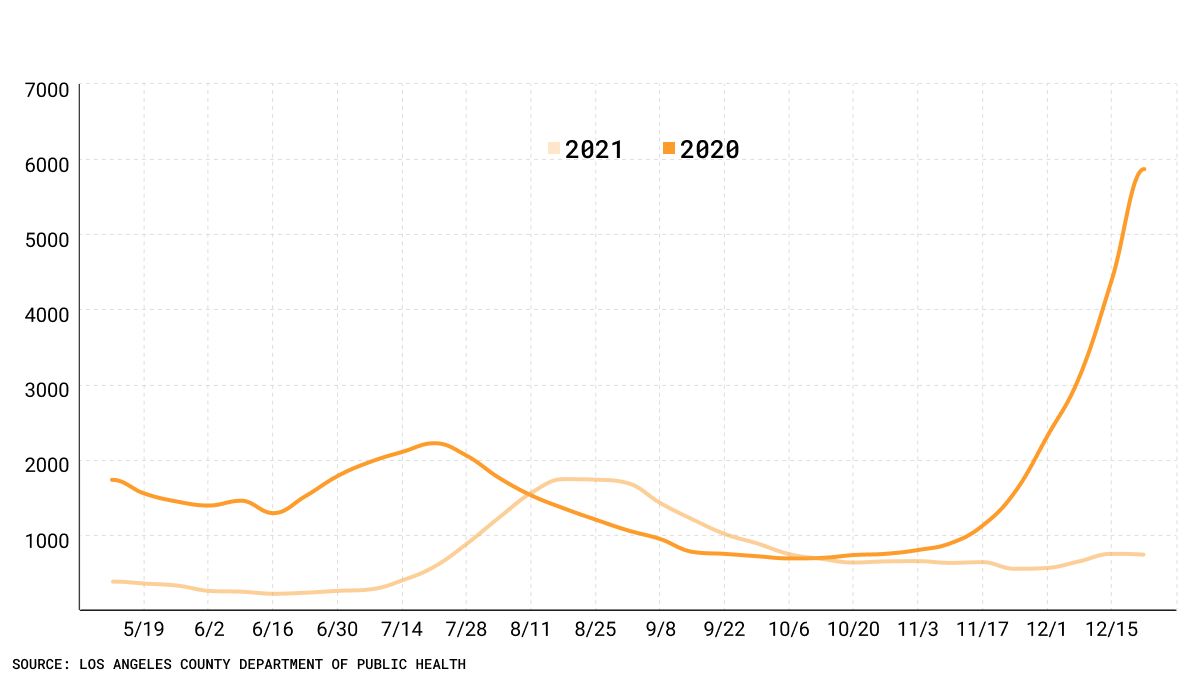 The daily test positivity rate stood at 5.2% Wednesday. This is the highest level since Sept. 9. Again, the numbers remain much lower than a year ago. On Dec. 21, 2020, the county reported a 15.3% seven-day daily average positivity rate. 
COVID019 test positivity rate, Los Angeles County 2020 vs. 2020 vs. 2021

How we did it: We analyzed coronavirus data related to new cases, deaths, hospitalization, and vaccinations data provided by the Los Angeles County Department of Public Health. 
Interested in our data? Check out the Crosstown coronavirus interactive map or email us at askus@xtown.la.