The Crosstown COVID Tracker
The Omicron variant's dizzying spread across Los Angeles County continues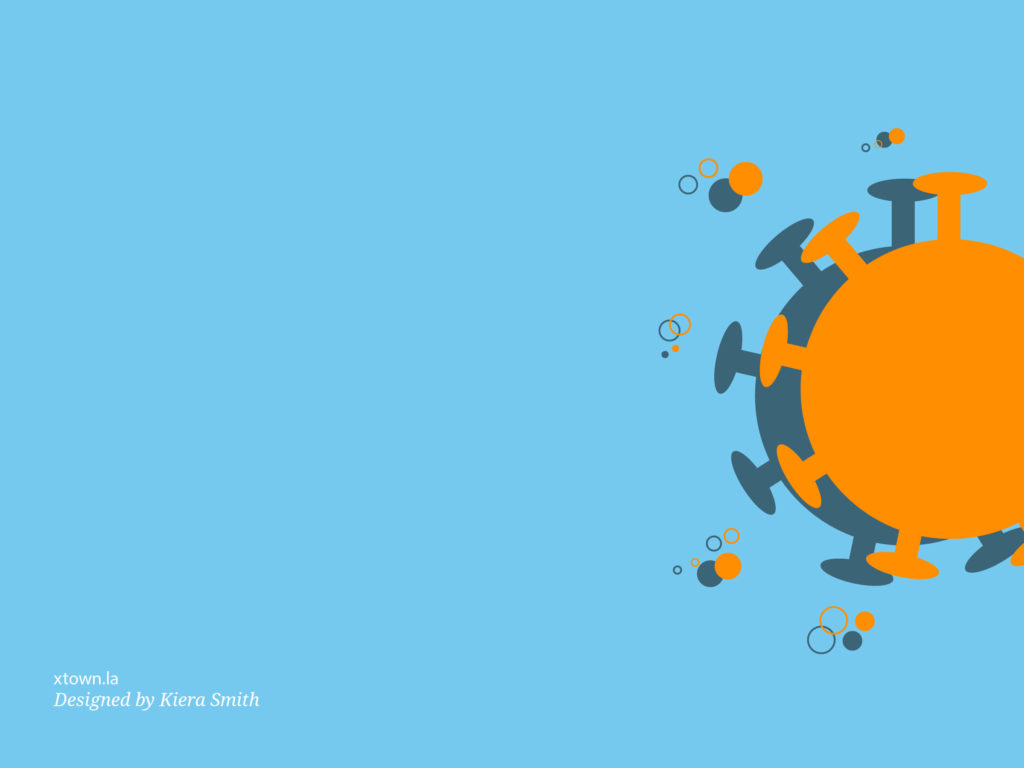 The Omicron strain of the coronavirus has ripped across the region, sending the daily case average north of 20,000, and surpassing the heights of last winter's surge. On Thursday, an unprecedented 37,215 cases were identified in Los Angeles County, shattering the record of 27,091 cases set last week.
Weekly COVID-19 cases in Los Angeles County, Dec. 1-Jan. 4
The spike has spurred the Los Angeles County Department of Public Health to implement additional safety measures, including requiring employers to provide high-grade masks to their staff, in the effort to reduce transmission. 
Yet not all the news is dire, as deaths and hospitalizations remain much lower than during the surge last winter. And many people who contract COVID-19 report suffering only mild symptoms.
The Crosstown COVID Tracker helps you stay up to date on the latest and most important data on infections, inoculations and general risk. 
The surge worsens
Cases continue to rise at a startling rate. On Wednesday, the seven-day average of new infections in Los Angeles County was 22,405, a 115.3% increase from the seven-day average a week ago. 
The region also endured a spike last winter. However, the seven-day average of new infections has surpassed the 13,825 new cases reported at this time last year. 
Seven-day average of new coronavirus cases in Los Angeles County
Not surprisingly, the test positivity rate is also spiking. On Wednesday it hit 22.4%, indicating spread caused by people traveling and attending holiday gatherings. Just two weeks ago, only 3% of people were testing positive. 
On Jan. 5, 2021, the test positivity rate stood at 19.9%.
Coronavirus test positivity rate in Los Angeles County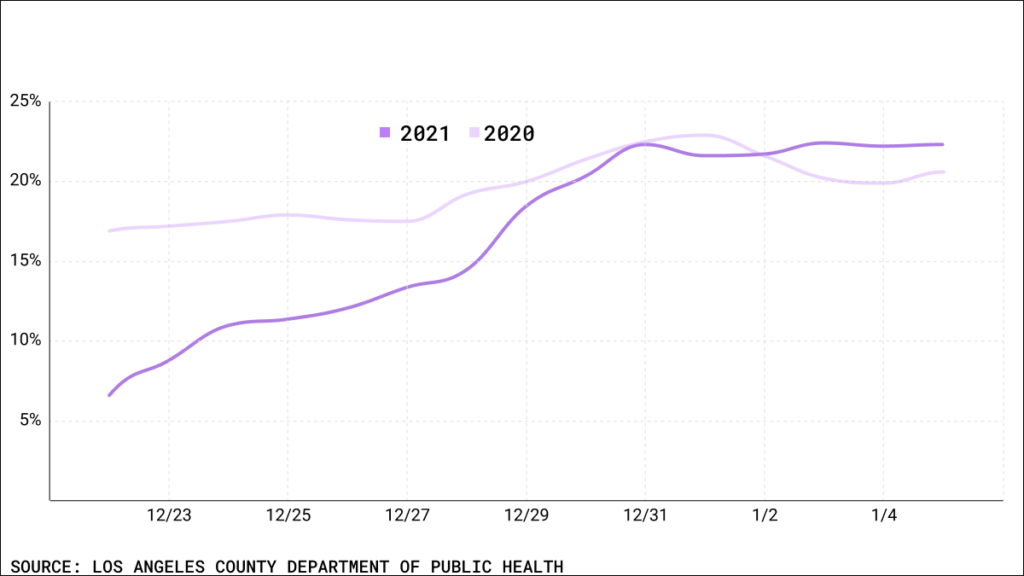 Deaths continue to remain relatively low, with a seven-day average of 14 reported on Wednesday. In the first month of last year, there were regularly more than 200 daily deaths. On Jan. 8, 2021, the county recorded 318 COVID-19 deaths.
Hospitalizations are following a similar pattern, with a spike in patients, but numbers far below the 2021 figures. On Wednesday, 2,240 COVID-19 patients were being treated in area hospitals, the highest level since last February, and a 267% increase from a month ago. Still, a year ago this week, more than 8,000 people were hospitalized. 
It is worth noting that hospitalizations and deaths are what are known as lagging indicators. It generally takes about two weeks after someone contracts the virus for them to become sick enough to require hospital care. The small percentage of people who die generally do so a month or more after becoming infected.
[Get COVID-19, crime and other stats about where you live with the Crosstown Neighborhood Newsletter]
Tracking the jab
Although cases have increased in recent weeks, and some vaccinated and boosted individuals have suffered breakthrough cases, health and political leaders have stressed that vaccines provide powerful protection against severe symptoms and death.
From Dec. 15-28, officials estimated that an unvaccinated individual was 21.3 times more likely to require ICU treatment than a fully protected person. 
Nearly 75% of eligible Los Angeles County residents, or about 7.7 million people, have received at least one dose of the vaccine. Through Jan. 3, approximately 67% of Angelenos were fully vaccinated. More than 2.4 million people have received a booster shot. 
Weekly booster shots in Los Angeles County, Oct. 22-Dec. 30
One point of concern remains caseloads among children. Los Angeles Unified School District campuses are scheduled to reopen next week, and pediatric hospitalizations increased by almost 190% from Dec. 4-25, according to the Department of Public Health. When classes resume, school employees will be required to wear medical grade masks. All students and staff are also required to test negative before returning to school. 
How we did it: We analyzed coronavirus data related to new cases, deaths, hospitalizations and vaccination data provided by the Los Angeles County Department of Public Health. 
Interested in our data? Check out the Crosstown coronavirus interactive map or email us at askus@xtown.la.