A record year for Los Angeles auto-part thefts
City sees 5,020 reports of stolen catalytic converters and other items, more than double the number two years ago
The pandemic-era spike in auto thefts has been well documented. Increasingly, however, thieves are not looking to take the entire car—sometimes they just want a valuable part.
Last year, auto-part thefts in the city of Los Angeles soared to record highs. In 2021, according to publicly available Los Angeles Police Department data, there were 5,020 reports of stolen auto parts. This marks a 42.8% rise from the 3,515 thefts reported in 2020, and a stunning 129.5% increase from the 2,187 cases in 2019.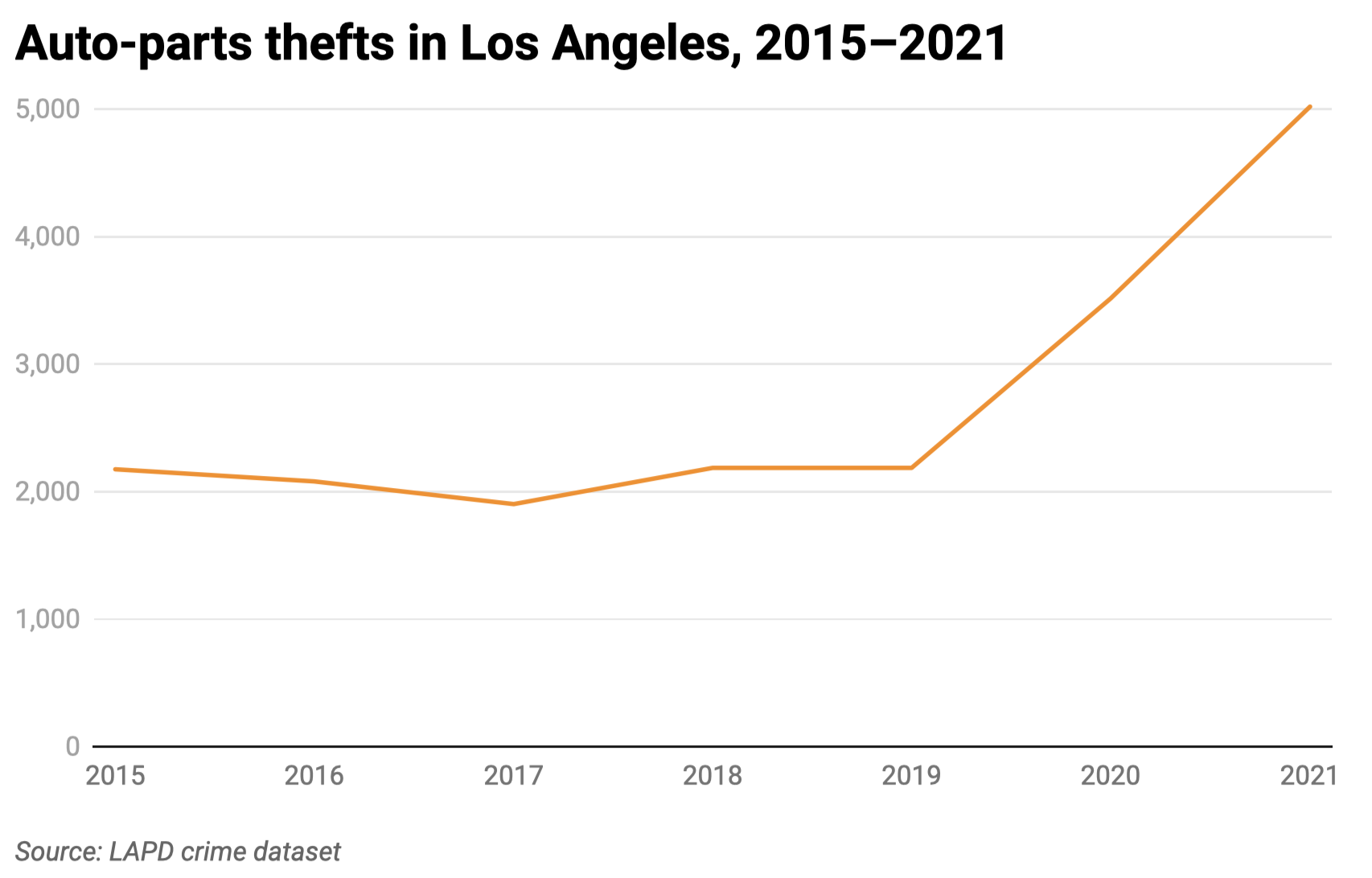 The pace of thefts was fairly consistent throughout 2021, with more than 350 incidents in 10 different months, a level not reached even once in the city before the pandemic. The peak came last July, when 478 thefts were reported. 
LAPD data does not specify precisely what was stolen in an auto-part theft, but numerous media and law enforcement reports have cited a surge in missing catalytic converters. The devices that reduce harmful emissions contain precious metals such as platinum, rhodium and palladium. They can be taken from the underside of a car in a few minutes, and resold for $200 or so to unscrupulous scrap yard owners.
Headlamps and airbags are also sometimes targets for thieves.
[Get COVID-19, crime and other stats about where you live with the Crosstown Neighborhood Newsletter]
A rise in the COVID era
From 2014-2019, the city generally saw about 2,000 auto-part thefts per year. Incidents began rising once COVID lockdowns forced people to leave their vehicle on the streets for extended periods, but never declined as the economy reopened and drivers got back behind the wheel. 
There were 151 auto-part thefts reported in Downtown last year, making it the most victimized neighborhood in Los Angeles. Also frequently targeted were Westlake (120 reports) and San Pedro (119).
Other hot spots for thieves were a trio of San Fernando Valley neighborhoods. In Van Nuys there were 139 reports in 2021. Northridge saw 126 incidents, and Sylmar had 119. 
The most frequent time for thieves to steal parts, according to LAPD data, is from 5-10 p.m.
According to the Los Angeles County Sheriff's Department, models such as the Toyota Prius, Honda Accord and Ford Excursion are popular targets. 
"Pretty much everybody who has a Prius that was 2005 to 2009, their catalytic was stolen," said Oleg Livshits, the owner and manager of Safeway Auto Center in North Hollywood—the neighborhood with the highest total theft count since 2010 (758 reports). "The way it's set up, anybody who can climb under a car can easily cut it out and take it."
The spot price of palladium, a precious metal in the converters, reached an all-time high in May 2021 when it sold for $3,005 an ounce. The price has fallen to roughly $1,900 an ounce, though catalytic converter thefts continue to surge nationwide. 
Victims regularly pay $2,000-$3,000 to get a stolen converter replaced. 
"In California, because of emission laws, the only catalytic you can replace it with would be an original one from the dealer," explained Livshits. 
To prevent theft, law enforcement officials urge drivers to park in well-lit areas or inside garages. Others recommend having a mechanic install a cage around their vehicle's catalytic converter. 
How we did it: We examined publicly available vehicle theft data from the Los Angeles Police Department from Jan. 1, 2010-Dec. 31, 2021. 
LAPD data only reflects crimes that are reported to the department, not how many crimes actually occurred. In making our calculations, we rely on the data the LAPD makes publicly available. LAPD may update past crime reports with new information, or recategorize past reports. Those revised reports do not always automatically become part of the public database.
Want to know how your neighborhood fares? Or simply just interested in our data? Email us at askus@xtown.la.