COVID deaths are rising quickly
Fatalities increase amid Omicron surge, though levels are below last winter
In the past few days, slightly falling Los Angeles County hospitalization numbers and positivity rates have indicated that the current coronavirus wave may have peaked. At the same time, deaths have surged to levels not seen in 10 months.
On Thursday, 102 county residents died of COVID-19, the highest daily figure since March 10, 2021. In the week of Jan. 16-22, there were 415 fatalities, according to the Los Angeles County Department of Public Health. That is more than four times the number just six weeks before.
COVID-19 deaths in Los Angeles County by week, Dec. 5-Jan. 22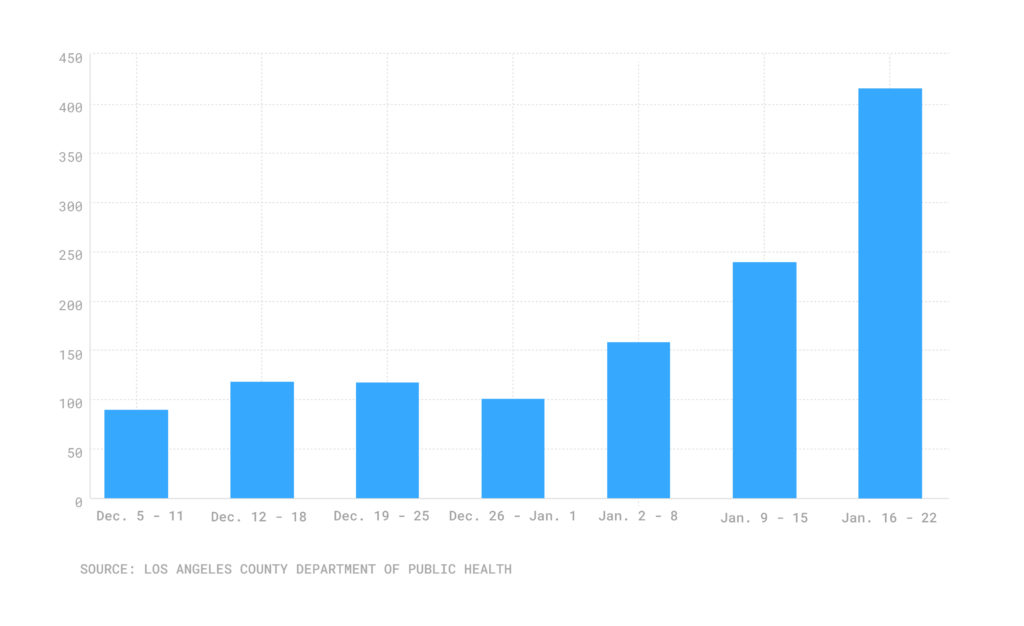 The death toll is rising with startling velocity. In Los Angeles County, the first 11 days of January all brought 30 or fewer deaths. Since then, the tally has been under 30 only once (that was the Martin Luther King, Jr. holiday, when the count lagged).
"Since the beginning of the pandemic, we have recognized that while many experience mild illness from COVID, there are others that will not do well if they become infected," L.A. County Director of Public Health Dr. Barbara Ferrer said in a prepared statement on Friday.
When it comes to COVID-19, hospitalizations and deaths are known as "lagging indicators." The former generally begin to increase about two weeks after the daily case numbers rise, as people become sick enough to require higher levels of treatment. Deaths often start to occur about two weeks after that. 
[Get COVID-19, crime and other stats about where you live with the Crosstown Neighborhood Newsletter]
That has again proved true with Omicron, which began spreading rapidly across the region in December. On Thursday, 4,814 coronavirus patients were being treated in area hospitals, a more than six-fold increase from the 743 people hospitalized one month before. By Sunday, the figure had ticked down slightly, to 4,568.
Vaccination protection
Although certain numbers are rising, much has changed since earlier waves of the pandemic, with the the most important difference being the availability of vaccines. As of Jan. 16, 80.6% of eligible Angelenos had received at least one shot, 72% were fully vaccinated, and nearly 3 million booster shots had gone into arms, according to the Department of Public Health. Full vaccination and booster doses have been shown to provide high protection from serious illness and death.
Still, millions of Angelenos have not received even a single dose, which is one factor in the current wave of illness. Another is that breakthrough infections can occur, and can be serious for people with underlying health conditions.
The high level of vaccination has likely kept the current death toll well below the level of last winter, even as daily case counts in recent weeks have sometimes exceeded 40,000. In early 2021, there were rarely more than 20,000 new cases per day.
From Dec. 1, 2020-Jan. 23, 2021, 7,508 people died of COVID-19; that span accounted for more than one-quarter of the overall 28,507 deaths in the region.
In the same timeframe this winter, 1,348 people have died; that works out to just 18% of the deaths experienced a year ago.
COVID-19 deaths in Los Angeles County
Although caseloads last year peaked in early January and then fell steadily, the number of deaths remained elevated for months, with 4,558 fatalities in February, and 1,815 in March. 
The 2021 monthly low in pandemic deaths occurred in June, when just 144 county residents died of COVID-19.
How we did it: We examined daily COVID-19 case, death, hospitalization and vaccination data provided by the Los Angeles County Department of Public Health. In some instances totals were later changed.
Interested in our data? Check out the Crosstown coronavirus interactive map or email askus@xtown.la.