Record-breaking hate crimes in L.A.
Rise in assaults accompanies spread of intolerance
The city of Los Angeles hit a grim record last year, recording a 56% spike in hate crimes.
There were 594 reported crimes in which a victim was targeted based on race, ethnicity, religion, sexual orientation, disability or gender.
"This is the highest recorded number of hate crimes in any city in the United States this century and very well may be the highest in Los Angeles ever," said Brian Levin, Director of the Center for the Study of Hate and Extremism at California State University, San Bernardino.
Last year's total represents an 82% rise from the 326 reported in the pre-pandemic year of 2019.
Note: The LAPD expects the number to be even higher – 615 – once all the 2021 numbers are reviewed. We use LAPD publicly available data.
No group was able to escape the rise in hate and intolerance.
Top biases in reported hate crimes
Jan. 1–Dec. 31, 2021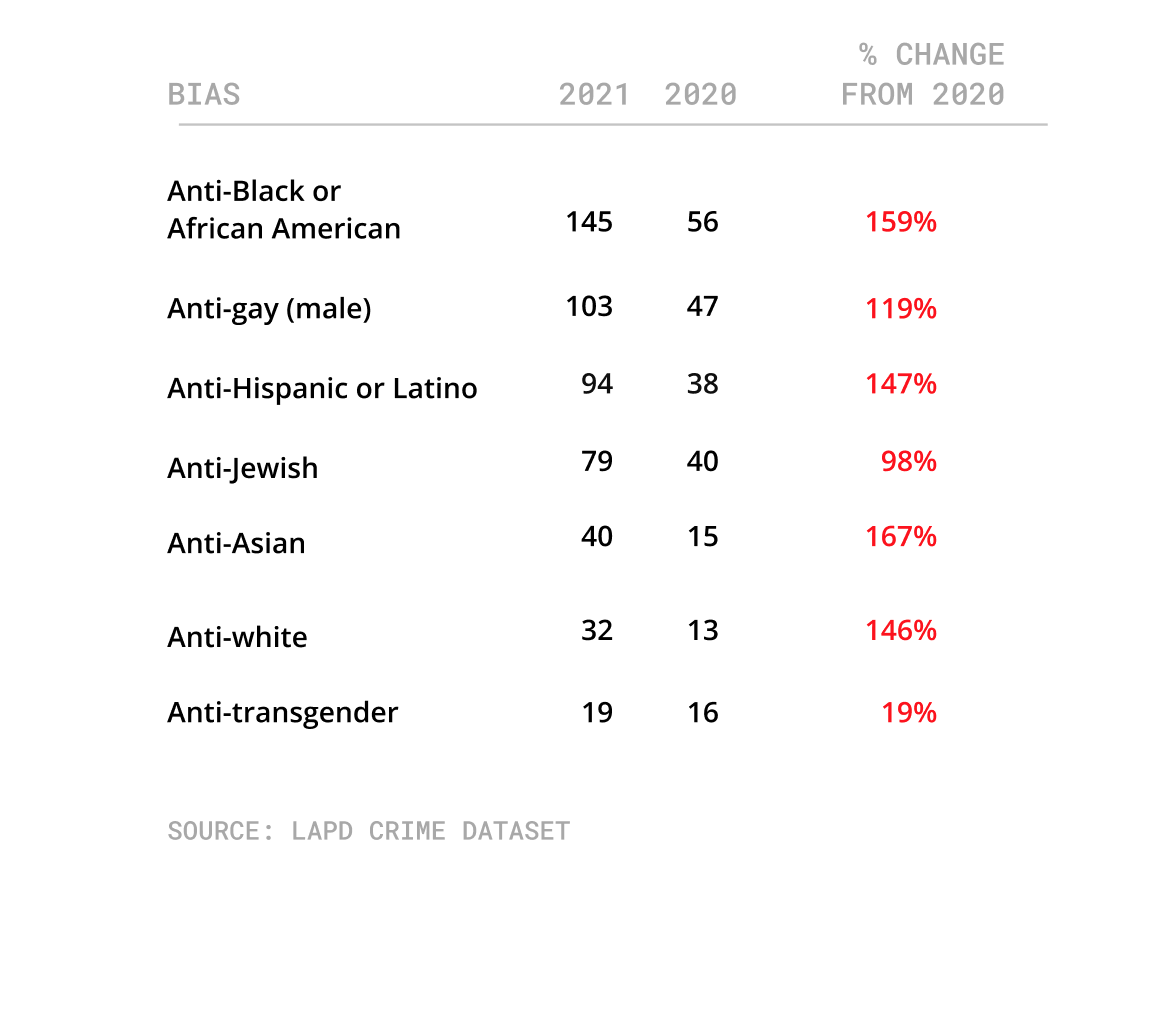 The LAPD has 35 separate categories for biases, which include separate categories for biases against lesbian and other LGBTQ+ identities, in addition to biases against different religions, genders and disabilities.
Anti-Jewish hate crimes surged in 2021 in Los Angeles and across the country after falling during the pandemic, a decline Levin attributed in part to people not gathering in public as frequently.
"Antisemitic hate crimes had a resurgence in major cities in 2021, after declines for most of 2020," Levin said. He added that antisemitic hate crime tripled in Los Angeles and in New York between the first and second quarter of 2021, attributing the rise to a reaction to the deadly three-week skirmish with the Israeli army on the Gaza Strip.
This past weekend, pro-Nazi demonstrators gathered in Orlando. When a man took a rabbi and three congregants hostage at a Texas synagogue in January, members of the Jewish community and law enforcement in Los Angeles were on alert.
"For Jews, if it happens in one place, it resonates throughout the entire community," said Ariella Loewenstein, deputy regional director of the Anti-Defamation League, Los Angeles. "We consider antisemitism a canary in a coal mine. If you watch the numbers, as antisemitism gets worse, so does all hate."
Dedicated unit
The LAPD has a dedicated hate crime unit, led by Det. Orlando Martinez. He said the department hosted two trainings for officers last year on how to recognize bias-motivated crimes and incidents, and held monthly trainings for supervisors. The LAPD also recently expanded the way it counts and tracks bias-motivated crimes and incidents to record categories defining the suspects' biases. These are the same 35 codes the FBI uses to track bias-motivated offenses.
"It's not that L.A. is a hateful place," Martinez said. "We are classifying more and more crimes as bias-motivated because it's best for recognizing trends so we can be proactive in helping victims deal with it and build trust with the community. "
Levin called the LAPD hate crime unit the "gold standard."
He added that more diligent record keeping is only one factor. The actual number of hate crimes are on the rise.
"These increases sustained in 2021 in Los Angeles are genuine," said Levin.
One disconcerting trend is the number of assaults. Of the 594 reported hate crimes last year, 44% were assaults. This includes 124 aggravated assaults and 137 simple assaults/batteries. Four intimate partner simple assaults were classified as hate crimes.
Nationwide problem
Los Angeles is not alone in grappling with rising intolerance. The United States as a whole continues to face an ongoing racial justice reckoning and rising threats of domestic extremism. Nationally, using preliminary numbers, the Center for the Study of Hate and Extremism reports that 2021 saw the highest level of hate since 2001. Levin said hate crimes nationwide increased 46% last year. The FBI's 2020 numbers were up 13% from 2019.
"Historic spikes in racial hate crime in 2020 correlated to the pandemic and the George Floyd lynching and aftermath, with June 2020 being among the worst months this century for racial hate crime," Levin said. "When there is a cathartic event, there are spikes."
There have been ongoing reports across the country of anti-Black, anti-Jewish and anti-Asian hate. Today, at least six historically Black universities were responding to bomb threats.
Last summer, Crosstown reported on record-breaking hate crimes in Los Angeles, as well as bias against LGBTQ+ people, hate against Black people and antisemitic attacks soaring.
Attacks against Asian Americans and Pacific Islanders surged nationally during the pandemic, driven partly by political rhetoric that blamed China for the coronavirus. The Stop AAPI Hate coalition tracked more than 10,000 incidents from March 2020–September 2021. Just last week, San Francisco reported that hate crimes against AAPI community members in the city rose 567% in 2021 from the previous year.
In Los Angeles, Anti-Asian hate crimes have increased nearly seven-fold since 2018.
Numbers may actually be much higher. A national survey by the U.S. Bureau of Justice Statistics estimated that less than half of all hate crimes were reported to the police. Oftentimes, the very groups that are the most vulnerable to hate crimes and incidents are the ones least likely to report them.
"Part of it is also the relationship between the police and the community," said Martinez of the LAPD. "Some communities don't want to bother the police. And some communities don't trust us, don't think we'll do anything."
The LAPD also tracks hate incidents, which are protected by free speech laws and do not involve a criminal offense. While the LAPD only reports hate crimes to the California Department of Justice, the department still investigates and tracks hate incidents. Looking at why a suspect targeted a certain person or group provides a sense of the climate of intolerance across the city.
"I don't think that there's ever going to be a time when human beings don't use biases to hate one another," Loewenstein said. "If we can decrease it, then we're doing a good job."
An earlier version of this story said hate crimes nationwide increased 11% last year. They actually increased 46%. The change was due to a data reporting error.
How we did it: We examined LAPD publicly available data on reported hate crimes and hate incidents from Jan. 1, 2010–Dec. 31, 2021. While publicly available data shows hate crimes topping 594, the Los Angeles Police Department says the number will actually total 615 once all the records are updated for 2021. For neighborhood boundaries, we rely on the borders defined by the Los Angeles Times. Learn more about our data here.
LAPD data only reflects crimes that are reported to the department, not how many crimes actually occurred. In making our calculations, we rely on the data the LAPD makes publicly available. LAPD may update past crime reports with new information, or recategorize past reports. Those revised reports do not always automatically become part of the public database.
Want to know how your neighborhood fares? Or simply just interested in our data? Email us at askus@xtown.la.